Travel
Getaway to Cape Girardeau
A little town in eastern Missouri may not seem like a vacation spot, but the warm community in Cape Girardeau (located 271 miles east of Springfield) is bound to make you want to stay a while.
By Peyson Shields | Photos courtesy of Old Town Cape and Merrick Morton and 20th Century Fox
Jan 2016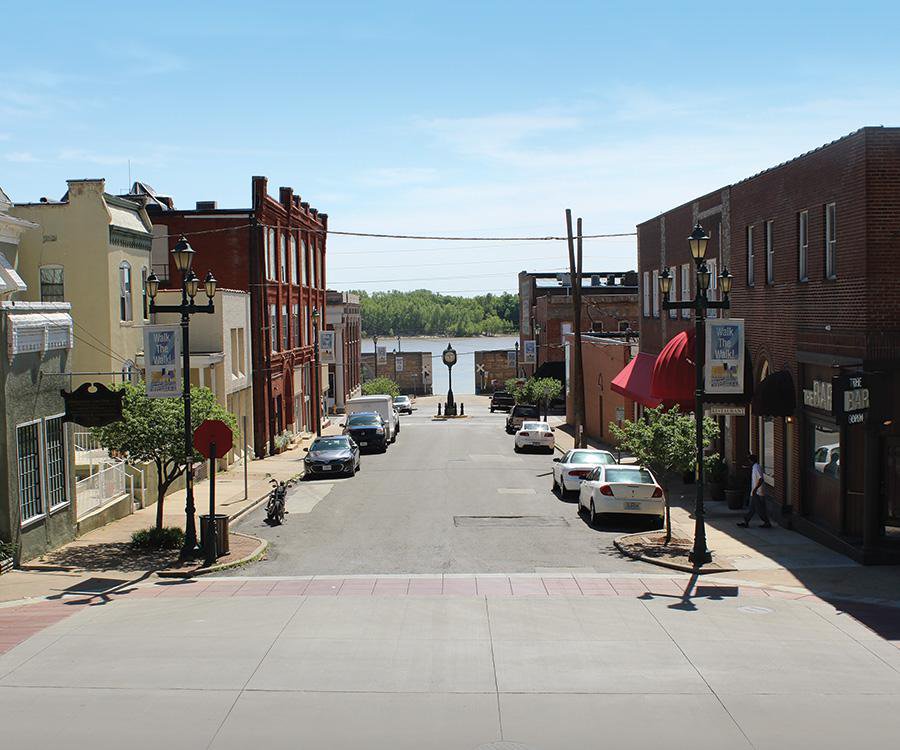 STAY
​Cape Girardeau is a historic town butting up to the Mississippi River. Experience the old-town vibe by staying in the heart of it all at Bellevue Bed and Breakfast (573-335-3302, 312 Bellevue St., Cape Girardeau). The 1891 restored Victorian inn is home to four different rooms bound to make you feel cozy. Wake up with a cup of joe and a three-course breakfast to get your day in Cape off to a great start.



Ben Affleck rehearses a scene with director David Fincher on the set of Gone Girl, which was shot in Cape Girardeau.


DO
Even in the chilly January weather, you can explore Cape Girardeau and its surrounding areas. Plus, the town is eerily famous. Gone Girl was filmed here and when you visit you can take a drive (visitcape.com/gonegirl) to see everything from The Bar to where the cast and crew liked to hang out. 
Since you're already tooling around town, stay in the car and head north to Apple Creek Vineyard and Winery (573-788-2211, County Road 401, Friedheim). The local vineyard is open year round and offers steak nights every Friday. Enjoy local fruit wines and the sights of driving a little outside of town.
When you're back in town, bundle up and stretch your legs. Old Town Cape is the historic district full of sights and shops to pop your head in and keep you warm. Make sure to check out Lattitudes LLC (573-820-9086, 137 N. Main St., Cape Girardeau), a local boutique full of fair trade clothes and trinkets that are good for the soul and the world.
EAT
Adventuring in a new town isn't complete without trying new eats—especially in the winter. Toast up those winter chills and turn your "burr" into a beer at Broadway Biergarten (573-335-2337, 818 Broadway St., Cape Girardeau). The non-smoking tavern features highly seasonal beers and a one-pound pretzel to round off your gluttonous gluten adventure.
Enjoy the river view and a family-friendly environment at Port Cape Girardeau Restaurant and Lounge (573-334-0954, 19 N. Water St., Cape Girardeau). The vast menu will please the pickiest of eaters and the affordable prices help pad the checkbook. Plus, they offer to-go barbecue so you can even take a bite of Cape home with you. Before you head home, make sure you check out the favorite restaurant of the cast and crew of Gone Girl, Bistro Saffron (573-651-1398, 1610 N Kingshighway St. #101, Cape Girardeau). The Pan-Asian inspired menu is the host to flavors you wouldn't expect to find in Southeast Missouri. Don't miss out on seasonal specials and the restaurant's signature pad Thai full of fresh veggies and your choice of protein.