Travel
Getaway to Gypsum Hills
The great American road trip may be closer than you think. With its red-tinged canyons and mesas, the Gypsum Hills area of Kansas is a gorgeous option for a weekend getaway—and it's the perfect distance for a long weekend trek.
Written by Lillian Stone
Apr 2016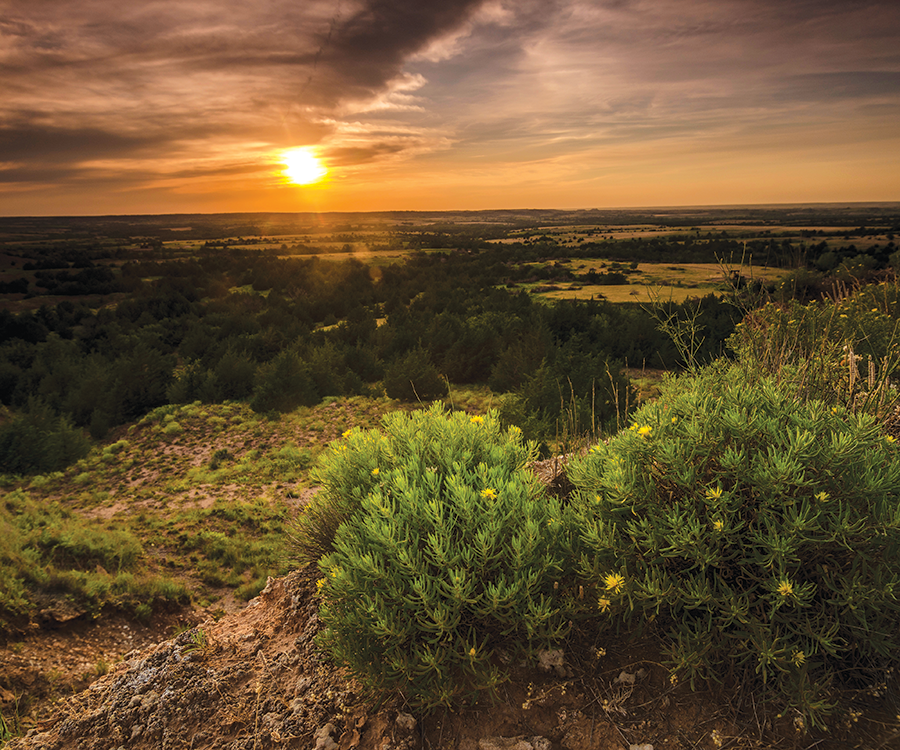 DRIVE
The Gypsum Hills area is prime road trip country. Load up the family truckster and spend a relaxing day touring the Gypsum Hills Scenic Byway. The byway, which is 42 miles in length, extends from the western city limits of historic Medicine Lodge, Kansas, to the junction of U.S. 160 and U.S. 183 at Coldwater, Kansas. The stretch bisects the Gypsum Hills, which provide beautiful road trip scenery. Travelers will see flat mesas and deep canyons uncharacteristic of the midwest. Adventurous travelers can check out the Gyp Hills Scenic Drive, a 22-mile route through a completely open range. The area's wildlife, flowers and occasional stray head of cattle are easy to find along this great escape. (Access to the scenic drive is about three miles west of Medicine Lodge on U.S. 160.)
EAT
For byway dining, travel about 30 minutes north of Medicine Lodge to Pratt, Kansas. Looking for an upscale stop along the byway? An extensive steak menu and a wide variety of seafood offerings make Club D'est (202 S. Main St., Pratt, Kansas, 620-672-6116) a great destination for weary travelers. The Chapeau (701 N. Main St., Pratt, Kansas, 620-672-2012) is known for its quirky decor, which includes a zany collection of decorative hats. Relax after a day on the byway and enjoy a platter of The Chapeau's pizza tacos or a pitcher of cold tomato beer.
UNPLUG
The Gypsum Hills experience is all about reconnecting with nature. And if you're an animal lover, you can enjoy a night at The Prairie Oaks Inn (35810 W. Greenfield Rd., Sylvia, Kansas, 620-486-2962), located on a working alpaca ranch. Guests can relax on the main house's expansive deck and observe native Kansas wildlife in the mornings and evenings.
BLOOM
Experience the best of the Gypsum Hills with the Barber County Conservation District at the annual spring wildflower tour in Medicine Lodge. The event is perfect for wildflower enthusiasts and those looking to reconnect with nature. The $15 registration fee covers the cost of breakfast, transportation to the enchanting wildflower displays and lunch. Groups of ten have their own tour guide who will help identify specific wildflowers at multiple locations. Interested parties can contact the conservation office at 620-886-5311, ext. 3 for more information.