Weddings
Rachel Link and Matthew Starnes' Vintage Wedding
A vintage wedding dress and antique engagement ring were just part of what made this DIY wedding so special.
By Hanna Flanagan
Jan 2019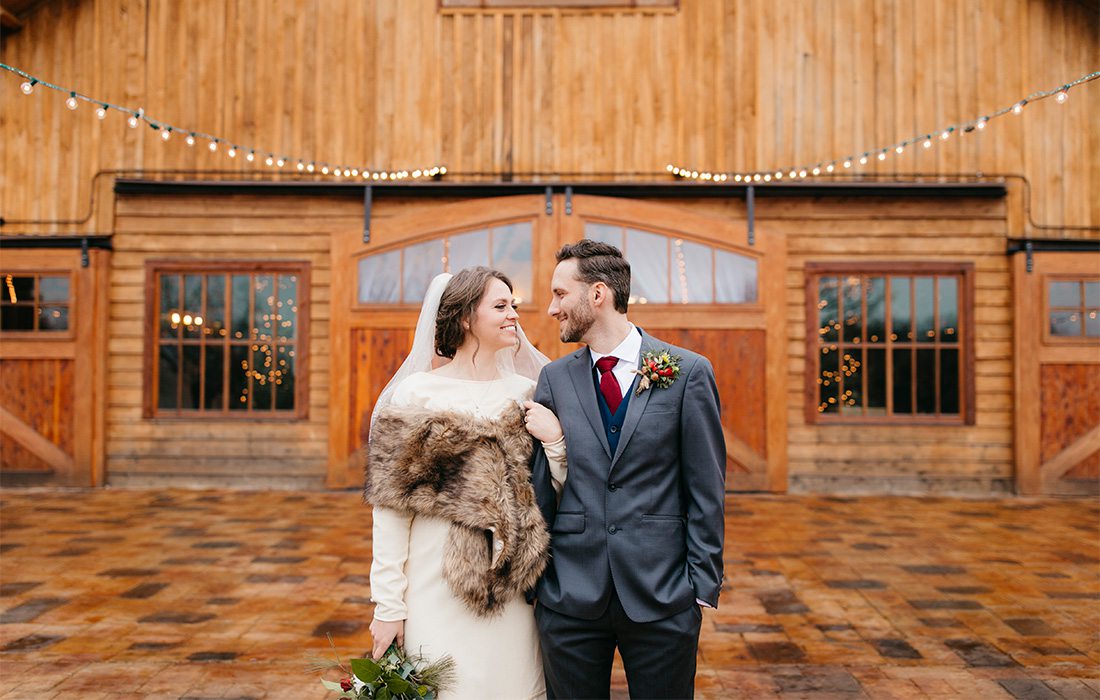 As the saying goes, a bride needs something old, something new, something borrowed and a special something blue. Luckily for bride-to-be Rachel Link, finding the something borrowed and something old was a piece of cake. When the big day arrived, Rachel was accompanied down the aisle by several family heirlooms. Her vintage wedding dress was the same one her grandmother wore in 1952 as was the pearl necklace around Rachel's neck. The shoes she wore belong to her aunt, and her earrings belonged to her mother-in-law. When Matt first saw his bride, he says he felt as though he had traveled back in time. "It was kind of surreal," Matt says. "She looked beautiful. The whole thing kind of felt like it was in black and white." For this Lebanon couple, the beyond-adorable memorabilia can be traced all the way back to their engagement last year. Matt popped the question after reading Rachel her favorite Bible verse, under an arbor that he built for her. During the engagement, he gifted Rachel a hand-painted canvas with the title of their favorite song by The Avett Brothers. And to top off the romantic moment, Matt proposed with a five-stone estate piece from the 1950s. "I was very giddy," Rachel says. "In the pictures, we were both just smiling our heads off." When it came time to plan the wedding, the couple wanted something personal, something that could never be replicated. So, instead of a color scheme, Rachel and Matt focused on unifying textures and feelings. The vibe was natural, with an emphasis on cedar wood details and antique décor. Instead of hiring a wedding planner, Rachel and Matt recruited several family members to help with (and take part in) their nuptials. Matt's aunt kept things organized; Matt's grandmother did the flower arrangements and Rachel's musician brothers and friends took care of the entertainment. At one point, Rachel, who tours as a musician, joined the group on stage to perform. "The feeling in the room was very warm," Rachel says. "Everyone was happy for each other." Matt and Rachel live in Lebanon, where Matt is a high school journalism teacher and Rachel is a musician.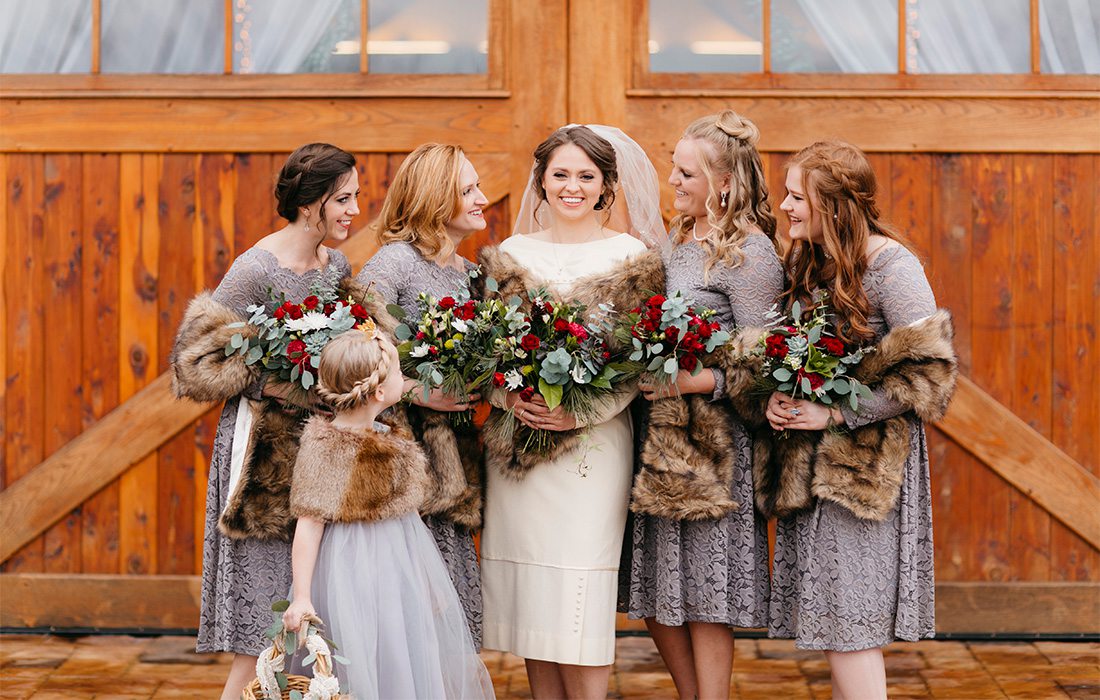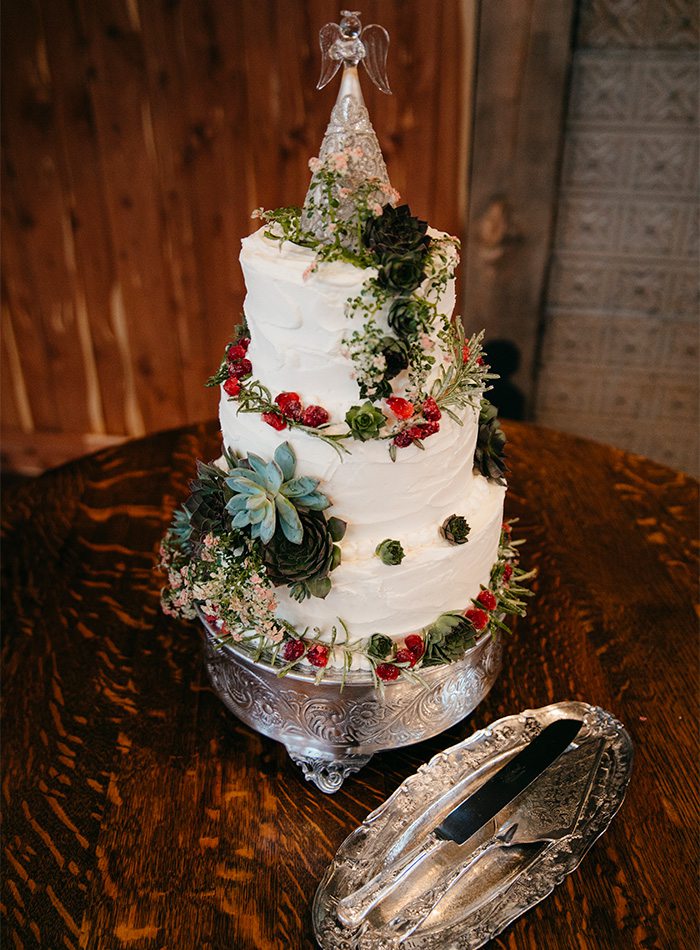 Photo by Colby Moore Photography
The three-tiered white frosted wedding cake was adorned with a glass angel and succulents tucked along the sides.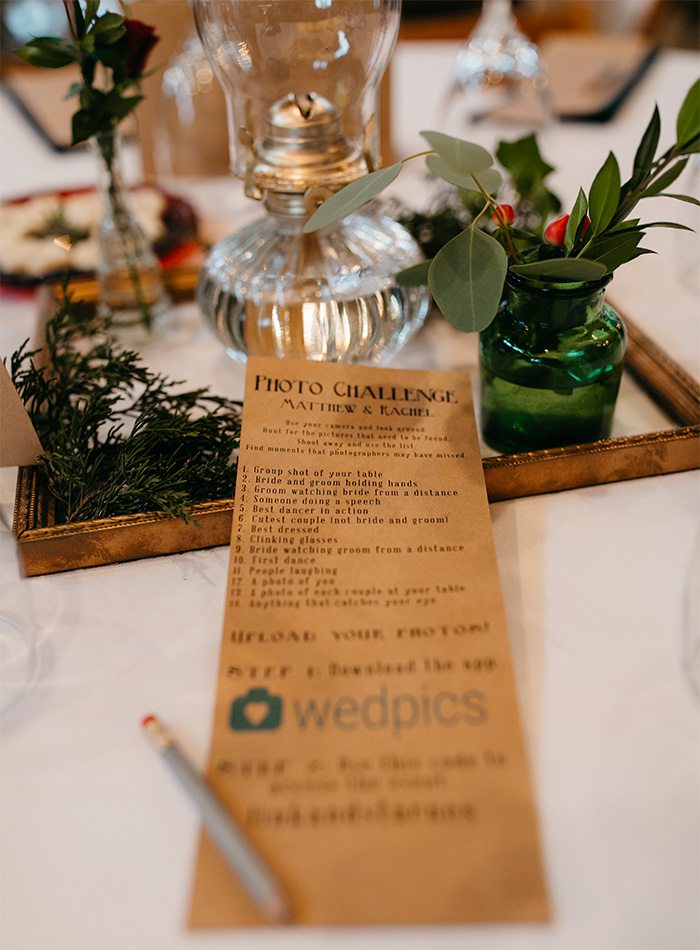 Photo by Colby Moore Photography
Between the live music and dancing, the couple kept their guests entertained by providing a photo challenge checklist for everyone to complete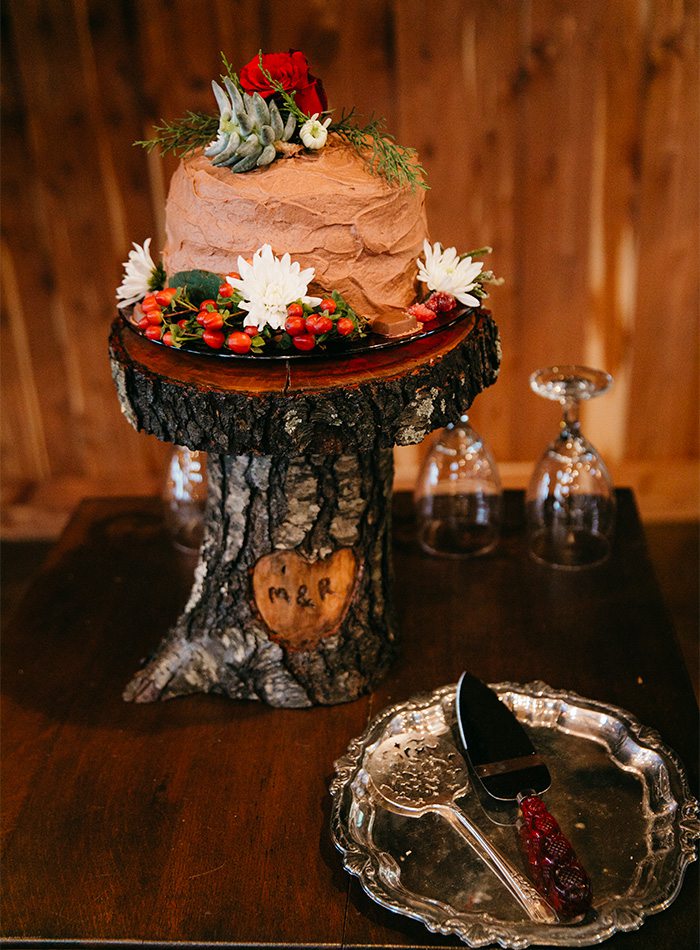 Photo by Colby Moore Photography
The groom's cake featured Rachel and Matt's initials carved into the trunk of the cake stand.
Photo by Colby Moore Photography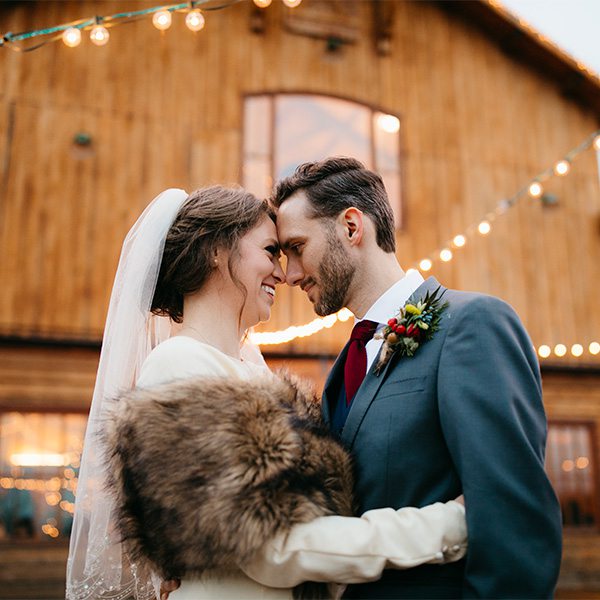 Photo by Colby Moore Photography
Rachel and Matt celebrated their wedding at Mighty Oak Lodge, just down the road from the Lebanon homes they grew up in.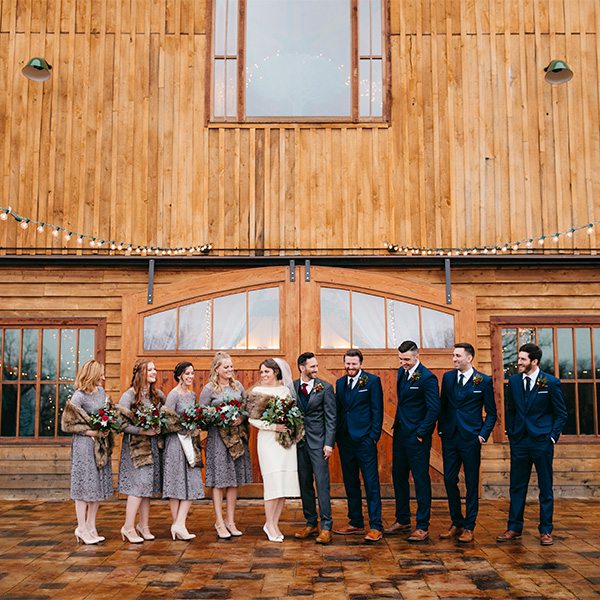 Photo by Colby Moore Photography
After Matt proposed with a vintage ring, the couple knew they wanted their wedding to have a vintage atmosphere. The bridesmaid dresses and suits were picked out to match that theme.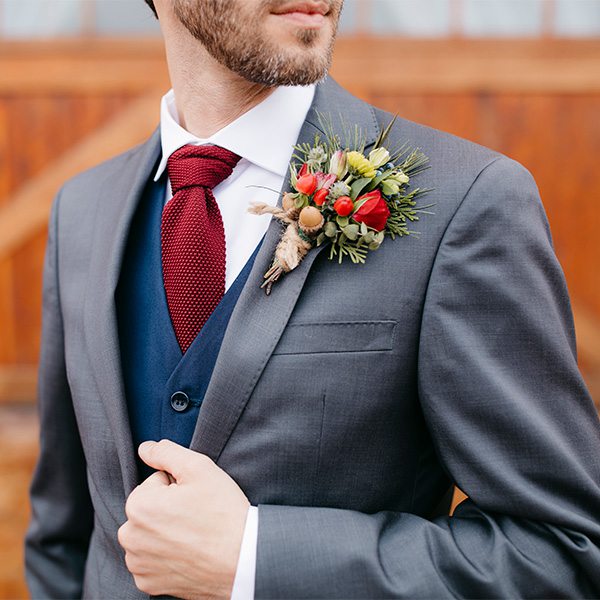 Photo by Colby Moore Photography
To give their December wedding a punch of winter glam, Rachel and Matt used pops of red in their flower arrangements, including in the groomsmen's boutonnières.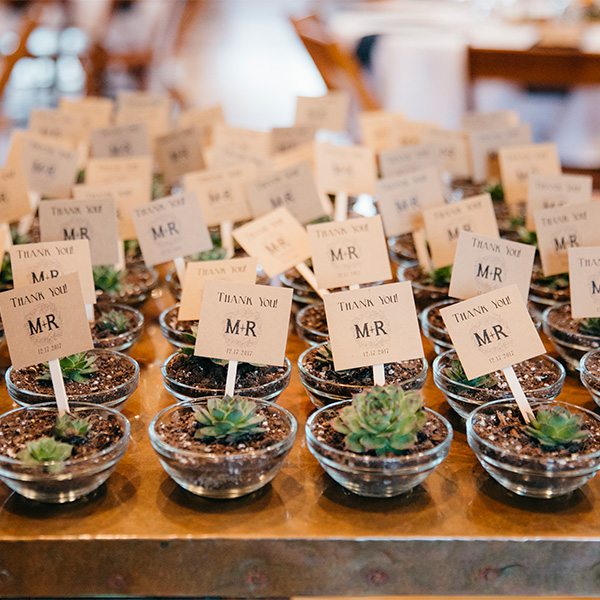 Photo by Colby Moore Photography
Rachel and Matt's celebration featured handmade details including succulents that served as thank you gifts.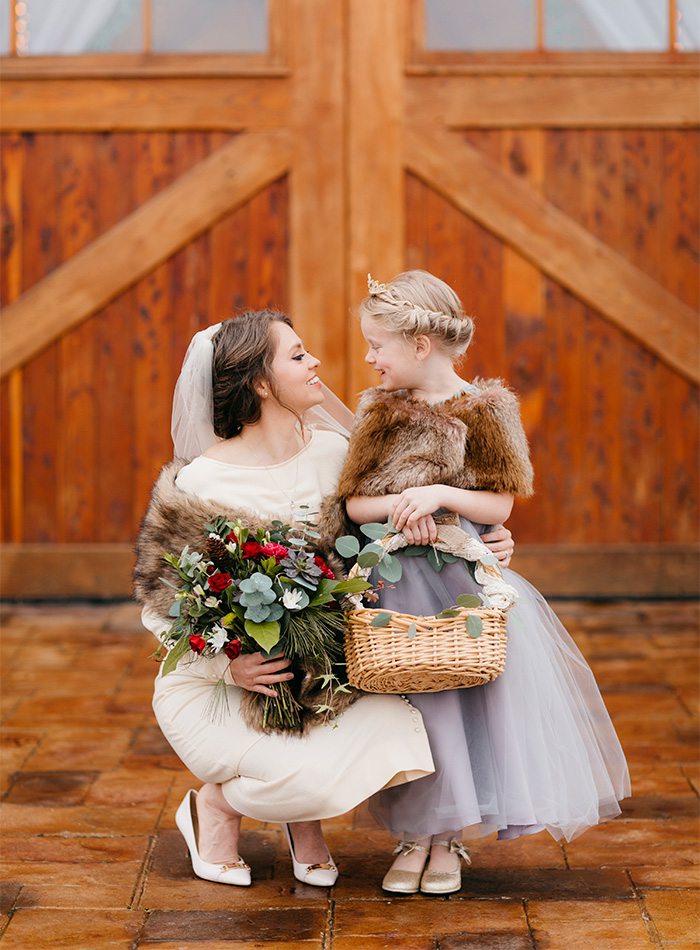 Photo by Colby Moore Photography
To make the day as special as possible, Rachel and Matt invited friends and family to help plan and partake in their nuptials.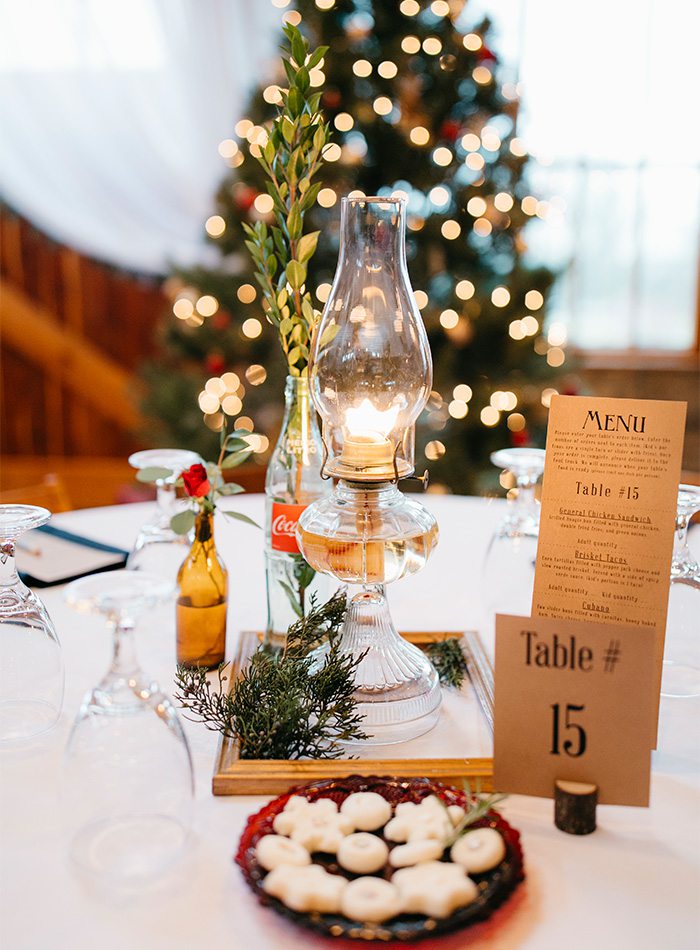 Photo by Colby Moore Photography
Rachel and Matt incorporated natural and rustic elements to round out the event, including the small wooden stands used to hold up the table numbers and dinner menus.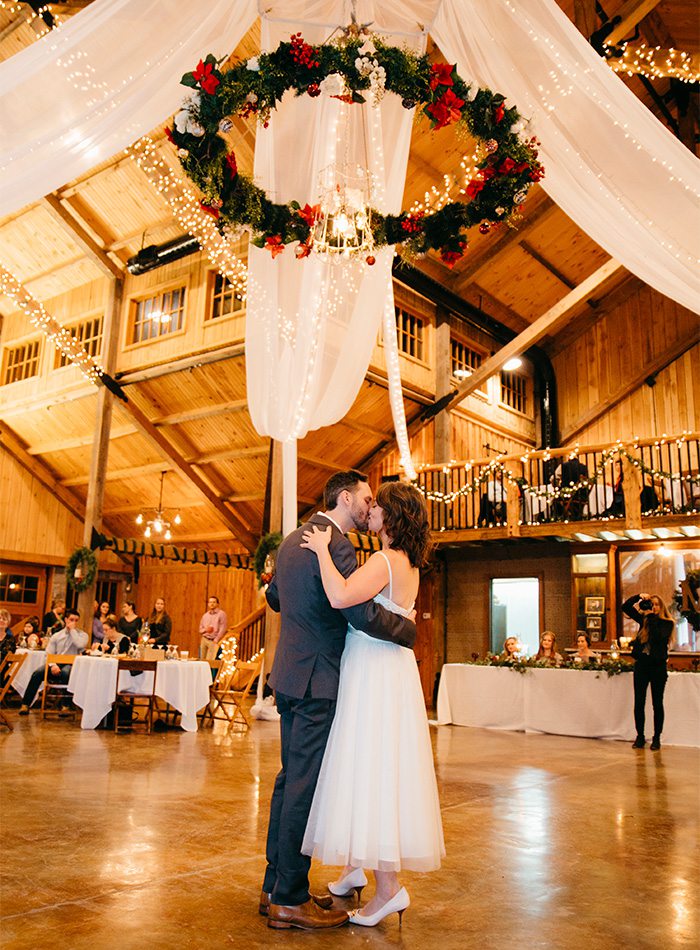 Photo by Colby Moore Photography
Even the shoes Rachel wore to the wedding were a family heirloom. The heels once belonged to her aunt.