Weddings
This 417-land Mom Made 10 Dresses for her Daughter's Wedding
Handmade wedding dresses are a time-honored tradition in the Faulkner family. After her daughter Laura said yes, Mary got to work making her the perfect dress to wear while saying "I do."
By Adrienne Donica | Photos by Mandy Evans Photography
Jun 2017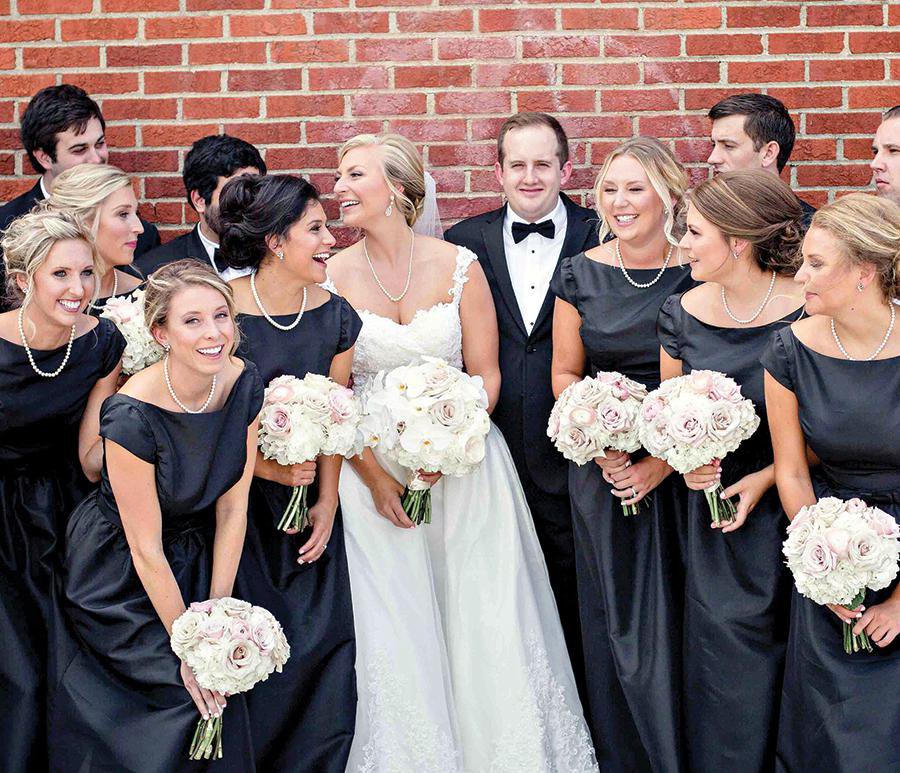 Slipping into the perfect dress for the first time feels a bit like fate. There's no way that dress could have been made for anyone else but you, right? For Laura Moore, this was quite literally the case—her mother, Mary Faulkner, designed and sewed Moore's dress for her August 2016 wedding at Immaculate Conception Church.

Handmade dresses are something of a tradition in the Faulkner family, in which Mary is one of six girls. "Five of us had big church weddings, and [my mom] made all of our dresses and all our bridesmaids' dresses and her own dress for all of our weddings," Faulkner says. In fact, it was Faulkner's mother who taught her how to sew. Aside from one junior high home economics class, Faulkner has had no formal training. That hasn't stopped her from making dresses for her three daughters for their First Communion ceremonies, school dances and numerous Halloween costumes. About eight years ago, Faulkner and her mom collaborated on a wedding dress for Faulkner's niece, so when it was Moore's turn to walk down the aisle, she knew she'd be wearing one of her mother's creations.
Ironically, the first step to making the dress was trying on other dresses at bridal shops for inspiration. "I had always envisioned a ball gown," Moore says. "But then I tried on a fitted dress and loved it." Faulkner remembers how torn her daughter was: "I said, 'Well there's no reason you can't have both if I'm making this for you.'" So they decided on a fitted dress with a detachable ball gown skirt that Faulkner designed using pieces from different patterns, images and a dress with a lace bodice and detachable skirt that Laura found in a magazine. After the design was finalized, Faulkner made a muslin version so Moore could do an initial fitting.
With the wedding gown on track, Faulkner turned her attention to making dresses for Moore's nine bridesmaids. Initially this wasn't part of the plan, but Faulkner offered to make them to relieve the financial burden on the women. This made for a cute bridesmaid invitation, too. "When I asked all my bridesmaids to be in my wedding, I sent them a cute little poem with a tape measure and had them take their measurements and send them back," Moore says. Faulkner used black taffeta for these dresses, which required a fair amount of handiwork for pieces like the belts and snaps. Each dress took twelve hours to complete.


Laura always imagined wearing a ball gown wedding dress but discovered she also loved fitted dresses. Her mother, Mary, gave her the best of both worlds by designing a fitted dress  with a detachable skirt. Mary created the lace pattern adorning the dress's bodice and the bottom of both skirts. 


That was a drop in the bucket compared to how long it took Faulkner to finish Moore's dress, made from silk taffeta, silk organza and beaded lace. Faulkner estimates she spent 310 hours in total. The bulk of that was spent working with the beaded lace they ordered from Latvia. To make sure the lace appeared exactly like they envisioned, Faulkner had to cut the material by hand separating the border and individual rosette shapes from the lace's original netting. Finally, she could create the lace pattern on the dress's bodice as well as the bottoms of the gown and detachable skirt.
Two weeks before saying "I do," Moore tried on her one-of-a-kind, fully complete dress for the first time, and that's when she discovered the little something extra her mom had added: an embroidered inscription inside the skirt that reads "For my beautiful daughter Laura Elisabeth on her wedding day August 13, 2016." Moore loves the entire dress, but she says this is her favorite part. "It was just really special," she says.


---

Measuring Up
Making gowns for an entire bridal party doesn't happen overnight. Take a peek at what went into Mary Faulkner's process.


10: Number of dresses Faulkner sewed for her daughter Laura's wedding

36 yards: Amount of fabric used to make Laura's wedding dress. They ordered the silk organza and silk taffeta from Mood Fabrics in New York City.

418 hours: Faulkner spent at least 418 hours making all the gowns.

15 pounds: Weight of Laura's dress (including the detachable skirt)

9 seasons: Faulkner played the entire series of How I Met Your Mother in the background while she worked on the lace construction of the wedding dress.


---

DIY Dress Do's and Don'ts
Thinking about having your own wedding dress made? Although Laura Moore acknowledges it adds a new level of stress to the planning process, she says it's worth it. "It's so much more special, and you get something that's different," Moore says. Make it easier on yourself by following these do's and don'ts from Moore and her mother, Mary Faulkner.


DO: Get started early. By starting the process early, you'll avoid the unnecessary stress of worrying if the dress will be finished on time. Faulkner says you can also save money by buying some things online even if they have a long shipping time.

DON'T: Forget to buy fabric samples. The black taffeta Faulkner used to make Moore's bridesmaids' dresses turned out to be difficult to work with. Don't drop your hard-earned cash on yards of fabric unless you're sure you like it.

DO: Hire a good tailor. Moore knows she couldn't have done this without her mom. "My mom has always been extremely talented," she says.

DON'T: Be afraid to get thrifty. The belt on Moore's dress was a $30 find on Etsy. Faulkner recommends looking online or even in thrift stores for dress accessories before heading to top-of-the-line stores.

DO: Make it your own. A huge advantage of having your dress made is the flexibility it offers, Moore says. Thanks to this, Moore was able to get two dress shapes she loved in the same gown.