Weddings
Love Notes
A love for music inspired this couple to make guest books out of old records and engagement photos.
By Erin Gregory | Photos by Lindze McCarter, Samantha Muller
Dec 2016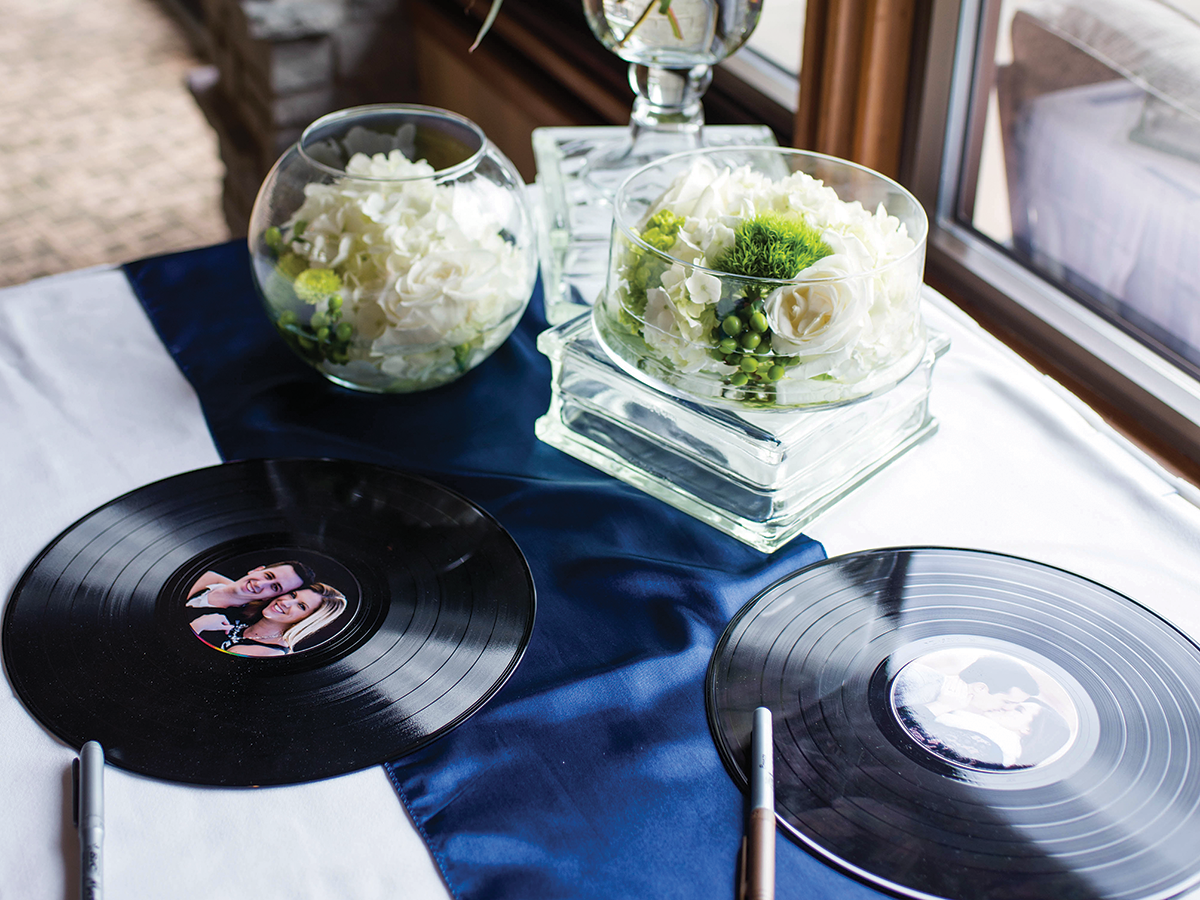 Zach and Samantha Muller first met through his parents. In fact, Samantha knew his whole family through Bible studies before she ever met Zach. 

After encountering each another at a few social events hosted by Zach's parents, he finally asked Samantha on a date. One and a half years later, Zach got down on one knee in their new home, and the couple was married shortly thereafter. 
The special day was filled with unique touches from their family and friends and one unique piece in particular: engagement photo records that guests could sign as a guest book. 
Samantha found the idea on Pinterest when looking for unique guest book ideas. "We wanted to use it because we both enjoy live music, and my husband, Zach, collects old albums," she says. "We didn't want a traditional book that would collect dust, and wanted something we liked enough to put out on display."


Sounds Like Happily Ever After: Guests used metallic pens to sign the vinyl albums (top) that the Mullers personalized. Then guests took home a record of their own—Zach and Samantha's wedding soundtrack (bottom).


The craft didn't take long for the couple to make. They went to Finders Keepers and dug through a collection of vinyl records to find a few old ones—costing only about $1 each—that were still in decent condition. They then made a circle template, the size of the label in the center of the disk, out of paper to place a few different prints from their engagement photo session that best fit.  
They took the engagement photos and used a circle cutter to shape each photo. Using double-sided tape, Zach and Samanatha attached each photo to a record. The project took about 10 minutes per record, and the couple made three total. 
Zach and Samantha put the records on display with metallic sharpies so guests could sign them. They placed the completed projects in record frames they found at Michaels—which are about $5 and are often found on sale for 50 percent off. Now they have a memorable guest book to display in their home. 


---
Make It Yourself
Materials: 
One vinyl record
One piece of paper
Circle paper cutter
Engagement photo print
Double-sided tape 
Record frame
Steps:
1. Make a circle template out of paper using the size of the label in the center of the record, and select engagement or couple photo prints of your choice.
2. Use a circle paper cutter to shape each photo to fit in the frame of the record. 
3. Use double-sided tape to attach each photo to the record.
4. Place the record in the record frame.