Gardening
Get Started Composting with These Tips from Springfield Environmental Services
Home composting is easier than you might expect. Ashley Krug with Springfield Environmental Services talks dirt with us and how you can start reducing your carbon footprint, one banana peel at a time.
By Krysten Muench and Katie Pollock Estes
Apr 2023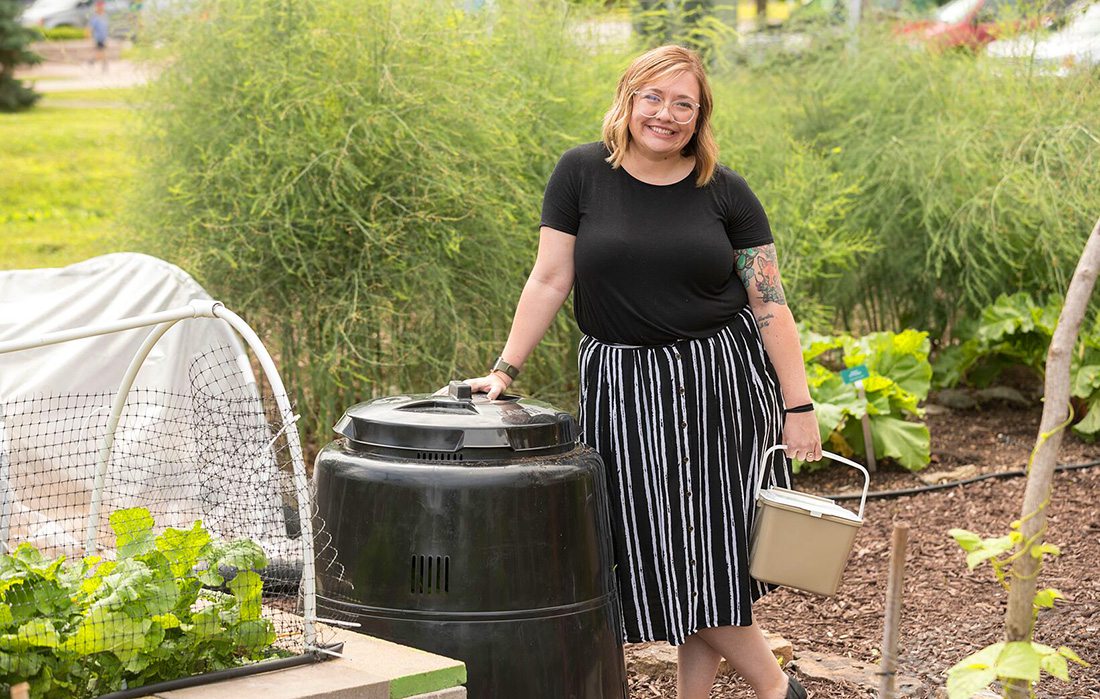 With Earth Day coming up on April 22, you might be wondering how to do a little good for Mother Earth, and composting is a great way to make an impact. We love composting and keeping organic food waste out of the landfill. But we don't love stinky compost bins or the work it takes to keep up with it at home. Thankfully, Springfield-based programs take some of the yuck and effort out of the task.
Springfield Compost Collective offers a $25-per-month home-pickup service for anyone wanting to compost their waste without having to manage the bulk of it. After you sign up, they give you a bin to fill, then they pick it up regularly to haul off the waste and process it into compost. 
A newer program through Urban Roots Farm is a good match for anybody who prefers to drop their compost off. There are Springfield Compost Collective bins on-site at Urban Roots Farm's farmstand, so you can kill two birds with one stone—compost drop-off and veggie shopping. Drop your organic food waste in the bins to be turned into compost, and then pick up some locally grown produce while you're there.
Let's be honest for a moment. How much food does your household throw away on a weekly basis? Probably a lot more than you'd care to admit. According to Ashley Krug, Market Development Coordinator for the City of Springfield Environmental Services, it's estimated that 400 pounds of food per person is thrown away every single year, totaling about $1,500 per family of four. That's a lot of forgotten food rotting in our landfill.
While careful meal planning is important to decreasing the amount of discarded food in your home, some waste is inevitable. Through the Dish to Dirt program, Krug and the Springfield Environmental Services team are working to educate Springfield community members on the ease of home composting. Workshops guide attendees through an educational workbook, and everyone goes home with two free compost bins—one for the kitchen counter to collect scraps, and a closed composting system for the backyard. "We've had about 400 people go through our Dish to Dirt classes so far. And we started it last year," Krug says.
What is Compost?
To put it simply, compost is decayed organic matter that can be used as a soil amendment or organic fertilizer. Through a combination of nitrogen-rich greens, carbon infused browns, air and water, waste reverts to a nutrient rich material in three to six months that's great for your garden. Not only are you reducing the amount of trash heading to the landfill, but you can recoup some of those precious dollars spent on well-intended meals.
Do Your Research Before Getting Started
Before jumping straight into tossing those tired fruits and veggies into a pile in your backyard, Krug says there are a couple of things to consider. "I encourage people to assess their lifestyle, and also where you live," she says. "Check with homeowners associations about what is and isn't allowed, and know your different types of composting."

Choose Your Compost System
Luckily, there are many composting systems to choose from to fit your specific needs. You can go as simple as an open air pile in your backyard, take a DIY approach by building a closed composting system out of wood and chicken wire or spring for a fancy digester that speeds up the process.
Get Started
The Springfield Environmental Services team plans to host Dish to Dirt workshops each spring and fall. Check for upcoming dates and sign up to attend a session at springfieldmo.gov/dishtodirt. If you're unable to attend a workshop, Krug suggests hopping online to springfieldmo.gov/foodwaste for all of their home composting tips. You too can help conquer food waste in southwest Missouri.