Things to Do
Breeze through the Season on a Fall Bike Ride
Temps are dropping, the leaves are beginning to change, and now is the perfect time to get in a few bike rides before the end of the year. Whether you're a pro or are just getting started, we rounded up four ways to hop on a bike this month.
By Jenna deJong
Oct 2019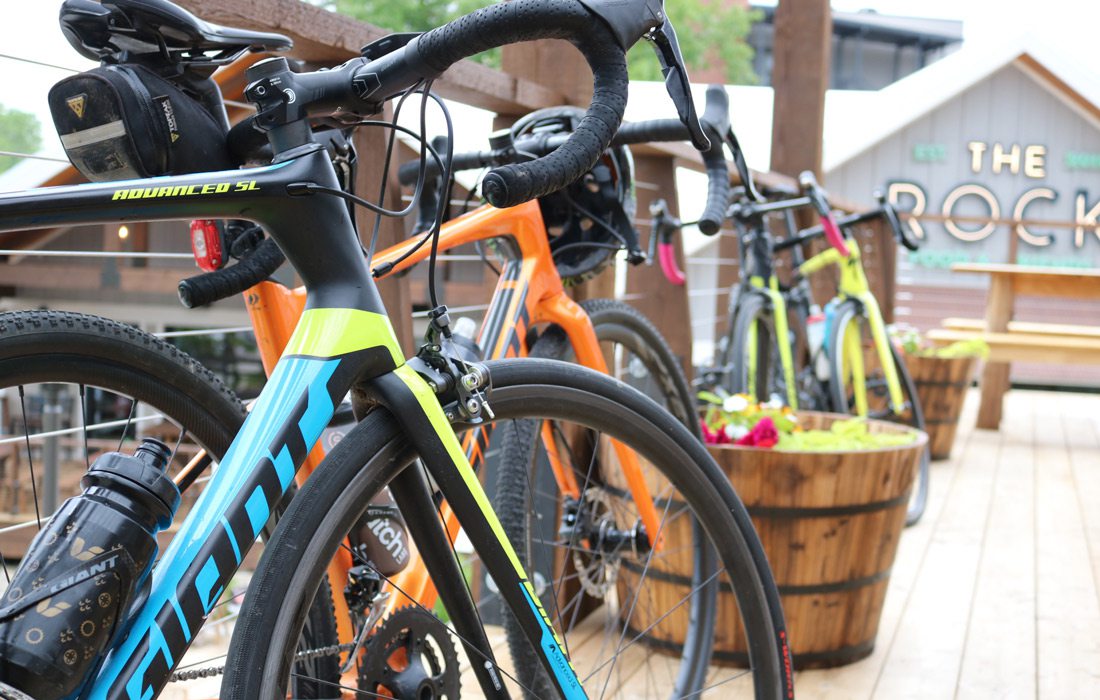 Where to Rent a Bike
Rent bikes at the Frisco Bicycle Rental Sales and Services 
Address: 109 Jackson St., Willard
Hours: Friday, 9 a.m.–6 p.m.; Saturday and Sunday, 10 a.m.–5 p.m.; Monday–Thursday, by appointment only 
Details: Haven't hopped on a bike all season? No judgment from us, but because temperatures are dropping, now is the time to seize the day. The Frisco Highline Bike Shop is the spot you need if you don't have gear of your own. Whether you're riding the nearby Frisco Highline Trail or weaving through the streets of Springfield, MO, this shop has your back. 
Men's, women's and children's bikes are available in a variety of sizes and models depending on what kind of terrain you plan to cover. The shop even has pull-behind trailers, pet trailers, adult tricycles and tandem bikes. Take your experience to the next level with the shop's guided tours of the local mountain bike parks and shuttle service to and from Bolivar. 
Where to Buy a Bike
Buy a bike at Adventure Bicycle Co. 
Address: 3250 E. Battlefield Road, Springfield 
Hours: Monday–Friday, 10 a.m.–7 p.m.; Saturday, 10 a.m.–5 p.m.
Details: Enough is enough. You've had your fun borrowing bikes and renting when you can, but you're ready for a long-term commitment with the Ozarks scenery enjoyed from your bicycle seat. Look no further than Adventure Bicycle Co. 
Owned by three local men, the shop opened this June and has a large inventory ranging from hard-hitting mountain bikes to smooth fitness models. Of course, any bike shop wouldn't be complete without all the bells and whistles. Stop by for chains, headsets, pedals, helmets, handlebars—if you need it, they've probably got it. You can even accessorize and grab a new outfit to boot.
Pro tip: Don't forget a car rack. The shop has a selection for various car models that will likely fit whatever four-wheeler you've got.
Where to Go for a Quick Bike Ride
Weave through Wilson's Creek National Battlefield 
Address: 6424 W. Farm Road 182, Republic 
Hours: Hours vary depending on the season. 
Details: One of the most gorgeous rides around Springfield, MO is undoubtedly Wilson's Creek National Battlefield. Located at the site of the first major Civil War battle, you can almost feel the history pouring out of the park as soon as you step foot on the gravel.
Hop on your bike and start on the one-way, 5-mile paved road that makes a large loop through the park. When you are ready for a break, stop at the Visitor's Center or the Ray House, which served as a temporary field hospital for Southern soldiers. This is one of those bike paths that's perfect for a leisurely ride with the kids. Just be sure to look out for pedestrians who are likely on the path as well.
Where to Mountain Bike  
Test your luck at Two Rivers Mountain Bike State Park 
Address: 5055 2 Rivers Road, Highlandville 
Hours: Sunrise to sunset
Details: Get ready to jump, weave and soar through 14 professionally built miles of mountain biking trails at Two Rivers Mountain Bike State Park. Only seven years old, this park survives on the love and care of volunteers and donations and is completely free to use. Open to mountain bikers, runners and hikers year-round, this adventure gem is right in our backyard and is the ideal spot to take your bike for an ambitious spin.
This beloved 400-acre park is supported by TrailSping, a nonprofit dedicated to highlighting the breathtaking beauty of the Ozarks. Though professionally built, these trails have the thrills of a natural landscape, including drop sections, rock features, built-in wall rides and wooden ladders.


Pedal your way through acres of lush green forest and miles of rolling hills and take in views of flowing rivers, towering bluffs and bright blue skies. From in-town bike paths to rough mountain biking terrain, this is your guide to the best bike trails.