Things to Do
Relax and Unwind at Sequiota Park
The trails, scenery, natural features and nearby shops and restaurants in Galloway Village make Sequiota Park one of the most popular local escapes for locals and visitors alike.
By Morgan Carleton
Nov 2020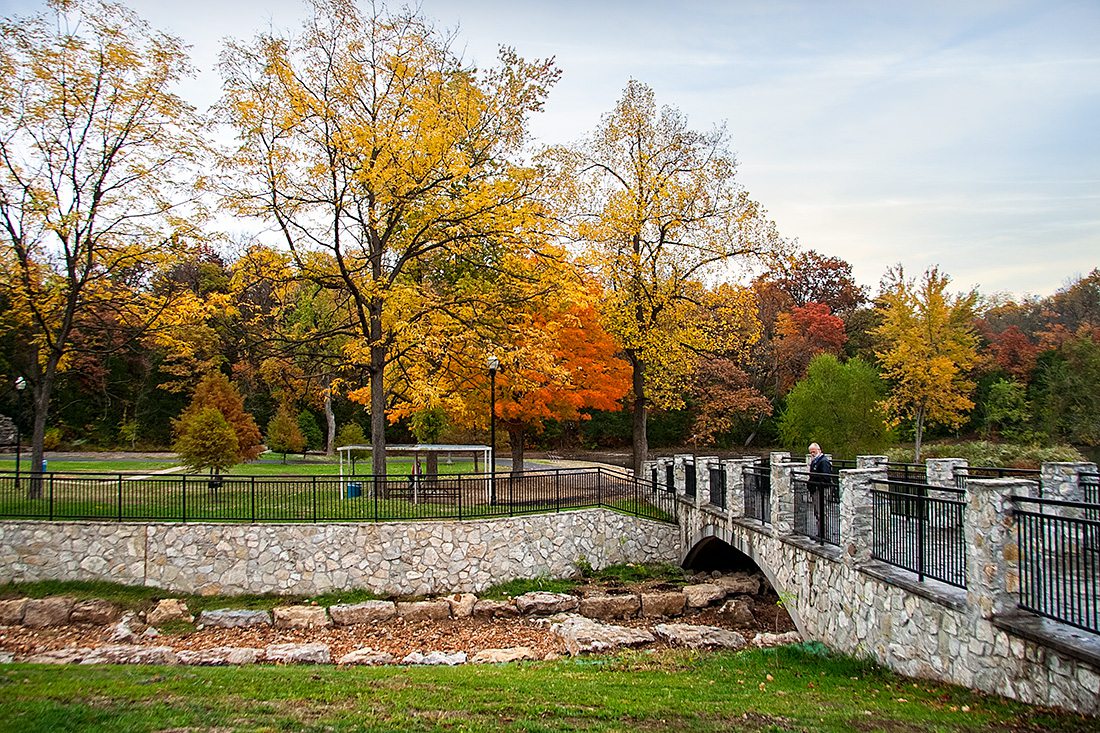 Sequiota Park offers a unique space to spend an afternoon thanks to its history and scenery. Located in the Galloway area right off of Lone Pine Avenue, the park is 29 acres of playground, trail, and landscape. This intimate park is as beautiful as it is accessible, and it's one of the best spots in Springfield to take an afternoon stroll or soak in a relaxing evening watching the sunset.
Most people visit Sequiota for the scenery, but we recommend staying for the history. Jenny Edwards, public information administrator of the Springfield Greene County Park Board, says Sequiota has existed for more than 100 years and has functioned as a park since before World War II, which makes it one of 10 historic parks in Springfield. 
Before Springfield and Galloway were united, they were separate towns, and Sequiota park existed within Galloway. Frisco Railroad once provided a passenger train connecting Springfield to Sequiota to Chadwick, which allowed visitors to travel to and from the towns in the early 1900s. "This park was once a destination for the people of Springfield and is now one of the most popular parks in Springfield," Edwards says. 
In 1920, Sequiota was bought by the State of Missouri and used as a fish hatchery. The fish hatchery developed the current lake that is still there today. Although Sequiota has always been used as a park, it wasn't officially labeled as one until 1959. It was deeded to the City of Springfield once the fish hatchery moved to Table Rock Lake, Edwards says.
On your visit, there are multiple unique aspects of the park to seek out. Within Sequiota, there are three caves, and the largest is the main water supply for the lake that the paved path loops around. These caves are home to endangered bats and are considered to be their safe haven. Although these caves are closed to visitors without a permit, you can still admire them from a distance. If you are eager to see inside, the Park Board offers boat tours throughout the year.
While at Sequiota, be sure to enjoy a picnic and make the most of the large shaded pavilion and many picnic tables and grills. There are also multiple grassy areas that are nicely shaded thanks to the park's towering trees. 
Sequiota might offer the perfect spot for an afternoon walk, but it is also connected to the Galloway Trail and serves as a trailhead for the greenway. For those who are looking for a space to ride bikes, jog, or hike, Galloway Trail offers 5 miles of paved paths beginning at Pershing Elementary School and ending at the old iron bridge over James River.