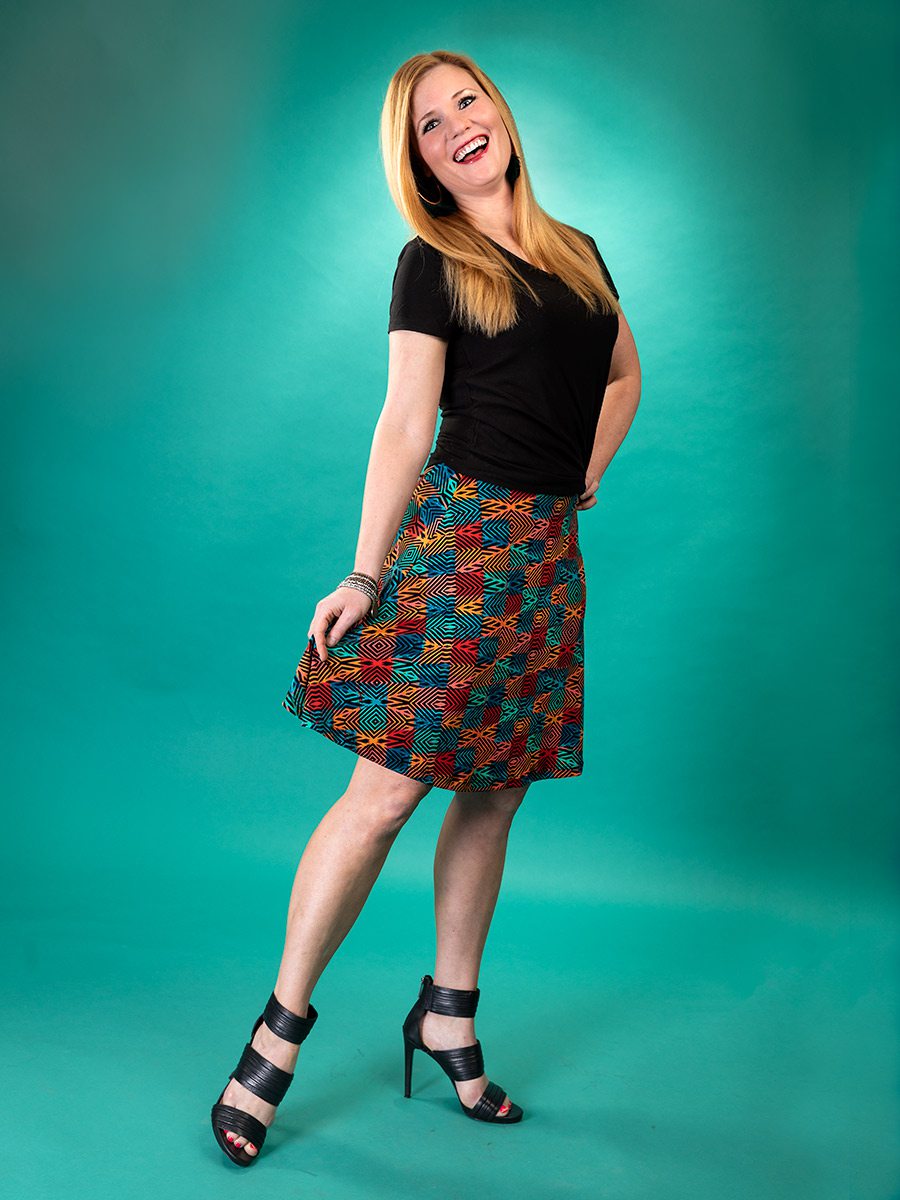 The woman who receives the most online votes and brings the biggest crowd to Indulge will donate a portion of the event proceeds to her local charity of choice. The winner will be announced at Indulge on October 3.

---
What is your local 417-land charity of choice, and why is it important to you? 
Confidence Club: This is a program that I run through my business, getting free clinical skincare treatment to teens and young adults with debilitating acne who cannot afford dermatologist expenses. 
I struggled with acne all through my teenage years, young adult years and even into my 30s. That is the original reason I got into skincare and consulting for dermatology. I know how much it can affect a person's confidence, and I personally have seen entire personalities blossom simply from getting clear skin. People that used to hide in the corner or constantly look down can now hold their head up, make eye contact and build relationships. 
I truly believe that when our youth are confident, they can then not only go out and achieve for themselves but also put themselves into a position where they can bring others up with them. Of course, skincare alone cannot do this. There is so much more to building up a strong person. I also believe that our outside does not define our inside. That being said, after suffering through debilitating acne firsthand, I want to do everything I can to help others break that cycle. This is honestly the most rewarding thing about working in the skincare industry. I love helping people see a glimmer of hope, and I love seeing confidence restored. 


Do you volunteer, or are you involved in any philanthropic or community organizations? If so, what are they, and what do you do?

I have worked with Lutheran Family and Children Services and several schools in the past by helping with dance and choreography instruction. I have a degree in Dance Performance from Oklahoma City University and have traveled the world professionally as a singer/dancer for 18 years. I enjoy sharing what I know and seeing students perform things that they never thought they could do. The most rewarding part is seeing a young person's confidence grow. For this reason, I especially love teaching non-dancers and watching their story unfold. 
I am currently most involved at James River Church and Evangel University directing choreography for events and musicals.


What do you think makes a woman beautiful?
The most beautiful women are confident in their own skin. When you are firmly planted in who you are and your purpose for being here, you then have the power to reach out and pull others up with you. Look for the women who are encouraging others, giving a helping hand or mentoring. Look for the women who are speaking life into others and avoiding gossip, drama and social-climbing. These are the true beauties. 
This is what my business Skin Confidence Coach is all about. Yes, it is partly about clinical skincare, but [it's] mostly about building people up on a strong platform of self-confidence so they can be fully equipped to go out and become world changers. 


What has been your proudest moment? Or, what are you most proud of?

I am most proud of my children. What a crazy challenge parenting is! I officially let go of performing as a singer/dancer full time about five years ago when I had children. I am still known to hop back in every once in awhile, but most of the time I am blessed to be able to run my own business and adjust my schedule so that I can spend most of my time with my children. 
Parenting did not come naturally to me. Before kids, I had never changed a diaper and had barely even held a child! The reality of becoming a mom didn't even hit me until 10 minutes before my first child was born! It has been very challenging and very rewarding. I am most proud of my children not only as my greatest accomplishment, but also because of how it has shaped me as a person. I am interested in every detail about my children from emotional stress to eczema breakouts. To imagine that my God painstakingly cares about every single detail about me and my life the same way and even more than I care about my own children has humbled me beyond words. It leaves me compelled to care deeply for others around me and in my community.


What was one particularly defining or life-changing moment in your life?
After I graduated college, I moved to Manhattan, NY, to start my career as a performer. What an exciting time! I enjoyed traveling the world doing what I loved best. I saw amazing sights and met even more amazing people. I spent many years living out of a suitcase, ready to fly out for a job at a moment's notice. But one moment that I will never forget is standing on the Great Wall of China. To actually be standing on it and seeing it stretch out endlessly in either direction over the hilltop was breathtaking. It was an incredible moment, and I longed to turn to someone and say, "Isn't this amazing?" The defining moment was that I was alone. I had no one to turn to and share the experience with. As a performer, I was fortunate to be able to travel to some amazing places and have some truly incredible experiences. From dog sledding in Alaska to working with tigers in Saipan, I wouldn't trade it for anything. It is a solo life, however. I realized that no matter where you travel to or how far you go, it is the people that you share your life with that bring the most joy. I still have a love affair with travel, but I am happy to say that 417-land is my home sweet home.


When you were a child, who did you think was the most beautiful woman? Why?
When I was a child, I wanted to be exactly like Vera Ellen in White Christmas. I adored her dancing and beautiful costumes. Looking back though, I can see that one of the most beautiful women I spent time with as a child was my great-aunt Ruthie. She was the epitome of childish innocence. She would build forts indoors on rainy days and play make-believe in the garden on sunny days. Her eyes always sparkled with joy and wonder. What made her so beautiful was her ability to see and share the beauty around her. In her 90s, she told me that she would be doing cartwheels down the aisles of the church in heaven, and I have no doubt that she is.


What advice would you give to a young girl about being beautiful?
Beauty is so much more than the world tells us it is. In a selfie and filter culture, it is easy to become disillusioned. It is easier than ever to pretend to be someone you are not or present yourself the way you want to be seen after all the "corrections" have been made. Unfortunately, that is just an empty shell. True beauty starts as a seed and grows within you through confidence, generosity and love until it blossoms on the outside. Without a solid root structure, your true beauty cannot develop, and painted-on beauty will never last.


What's something that might surprise us about you, or a story you love to tell?
For someone that built an entire business around confidence, I will be the first to admit that we are all human. In the early years of my marriage I was having one of those ridiculous moments of self-loathing while getting ready for bed one night. I was complaining about my hair, my clothes, my skin—I admit, petty stuff—and feeling altogether frumpy. My husband—bless him—had no idea what to say, so he tried to make me feel like I wasn't alone. "Yeah, we both have just let ourselves go," he said. Silence. "Umm... we're both just big fat slobs." You can imagine how that went over! Haha! Needless to say, we went to bed without saying anymore. In the morning though, before he left for work, my husband gently kneeled beside me as I lay sleeping. My hair was a mess, I had a huge blemish on my forehead, and I was sleeping with a hideous bite guard in. In a genuine and heartfelt tone, he said, "Lyra, I truly think that you are beautiful." Knowing that he meant it, I replied through my bite guard, "Schanksch."


What is your biggest source of inspiration?
God. I am challenged and inspired to care for others the way that He cares for me. I am reminded of this particularly when I am spending time outside in nature. When I revel in the artistry of a bird's feathers, it reminds me that there is beauty all around us if we choose to see it. When I see the trees, it reminds me that with determination grows strength. When I watch the sky change colors, it reminds me that every day is a new canvas, and it is up to us to paint our future. I am passionate about helping others see this, too.


Where do you find beauty in 417-land?
There are all kinds of beauty in 417-land! I personally love nature and there are so many great options for outdoor activities here. Another type of beauty are the people. When you really start to get involved, it is amazing what innovative minds we have here. There are people growing the community through art, business and nonprofits that are so inspiring. 


What do you think is the biggest issue or challenge 417-land is facing right now, and how would you tackle it? 
I think that a unique challenge that 417-land and the country as a whole is facing right now is the ability to come together with people that you don't agree with. It is easy to spend time with people that think and act exactly like you, but it is an entirely different story to do the same with people that don't. While I am a big believer in curating your influences and choosing your closest circle wisely, I also believe that there is great value in hearing opposing, and possibly new, points of view. This is what sharpens us and helps us all grow. It is okay if your mind is changed on a subject, and it is also okay to agree to disagree. Contrary to popular belief, this is actually healthy. It is possible to respect and enjoy the company of someone that doesn't think just like you. How boring the world would be if we were all the same!


Fill in the blank: Friends would describe you as "The _____ One." 
"The Busy One" I am not proud of this, but it is the truth.

See the winners in the September issue!
Get to know our 10 Most Beautiful even better. Then, watch them walk the runway at 417 Magazine's Indulge on October 3 at Oasis Hotel and Convention Center.