Profiles
How Willow Springs High School Alum Landon Rodgers Provided 30,000 Meals to His Community
After Landon Rodgers studied food insecurity in his classes, he spent his Senior year creating thousands of meals for local people in need.
By Jenna Dejong
Jun 2019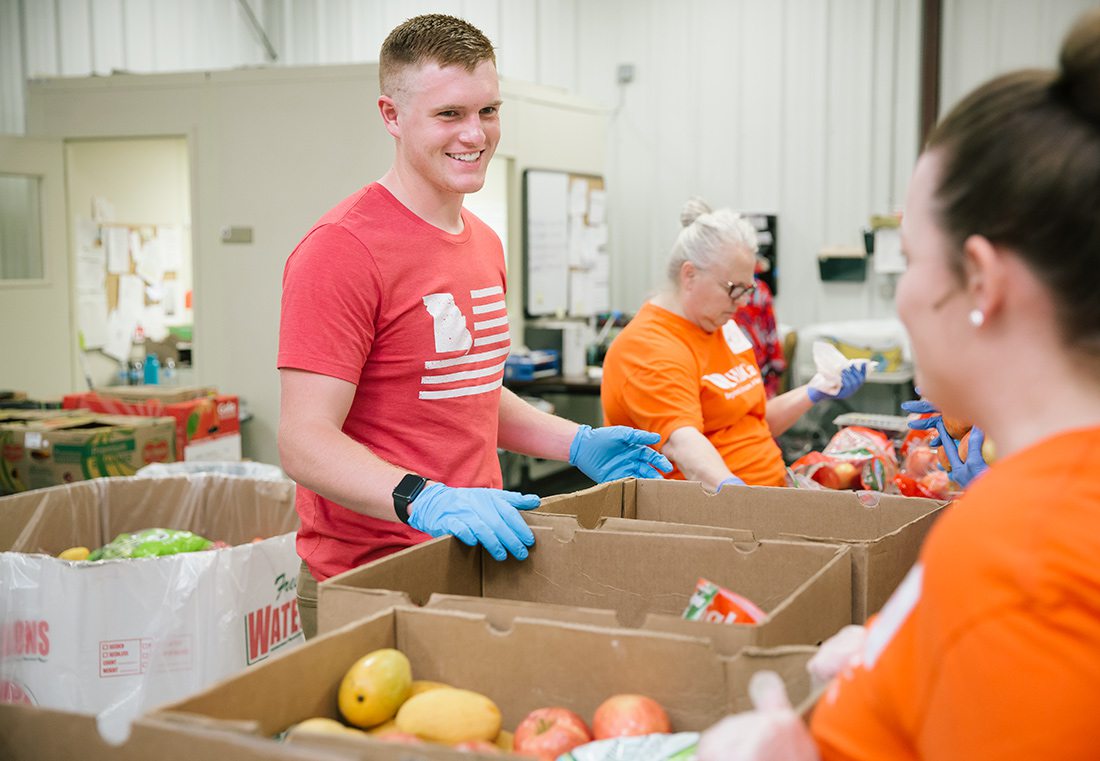 The romanticism of being a high school senior evokes feelings of nostalgia, but it's not what Landon Rodgers, Willow Springs High School alum, will reflect on. His senior project and the more than 30,000 meals he provided to his community are what will make him smile the most. 
If you ask Rodgers what he was involved in during high school, his response might take a minute. He was president of Willow Spring's Future Farmers of America chapter, vice president of the Area Association of FFA, secretary of Future Business Leaders of America, high school ambassador and president of the Interact Club and captain of the basketball and tennis teams. 
His involvement is what made his senior project, an analysis on food insecurity in the area, a standout. Through his role in Future Farmers of America, Rodgers saw a disconnect between the number of people who needed meals and the number of community organizations that were able to provide them.
His first endeavor was dubbed "Trick or Treat So Others Can Eat." He and 25 other students spent Halloween night rounding up roughly 400 pounds of food to give 40 families in the district Thanksgiving baskets. With assistance of district administration and his school's social worker, Rodgers delivered the baskets personally—an experience he says he will never forget.
"My main focus was how food insecurity affects those that struggle with it and the effects that it has on their day-to-day lives."
— Landon Rodgers
Once the holidays passed, Rodgers set to work on his next project. He started an online fundraiser to accept rolling donations called "Be a Hungry Hero with Landon Rodgers" through Ozarks Food Harvest's website and advertised the project's mission through community flyers, the school newspaper and word of mouth. His mission won the hearts of its viewers, and in two months, he rounded up $2,110, which funded 8,440 meals that were eventually donated through Ozarks Food Harvest. 
His mission didn't stop there. After the Hungry Hero fundraiser ended, Rodgers wanted to coordinate one last push to conclude his year-long project. He enlisted 22 students and parents, and the group assembled 792 Weekend Backpack bags, which totaled more than 4,500 meals. 
The project was a brainstorm from a weekly event Willow Springs High School put together. Rodgers, along with other students, stayed after school almost every Wednesday to put together Weekend Backpacks for fellow students who would then receive them anonymously in their lockers with the help of the school's administration staff. After deciding the event could extend to the community, Rodgers asked Ozarks Food Harvest for their partnership and Willow Springs High School for donated backpacks, and the one-day assembly was a go. 
After Rodgers presented his senior project, American Fundraising Professionals recognized him as the Youth Philanthropist of the Year, and the American Red Cross named him the Youth Samaritan of the Year. Now a year out of high school, Rodgers is enrolled in a two-year nursing degree program at Missouri State University's West Plains campus with plans to eventually earn a doctorate in nursing practice.