Profiles
How Siphiwe Baleka is Preserving His Ancestral Culture and Language
Siphiwe Baleka is best known for his fitness initiative for truckers, but after discovering a connection to the Balanta people in the African country of Guinea Bissau, he's shifting his focus to the new goal of preserving his ancestral culture and languag
By Jamie Thomas
Apr 2020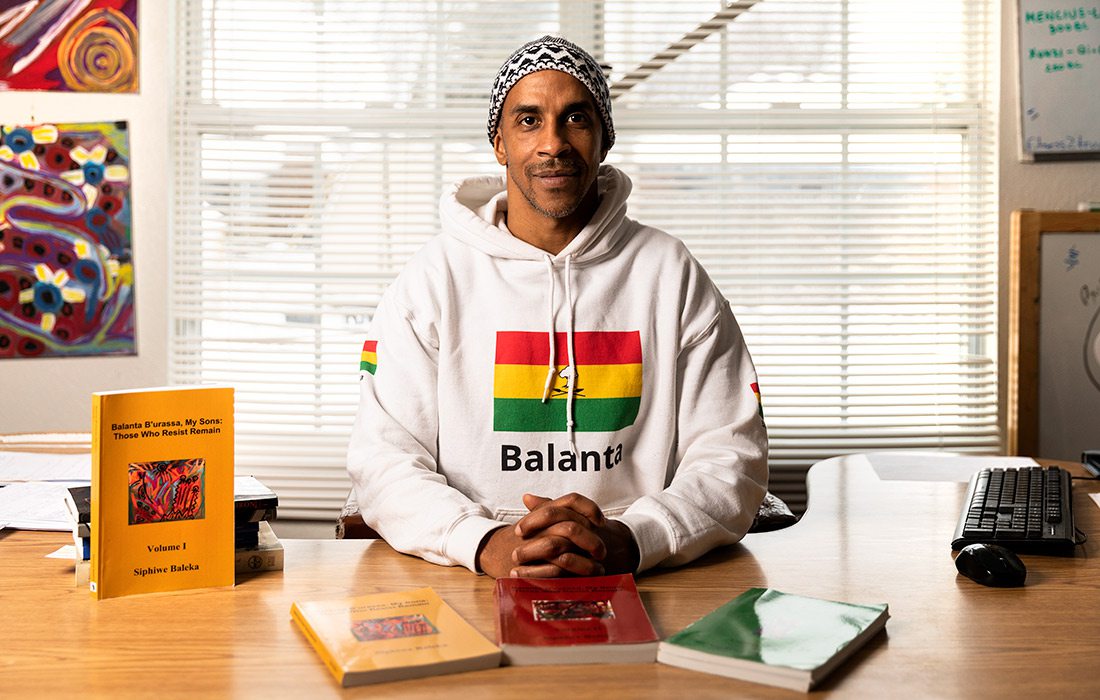 417 Magazine: How did you discover your connection to Guinea Bissau? 
Siphiwe Baleka: Most African Americans who are descendants of people who survived the middle passage, we don't know where we come from. All we know is that we come from some place in Africa. I had this desire to find out where I really come from. I took an African ancestry DNA test in September 2010. It came back that the ancestry on my paternal side was 100% Balanta.
417: When did you first visit? 
S.B.: My first trip to Guinea Bissau was January 8, 2020. I had been to Africa several times, but this was my first trip to reconnect with my actual Balanta kin.

417: How did you feel when you arrived?
S.B.: In October 2019, I competed in the First International Masters Swimming Championship in Cairo and won six gold medals. On the podium, I stood with a Guinea Bissau flag with "Balanta" written across it. That picture went viral in Guinea Bissau. So, it wasn't like I was going and no one knew who I was. This was a big event. For me, to have those two things combined: I'm the first of my family to return after 250 years, and to have a nation of people welcome me—how can you have a greater and more profound experience?

417: How long did it take to research your family history?
S.B.: When I found out in 2010 that I was Balanta, I started to seek out information on Balanta just as a curiosity. I discovered that there was very little information because they never developed leaders or kings, so Western scholarship was never interested in them. Around 2018, I really started to compile all the information I could find that was in English.


417: What led to founding the Balanta History and Genealogy Society in September 2019?
S.B.: I knew what I went through trying to find out about my Balanta ancestry, culture and history. Since I had already done the work, I needed a vehicle to disseminate the information and help [other Balanta descendants] with their own family stuff. That's why we set up the society and started publishing so much information.

417: Has there been a lot of interest?
S.B.: Yes, we get more and more people who have already discovered they have Balanta heritage—they find us, one way or another. We have a very active Facebook group with hundreds of members; our webpage gets hundreds of page visits every week. And it's not just African Americans discovering that they're Balanta; people all over the world are learning about Balanta history from us.

417: How did the initiative to preserve the language develop?
S.B.: The motivation was that we can reclaim [our culture] by learning the language. But we realized there are no learning materials. Balanta people in Guinea Bissau did not preserve it themselves; there are no Balanta-to-English dictionaries. One of our members [Sansau Malik Tchimna] who went to Guinea Bissau in early 2019 realized one of the biggest challenges for us to reclaim our heritage is we have a language problem. He took the initiative to start learning the language and making these YouTube videos that really resonated with other Balanta people in America. We started working together, and we decided to form the Language Preservation Society so that we could teach our children the language. Then we realized that the curriculum and the educational materials we were developing they didn't have in Guinea Bissau.


417: How receptive have the people of Guinea Bissau been?
S.B.: They're very excited. There's very little foreign investment or aid in Guinea Bissau—the United States doesn't even have an embassy there. To have a group of people in America who have a natural desire to preserve the Balanta language and can access funding to produce education materials through the resources that are available, it's like a Christmas gift to them.

I sat down with the elders and I said, "what do you need?" They said, "the first thing we need are solar panels for this pump and we need taps, because the women are tired at the end of the day from having to carry so much stuff." When they need water, they've got to pull it up from a well and carry a bucket for 30 minutes. So I said, "Let's try to access those programs for solar panels and things like that, and we can deliver those things ourselves."
417: Is your work with Guinea Bissau your main focus now?
S.B.: Absolutely. We can do significant development work to benefit Balanta people and all people in Guinea Bissau because we happen to live here and have access to resources. By doing people-to-people development we have a direct relationship. This is a model of development for Africa based on what we call "the ancestry movement." It's not just me; I work with other ethnic groups who sit on a council together (houseofancestry.org). Once you have a real connection with the people, you're going to feel it in your heart to do what you can to help them.
417: How has it impacted your personal outlook?
S.B.: In one way, this experience has given me clarity of vision. In a second sense, it's what I call "complete alignment." When you go to motivational speaker or entrepreneur's success seminar, you'll often hear people talking about "what's your why?" The why has to be big enough and grand enough, right? So, you've got to know what your why is and to have that clarity. Then you've got to write it out in detail. Your goals—smart goals that are specific and measurable. That's what the grant proposal writing process basically is. So, when all aspects of your life are in alignment the energy in the universe flows and you'll be successful.
You can help Siphiwe Baleka in a few different ways. Take a look at the official website for the Balanta B'urassa History and Genealogy Society,  the House of Ancestry Association, or give to his GoFundMe directly. You can also see more about his professional and personal history on his website.