Entrees
Artichoke and Potato Gratin with Carrot Green Pesto
Try out this Artichoke and Potato Gratin with Carrot Green Pesto from Katie Baker of The Gracious Plate.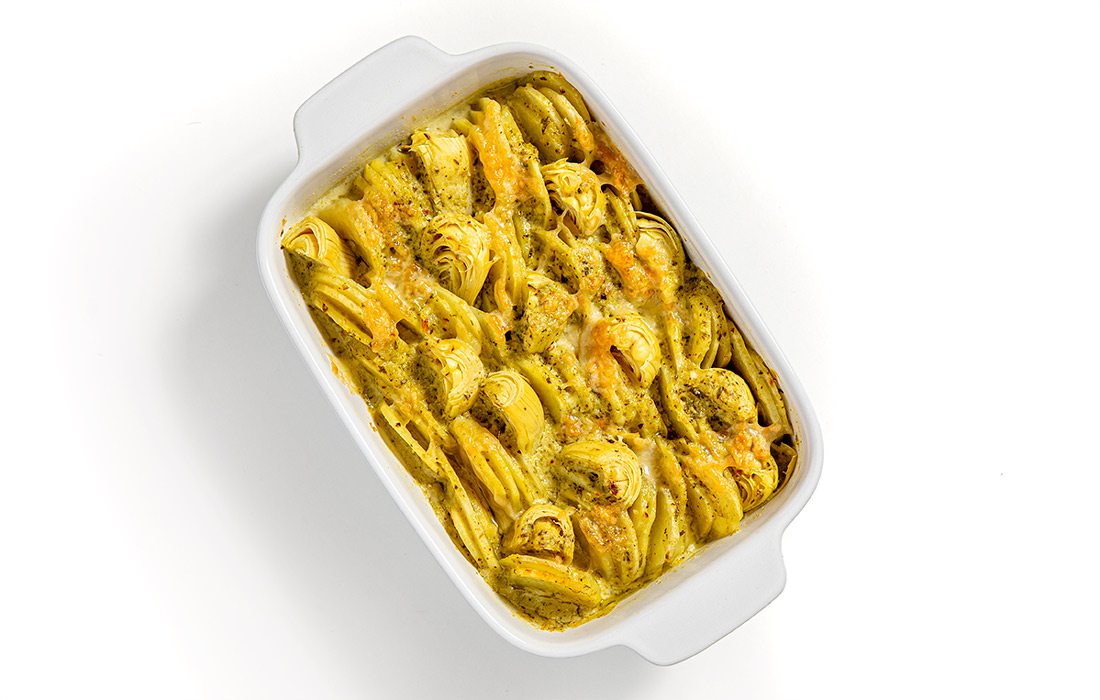 Recipe courtesy Katie Baker of The Gracious Plate

This dish serves 8–10 people

For the Pesto
• ½ cup carrot greens, stems removed
• ½ cup peas, fresh or frozen
• 3 tablespoons almonds, toasted
• 3 garlic cloves, minced
• 2 tablespoons lemon juice
• 4 tablespoons Parmesan cheese
• ½ teaspoon kosher salt
• 3 tablespoons olive oil
• 3–6 tablespoons water (as needed)
To Prepare the Pesto
In a food processor, mix carrot greens, peas, almonds, garlic, lemon juice, cheese and salt until a loose paste forms. Slowly add olive oil while food processor is running. Scrape the sides as needed and continue to blend. Add water a tablespoon at a time to create a sauce-like consistency.
For the Béchamel
• 1½ tablespoons unsalted butter
• 1½ tablespoons all-purpose flour
• 1 cup whole milk
• Kosher salt to taste
To Prepare the Béchamel
In a small saucepan, melt butter. Stir in flour for about 1 minute to form a paste. Whisking constantly, add milk in increments to avoid clumps. Salt as needed. Continue stirring until sauce comes to a simmer and begins to thicken. Reduce heat to low, and cook for 3 minutes, or until sauce can coat a spoon. Gently fold in pesto.
For the Gratin
• 2-3 yukon gold potatoes
• 2, 8.5oz cans artichoke hearts, drained
• Pesto cream Sauce
• Parmesan cheese for garnishing
Using a mandolin slicer or food processor slicing blade, thinly slice peeled Yukon potatoes. Add them to a bowl with 1 can of artichoke hearts and the pesto cream sauce making sure to cover all the potatoes completely with sauce. Shingle potatoes and artichokes in a medium size baking dish alternating potato and artichoke. Add remaining can of artichokes to the top of the dish, arranging them over the potatoes and artichokes below. Bake at 300°F until the potatoes are tender and the surface is lightly golden brown, about 1 ½ hours. Top with grated Parmesan and broil until evenly browned on top. Allow the gratin to rest 30 minutes before serving.