Small Bites
Bacon and Goat Cheese Rangoons
Served with a blackberry fig sauce. Recipe by Zach White, Executive Chef at The Order.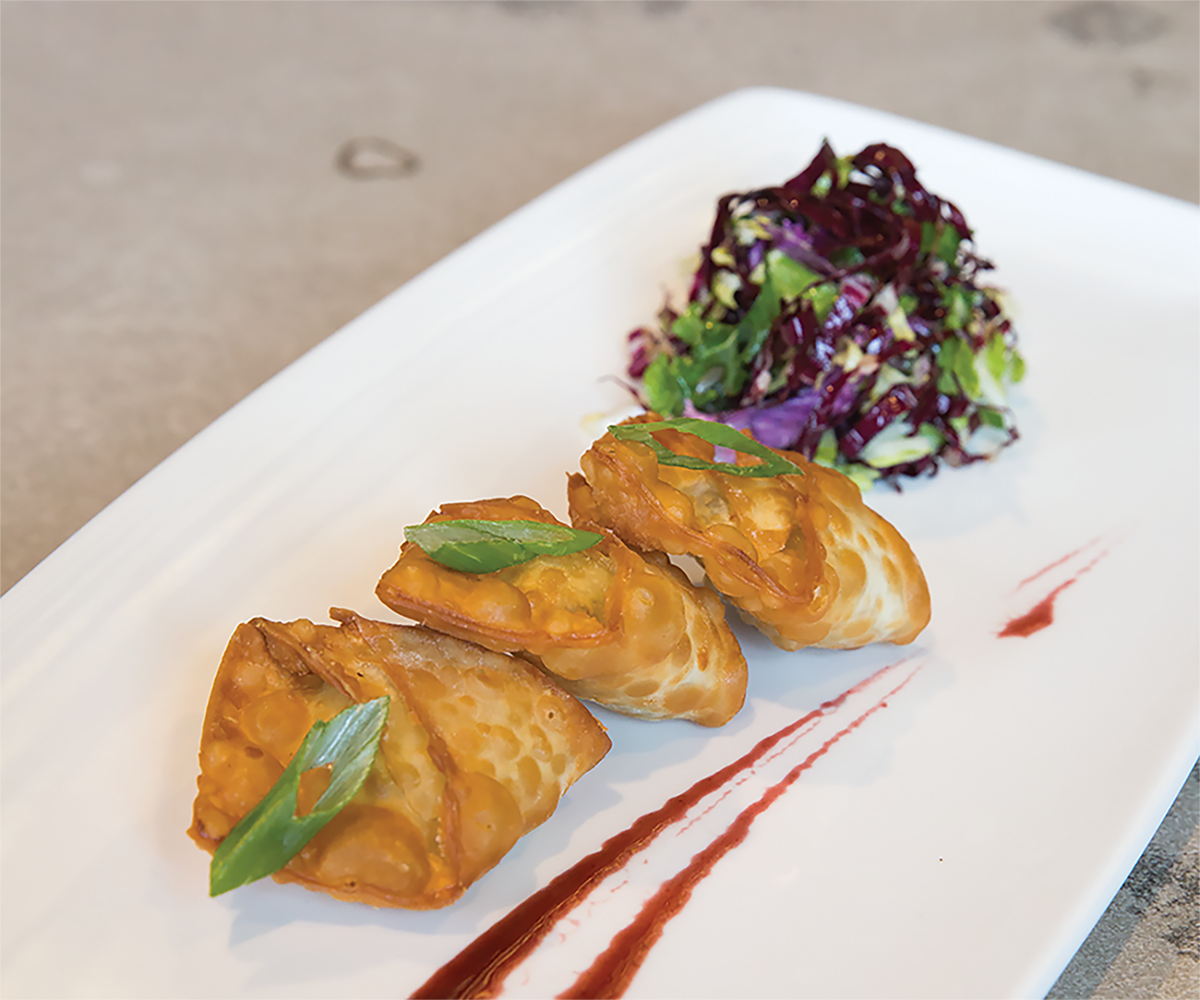 Serves 8. Best paired with Broglia La Meirana Sparkling Gavi. Recipe by Zach White, Executive Chef at The Order. From our March 2016 Cooking Class.

Ingredients for Rangoons
1 cup goat cheese
1 yellow onion, sliced
4 ounces bacon, cooked to crispy and finely diced, fat set aside
1 tablespoon minced garlic
​Wonton skins
Eggwash

To Prepare Rangoons
Heat fryer to 350°F. Take 1 tablespoon of bacon grease and caramelize onions until tender and golden brown.  Add garlic and cook until garlic is soft. Allow to cool. In a mixing bowl, mix goat cheese with caramelized onions, garlic and bacon until fully incorporated. Lay wonton skins out on counter, and place 1 ounce of mixture in the middle of wonton skin.  Eggwash the outside edges of wrapper, and fold opposite corners together, forming a triangle.  Take bottom corners of triangle, eggwash, and fold together to form a pouch. Fry until golden, approximately 1½–2 minutes. Serve 2 per person.


Ingredients for the Blackberry Fig Jam
1 cup frozen blackberries
3 ounces dried mission figs, de-stemmed
⅓  cup white wine
2 tablespoon plus 1 teaspoon balsamic vinegar
1 cinnamon stick
Half an orange, peeled and juiced
1 tablespoon plus 1 teaspoon sugar
2 tablespoon plus 1 teaspoon water

To Prepare Blackberry Fig Jam
Add all ingredients to a sauce pan and bring to a simmer, stirring occasionally for about 15 minutes.  Remove cinnamon stick and blend until smooth. Allow to cool, and serve with hot rangoons.