Desserts
Baked Apples
Dive right into Fall with a truly seasonal recipe: baked apples.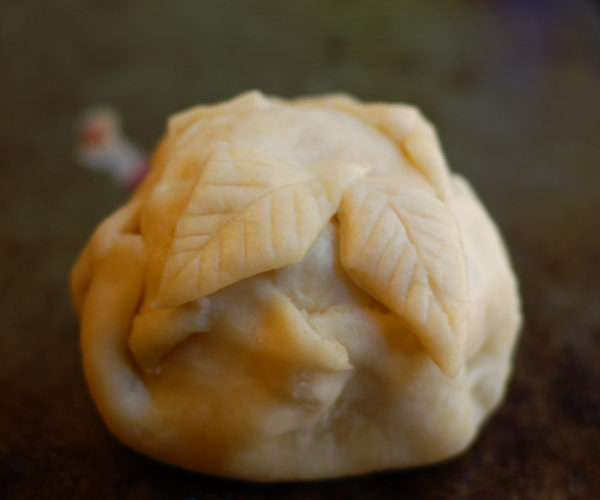 Makes 8 apples. Adapted from Organic Kitchen: Making the Most of Fresh and Seasonal Produce by Ysanne Spevack.

Ingredients
4½ cups all-purpose flour
1½ cups butter, diced
8 baking apples
1 egg white
⅔ cup sugar
3 tablespoons heavy cream
½ teaspoon vanilla extract
½ cup maple syrup

To Prepare
1. Pre-heat the oven to 425°F.
2. To make the pastry, sift the flour into a large bowl. Mix in the butter until the flour resembles breadcrumbs. I had to use my hands to get all the butter fully mixed in.
3. Add 3/4 cup of water to the dough, and mix until the dough holds its shape. Add more water if necessary.
4. Gather the dough into a ball, and wrap it in plastic wrap. Chill the dough in the fridge for 10 minutes.

5. While the dough is chilling, start peeling and coring the apples. To core each apple, be sure to start from the stem end and not cut through the bottom of the apple.
6. When the dough is ready, roll it out on a floured surface. Cut the dough into squares large enough to enclose one apple. Brush the dough with egg white, and set an apple in the center of each square.
7. Combine the sugar, cream and vanilla in a small bowl, and fill each apple with one spoonful of the sugar mixture.
8. Cut a small circle from the dough trimmings to cover the tops of the apples. Then start folding the dough squares around the apples. Moisten the joints with cold water where they overlap to help the dough stick in place.
9. Place the covered apples in a large greased cookie sheet. Bake for 30 minutes, then reduce the oven temperature to 350°F and continue baking for 20 minutes more, or until the pastry is golden brown and the apples are tender.