Entrees
Braised Short Ribs over Creamy Polenta
Plus roasted root vegetables. Recipe by Chef Patty Wingo of Simply Delicious Catering.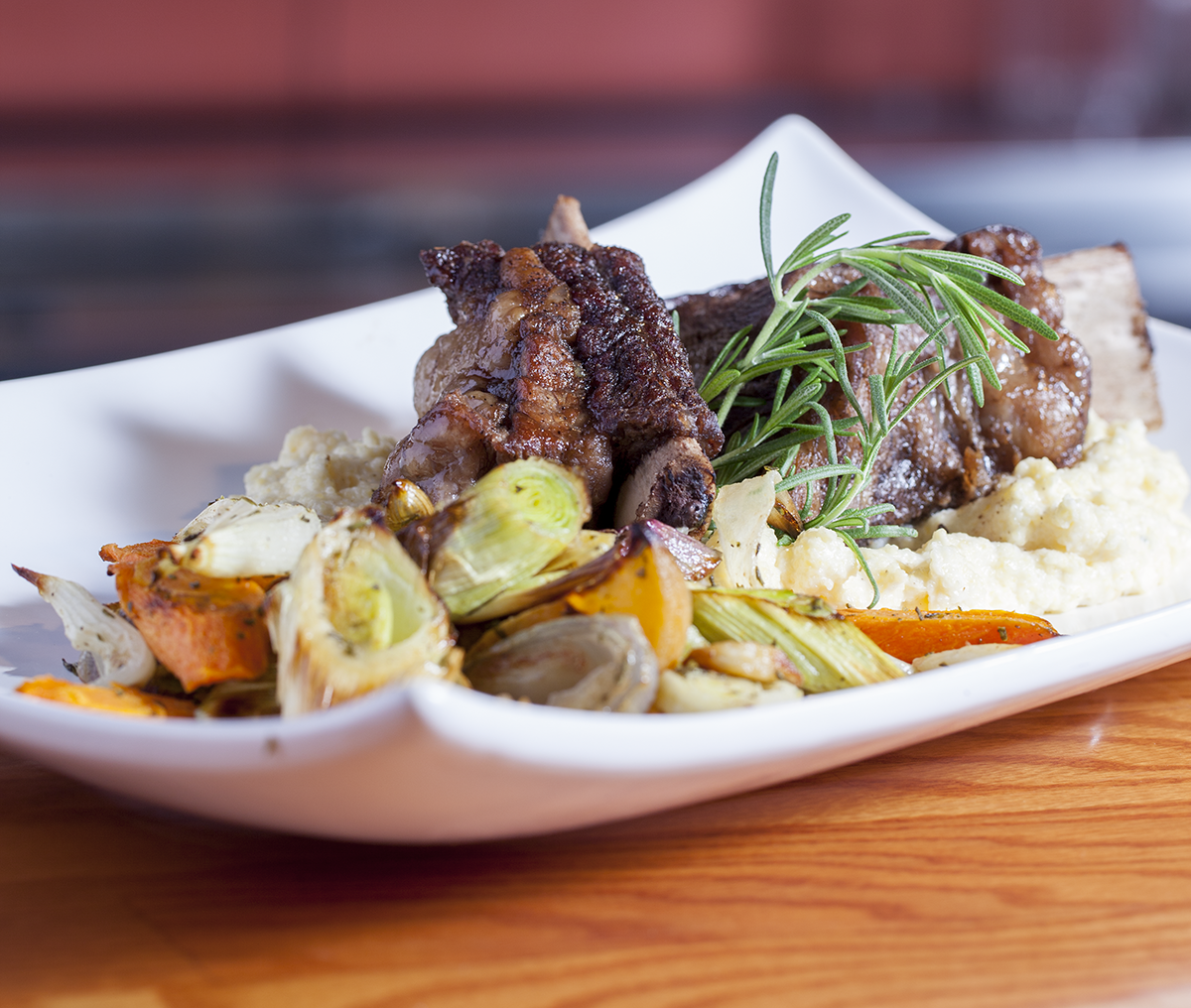 Serves 4. Best paired with Locations F. Recipe by Chef Patty Wingo of Simply Delicious Catering. From our October 2016 Cooking Class.

Ingredients for Short Ribs
Kosher salt and black pepper
8 beef short ribs
¼ cup all-purpose flour
6 thin slices bacon, diced
2 tablespoons olive oil
3 carrots, diced
2 shallots, finely minced
1 medium onion, diced
Splash of red wine
4 cups beef broth
2 sprigs fresh thyme
2 sprigs fresh rosemary

To Prepare Short Ribs
Heat oven to 325°F. Salt and pepper ribs. Dredge in flour. Set aside. In a large Dutch oven, fry bacon over medium heat until all fat is rendered and bacon is crispy. Remove bacon and set aside to drain. Add olive oil to the fat and heat on high. Brown ribs on all sides, 45 seconds per side. Remove ribs. Set aside. Lower heat to medium. Add carrots, shallots and onion. Cook for two minutes. Splash in wine and deglaze pan. Add broth, 1 teaspoon salt and plenty of black pepper. Bring to a boil. Salt to taste. Add ribs to liquid until almost submerged. Add thyme and rosemary sprigs to liquid. Add cooked bacon. Cover and transfer to oven. Cook until ribs are fork-tender, about two to two-and-a-half hours. Remove from oven, and let sit covered for at least 20 minutes. Before serving, skim fat off the top of the liquid. To plate, arrange two ribs on polenta, and spoon a little juice over the top.


Ingredients for Polenta
4 cups water 
1½ teaspoons of salt (or 1 teaspoon if using salted butter)
1 cup medium-grain yellow polenta
2 tablespoons butter
¼ cup boursin cheese

To Prepare Polenta
Heat salted water (1½ teaspoons of salt per 1 quart of water) to a boil over high heat in a thick-bottomed 2- or 3-quart pan, about five minutes. Quickly whisk in the polenta until fully incorporated.

Lower the heat to a very low simmer, add the butter and allow the polenta to cook, stirring occasionally so it doesn't stick to the bottom of the pan, for 25 minutes. Finish by stirring in the boursin cheese until it has melted into the polenta. Taste and add more salt if necessary. (You can also add more cheese if you want it to be even creamier.)


Ingredients for Root Vegetables
Nonstick vegetable oil spray
1 pound rutabagas, peeled, cut into 1-inch pieces
1 pound carrots, peeled, cut into 1-inch pieces
1 pound parsnips, peeled, cut into 1-inch pieces
2 onions, cut into 1-inch pieces
2 leeks (white and pale green parts only), cut into 1-inch-thick rounds
2 tablespoons fresh rosemary, chopped
½ cup olive oil
Kosher salt and black pepper
10 whole garlic cloves, peeled

To Prepare Root Vegetables
Position one rack in bottom third of oven and one rack in center of oven and heat to 400°F. Coat two heavy large baking sheets with nonstick spray. Combine all remaining ingredients except garlic in very large bowl; toss to coat. Season generously with salt and pepper. Divide vegetable mixture between prepared sheets. Place one sheet on each oven rack. Roast 30 minutes, stirring occasionally. Reverse positions of baking sheets. Add five garlic cloves to each baking sheet. Continue to roast until all vegetables are tender and brown in spots, stirring and turning vegetables occasionally, about 45 minutes longer. (This can be prepared four hours ahead of time. Let stand on baking sheets at room temperature. Rewarm in 450°F oven until heated through, about 15 minutes.) Transfer roasted vegetables to large platter and serve.