Entrees
Corned Beef and Vegetables
Satisfy your St. Paddy's Day crowd with tried-and-true corned beef and vegetables. Recipe by Patti Mikulin.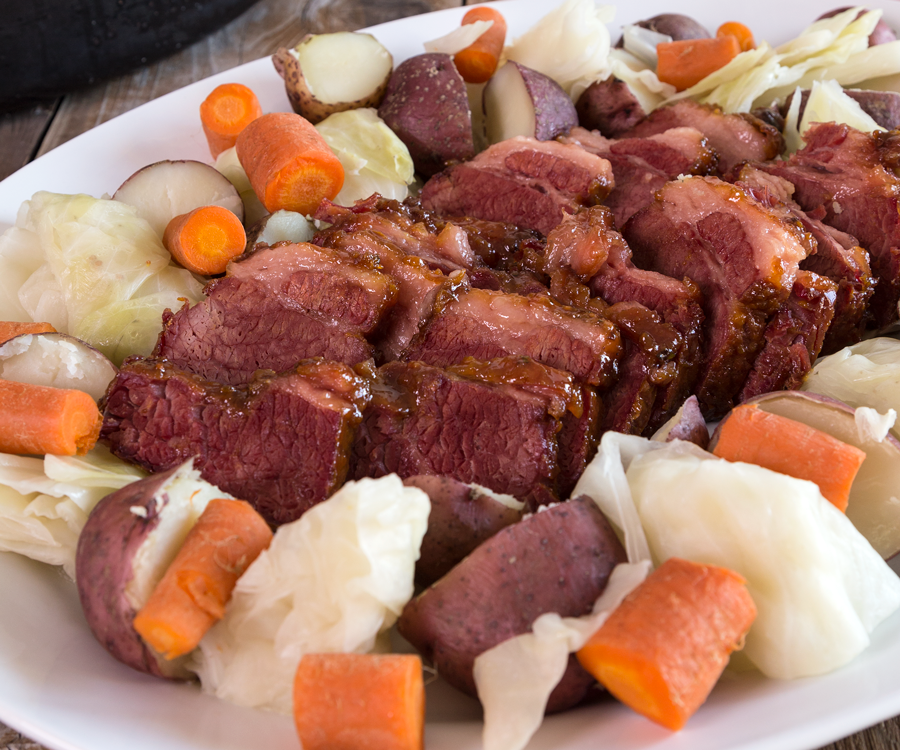 Serves 8. Recipe by Patti Mikulin.

Ingredients
3½–4 pound corned beef brisket, flat cut Spice packet (comes with corned beef)*
12 ounces apple juice or beer
Water
¾ cup yellow mustard
2 cups brown sugar
2–3 pounds small red potatoes
1 pound carrots
1 head of cabbage
Butter and parsley for seasoning

To Prepare
Place corned beef and contents of spice package in large stock pot. Add apple juice or beer, then fill with water to cover the meat. Cover and simmer for 3 hours. Remove corned beef from pot, drain and place in baking dish or pan lined with aluminum foil (trust us—this will make cleanup time much easier). Reserve two cups of the simmering liquid. Smooth yellow mustard over the top and sides of the corned beef, and then firmly press brown sugar on all surfaces of the meat. Bake uncovered in a 350°F oven for approximately one hour and 15 minutes or until beef is browned and bubbly. Baste beef with pan drippings twice while it's baking. Let rest for 10 to 15 minutes, and then slice across the grain.

While corned beef is baking, place potatoes, carrots and cabbage in a large pot. Add reserved simmering liquid, and then add water to cover vegetables. Cover and cook over medium heat until tender, approximately 45 to 60 minutes. Drain, and season potatoes and carrots to taste with butter and parsley. Arrange corned beef on a platter surrounded by potatoes, carrots and cabbage. Serve with Irish soda bread to complete the meal.

*This recipe calls for a pre-brined corned beef brisket, available at most grocery stores.