Drinks
Insta-Famous Dalgona Whipped Coffee
You've seen this frothy coffee concoction on Instagram, and with just five ingredients you can whip up a batch of dalgona iced lattes yourself.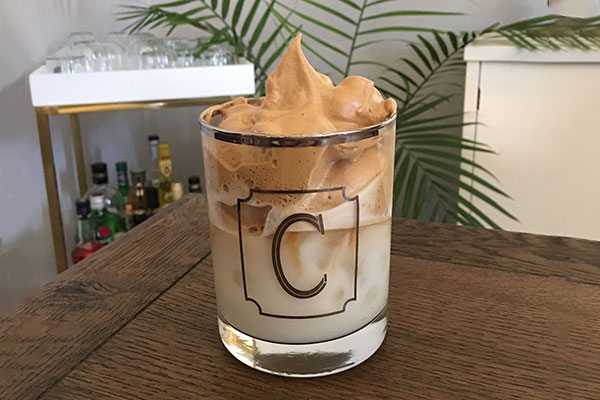 Dalgona is a South Korean crunchy-yet-airy honeycomb toffee candy made with sugar and baking soda. These light-as-air lattes mimic the color and cloud-like quality of the candy and are equally as good when topped with a few pieces of toffee. 
Makes about 2–4 servings
Editor's note: You can make more or less, just make sure your coffee powder, sugar and water are in a 1:1:1 ratio.
Dalgona Ingredients
3 tablespoons instant coffee or espresso powder
3 tablespoons granulated sugar
3 tablespoons water 
Ice
Cold milk of your choice (oat or coconut preferred)

Special Equipment
You can use a whisk and a large bowl, but the fastest way to get the highest peaks is to use a stand mixer or a hand mixer fitted with the whisk attachment. 
To Prepare
Combine coffee and sugar in the bowl of a stand mixer or in a large bowl. Heat water in microwave or get hot water from a kettle or sink and add to the coffee-sugar mixture. Fit a hand or stand mixer with the whisk attachment. Slowly mix until risk of splattering has subsided, then whisk on high until stiff, glossy peaks form. (This takes about 1.5 to 2 minutes. A good rule of thumb is to whisk until the bowl is cool to the touch.) Fill glasses partially with ice and pour about 1/2 cup of milk into each glass. Dollop whipped coffee on top of milk and serve.