Desserts
Mosbolletjies Bread Pudding
Turn your leftover Katiemade Mosbolletjies into a gooey, belly-warming bread pudding.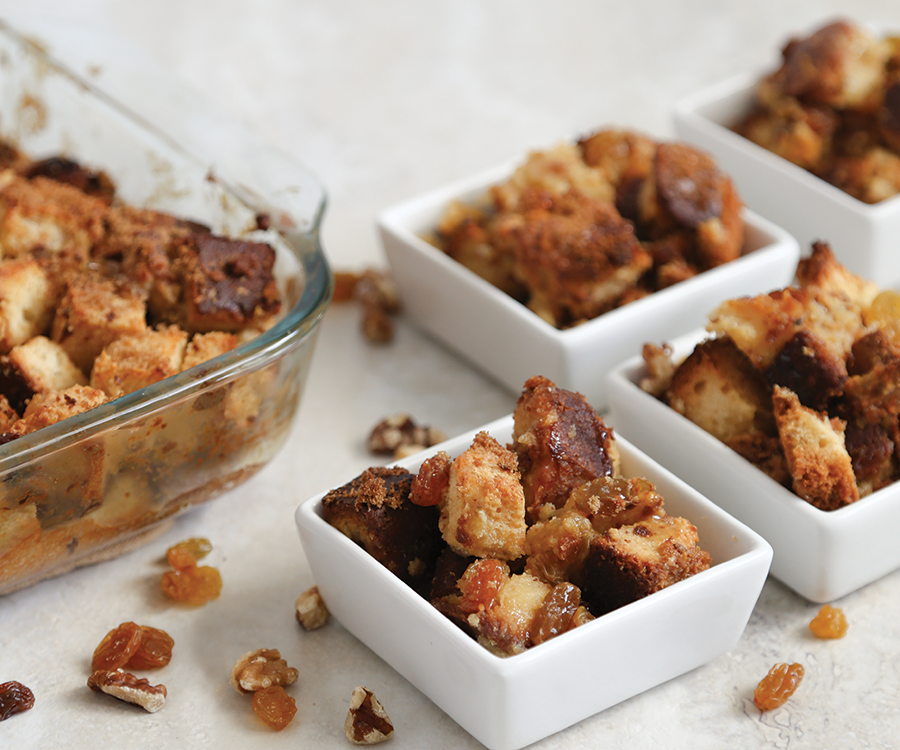 Recipe uses a loaf of Mosbolletjies bread by Katie Kring of B+B Boulangerie & Fair-Weather Café.

Ingredients
1 loaf KatieMade mosbolletjies bread, cut into ½-inch cubes
¾ cup chopped walnuts
¾ cup golden raisins
3 egg yolks, room temperature
1 egg (yolk and white), room temperature
½ cup plus 2 tablespoons brown sugar, separated
¾ teaspoon vanilla extract
A pinch of salt
¾ cup heavy whipping cream
1¾ cup whole milk

To Prepare
For a less dense bread pudding, bake the bread cubes for 30 minutes in a 250-degree oven so that they are dry and absorb the custard mixture. Heat oven to 350°F and butter a 13 x 9-inch baking dish. Dump the bread, walnuts and raisins into the pan and mix with your hands to combine. In a separate bowl, whisk together the eggs, ½ cup of brown sugar, vanilla and salt until combined. Add the milk and cream and whisk to combine. Pour the dairy mixture over the bread mixture, cover and let sit for 10 minutes while the custard mixture soaks in. Uncover the dish, sprinkle the top with 2 tablespoons of brown sugar and bake 45 to 50 minutes until the pudding has puffed up and is golden brown.