Breakfast & Brunch
Olive Bread
A healthy dose of olive's elevates this bread from a run-of-the-mill white bread to something special. Recipe courtesy The Artisan's Oven.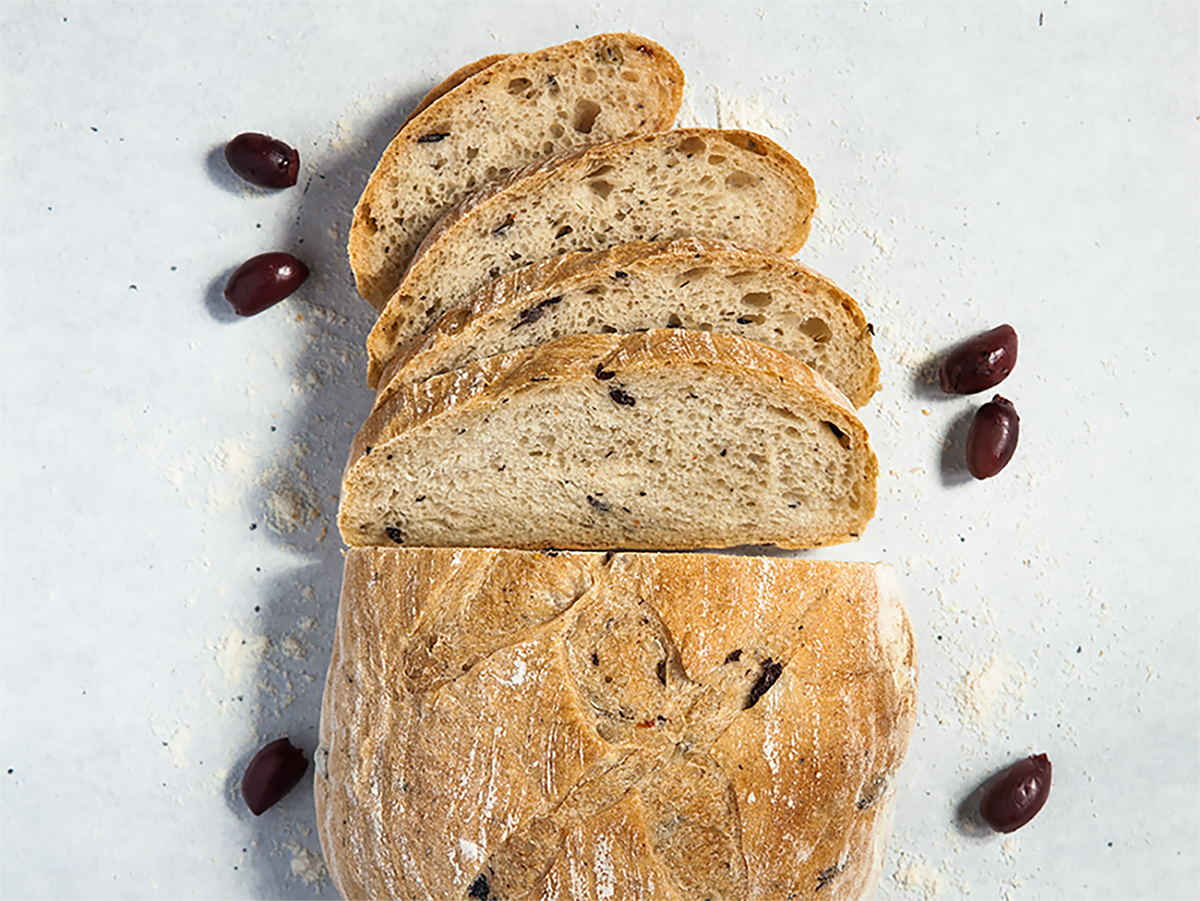 Yields two loaves. Recipe courtesy The Artisan's Oven.

Ingredients for Biga
Editor's note: Biga is a pre-fermentation traditionally used in some Italian breads that adds flavor and helps preserve the bread. 
⅓ cup flour
⅓ cup water 
½ teaspoon instant or dry yeast 

To Prepare Biga
Place water in a stainless, glass or earthenware bowl. Drop in the yeast and let dissolve. Stir to disperse then add flour. Stir with a spoon until a sticky mass forms and flour is wet. Cover and let ferment overnight at room temperature. Make sure the bowl has room for the mixture to rise. 


Ingredients for Dough
5 cups flour
3 cups water
¼ cup honey 
½ teaspoon instant or dry yeast
1 teaspoon salt
¼ cup extra virgin or pure olive oil 
1½ cups pitted, chopped olives of your choice

To Prepare Dough
Place flour and biga in a mixer or mix by hand if necessary. Add yeast and honey. Set mixer to low speed, gradually adding water until the mixture pulls away from the sides of the bowl. If mixing by hand, you want to be able to pick up dough cleanly from the counter without it sticking to you or the counter. If too wet, add flour. If too dry, add water until flexible: The dough should be easy to handle. Rest dough at room temperature for 10 to 15 minutes. Mix again for two or three minutes on low speed, adding salt. Mix at a medium speed for two to three more minutes. Check to make sure the dough stays the proper consistency. On low speed, add the olives, allowing them to disperse evenly. Then add the olive oil. Once the oil is absorbed completely, place dough in a container large enough to accommodate three times the dough volume. Allow to rise for one hour. Knead some air out of it, give it a few folds and place back in the container for another hour. Preheat oven to 375˚F.  Divide the dough into two equal parts. Shape into a ball, tucking loose ends underneath. Place on an oiled cookie sheet or parchment with a damp cloth or plastic wrap cover. Allow to double in size. Transfer gently to a baking stone or baking pan and bake at 375˚F for 20 to 25 minutes. Check doneness by tapping the bottom of the loaves with a spoon, listening for a hollow tone.