Small Bites
Potato, Leek and Goat Cheese Galette
Try serving this show-stopping, seasonal hors d'oeuvre at your holiday gathering this year.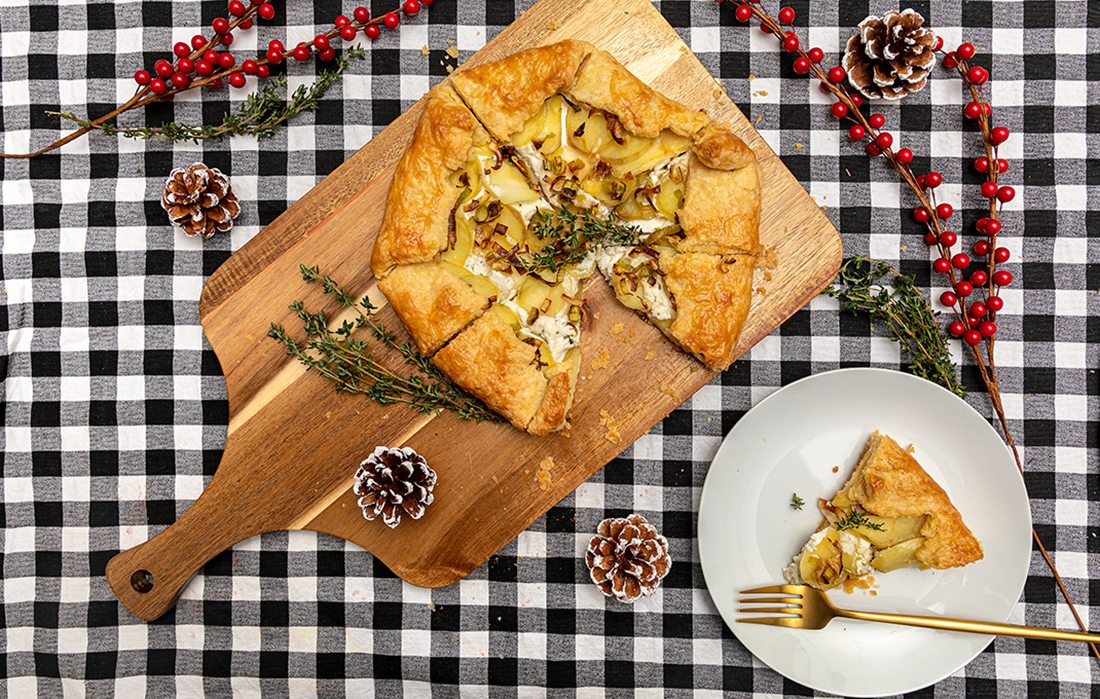 Serves 6-8
Ingredients
For the dough (adapted from Where Cooking Begins by Carla Lalli Music):
1 ¾ all purpose flour
1 teaspoon Kosher salt
1 teaspoon sugar
2 sticks of cold butter, largely cubed
¼ cup cold water
For the filling:
4 ounces Terrell Creek Farm's Chevre
5 tablespoons heavy cream
3 medium Yukon Gold potatoes
1 medium leek
A few sprigs of fresh thyme
Salt
Pepper
To Prepare
Dough:
Fill a glass measuring cup with about ½ cup of water place in the freezer to chill (just for a few minutes).

On a clean work surface measure flour, salt and sugar. Use hands to combine.
Add large cubes of butter to dry ingredients and begin to work with a rolling pin. Work until the butter is rolled into thin sheets. 
Using your hands or a bench scraper, bring the mixture together into a small pile. Your dry ingredients and butter should still be distinct at this point—you haven't made a homogenous dough yet.
Pour ¼ cup of chilled water onto your mixture and combine with your hands. This should still be a loose, shaggy dough—it's how you get flaky crust. 
Roll into a large, rough rectangle. Fold the top of the rectangle onto itself and then the bottom, too (like a trifold letter). Rotate the rectangle 90 degrees.
Repeat the fold/roll process two more times. This is when your dough will start to hydrate and come together. 
Shape dough into 1-inch-thick disc. Wrap with plastic and refrigerate for at least 30 minutes.
Galette:
Preheat the oven to 400 degrees.
Trim the bottom and leafy top of the leek. Cut the white & light green section only lengthwise and into fine slices. Sauté in one tablespoon of olive oil over medium low heat just until soft. Try not to add any color.
Combine goat cheese, cream, salt, and thyme leaves (removed from rough stem). Season with salt and pepper.
Peel and slice potatoes into thin coins. 
Roll dough out into a rough circle, about 12-14 inches across.
Spread goat cheese mixture onto dough, leaving at least one inch of dough to fold over.
Arrange potato slices in a single layer. Sprinkle pre-cooked leek slices over top.
Fold the edges of dough over, tucking as needed. Brush exposed dough with egg.
Bake at 400 degrees for 40-50 minutes or until golden brown.