Entrees
Thai Lettuce Wraps
This solid weeknight dinner is the perfect combination of Sneaky Greens seasoning, savory Thai sauce and protein. Don't forget to sneak your favorite veggies into the mix for a hearty but guilt-free feast. Recipe from the Sneaky Greens Kitchen.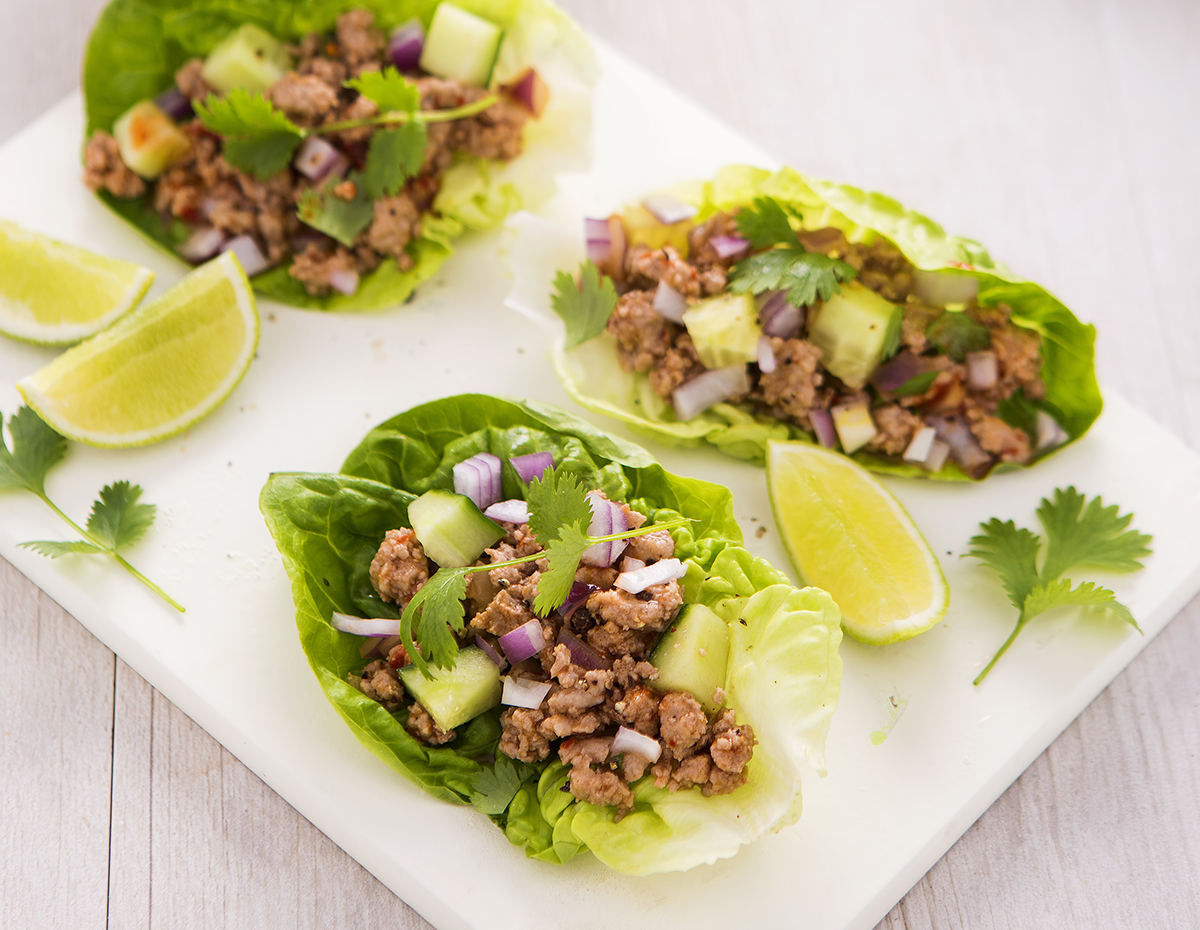 Serves 2—3. Recipe from the Sneaky Greens kitchen.

Ingredients for Sauce
2 teaspoons Hoisin sauce
1½ teaspoons soy sauce
½ teaspoon sesame oil
1½ teaspoons rice wine vinegar
1½ to 2 teaspoons Sriracha hot sauce
Freshly ground Sneaky Greens organic pepper to taste

Ingredients for Wrap Filling
2 teaspoons olive oil or extra virgin olive oil
1 teaspoon Sneaky Greens organic garlic
½ teaspoon Sneaky Greens organic onion
Sneaky Greens Himalayan pink salt to taste
½ teaspoon fresh, finely chopped ginger
2 green onions, chopped (save some for garnish)
1 lb. ground turkey or chicken (or your favorite veggie crumbles)
2 cups mixed vegetables (Sneaky Greens recommends: Carrots, frozen peas, mushrooms and onion)
½ green apple, finely chopped (optional)

Ingredients for Wraps
Green or butter lettuce leaves, washed and separated
Shredded carrots for garnish
A handful of chopped peanuts, lightly toasted

To Assemble
Heat up your favorite skillet on high and add olive oil. Add ginger and green onion to the pan. Cook for just a few seconds until fragrant. Add your protein. Sprinkle on the Sneaky Greens garlic powder, Sneaky Greens onion powder, and Sneaky Greens Himalayan pink salt to taste. Stir the protein, breaking it up until cooked through. Make your sauce while your protein is cooking. To make the sauce, mix all sauce ingredients together in a bowl and set aside. Add veggies and cook for a few minutes. Mix in the sauce and stir together for about one minute until slightly thickened. Add apples (optional) and toss everything together. Remove the pan from heat. Put the lettuce leaves on a plate and spoon in the filling. Top with peanuts, shredded carrots, and a little extra Sriracha or Hoisin sauce for added zing.