Salads
Thai Noodle Salad with Roasted Ramps
The creamy coconut base is coupled with tart lime, all of which is punctuated by spicy chili with an undertow of sweetness. The best part? Once you've chopped your ingredients, assembly is a breeze.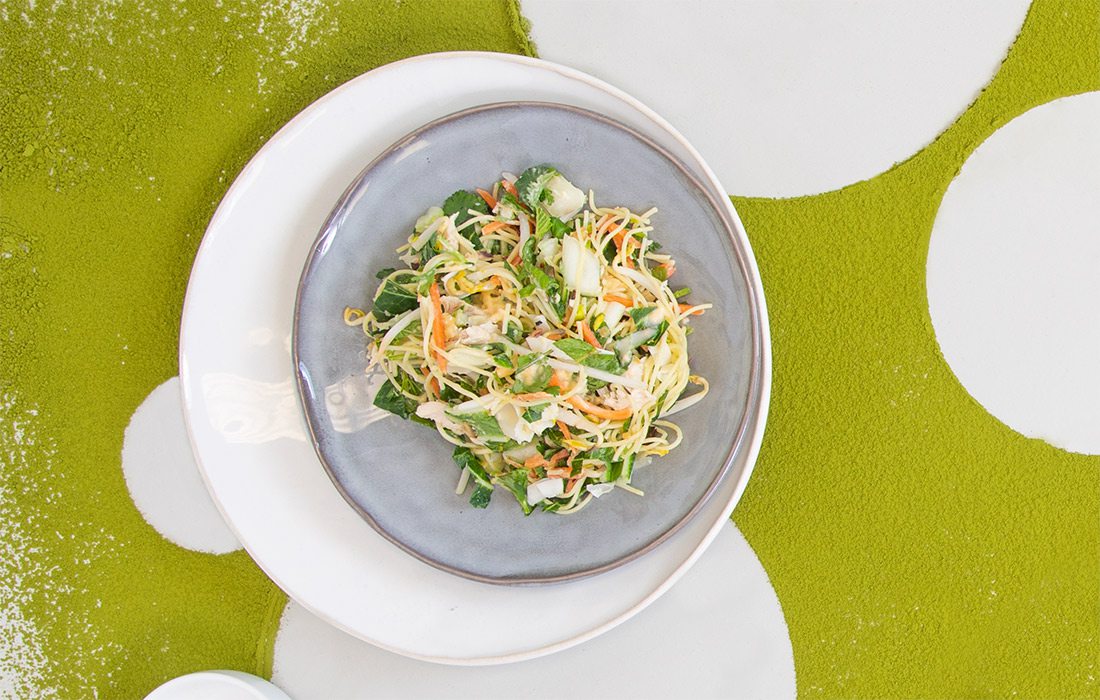 Recipe courtesy Sarah Kraber of Pino & Tink's

Serves 4–6

Salad Ingredients
1 bunch of ramps, roots trimmed
Olive oil, salt and pepper to taste
½ pound spaghetti, cooked, drained and rinsed under cold water
2 cups cooked shredded chicken
3 cups bok choy, julienned
½ cup cilantro, chopped
½ cup mint, chopped
1 cup carrots, shredded
1 cup bean sprouts
¼ cup chopped pistachios
¼ cup canned fried onions
¼ cup unsweetened coconut flakes
Dressing Ingredients
1 cup coconut cream (alternatively, you can use ¾ cup coconut milk and ¼ cup heavy cream)
1 tablespoon Asian chili oil, or more to taste
2 tablespoons fish sauce
2 tablespoons granulated sugar
Juice of half a lime
To Prepare
Preheat the oven to 400ºF. Place trimmed ramps on a baking sheet, drizzle with olive oil and sprinkle with salt and pepper. Roast for 10 minutes, then let cool. Once cool enough to handle, roughly chop ramps. In a blender, combine all dressing ingredients and process until smooth. Taste and adjust seasoning as needed. In a large bowl, combine noodles and remaining salad ingredients. Pour enough dressing over salad to moisten well and toss to coat the salad. Serve at room temperature or cold.