Weddings
Branson Wedding Affiliation and Event's Wedding Contest Giveaway
Mark and Libby Wilson won a $30,000 wedding through the Branson Wedding Affiliation and Event's Wedding Contest Giveaway.
By Miranda Mccabe | Photos courtesy Swift Shots
Jun 2014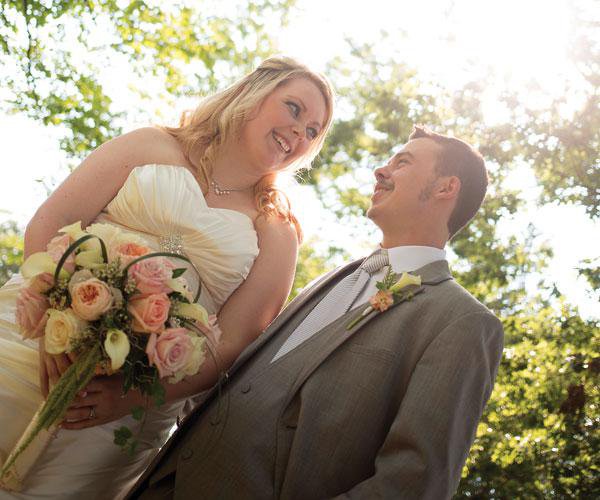 For Mark and Libby Wilson, dreams really do come true thanks to Branson Wedding Affiliation and Events. For the past couple of years, this group of Branson wedding vendors has come together to present a dream wedding to one very lucky couple. 
Last year, more than 20 couples submitted their sweetest love stories, each explaining why they should win this $30,000 wedding package. After all the tears were dried, one love story was selected as the winner: Mark Wilson, a dispatcher for Western Dairy Transport, LLC, and Libby Darter Wilson, an elementary school science teacher, were the lucky two who claimed the prize.
This Cabool couple met back in middle school when Mark was mowing Libby's grandparents' lawn. "My grandma noticed me watching him out the window and told me to take him a glass of water," Libby says. "I took it out to him, and ran as fast as I could back inside! I was very shy and had the biggest crush on him." 
On the eve of their engagement, a thunderstorm came rolling in. Mark was planning on proposing at a clearing on a hill, but Mother Nature had other plans. "I got scared and told him we had to go back to town, " Libby says. "I had no clue Mark had planned on proposing. We ended up watching a movie at his house." 
In the middle of the movie, Mark got up and went to another room without saying a word. After a few minutes, Libby got up to go check on him and realized the room was pitch black except for a few lit candles. Then she saw Mark, down on one knee with a ring in his hand.
The couple said their vows on August 18, 2013, at the Dewey Short Visitor Center, where they had enjoyed their first date 25 months before. The Radisson in Branson held the reception where the couple celebrated with friends and family.
"Mark and I were blessed to have the best of the best for our wedding," Libby says. "Everyone was experienced and made our day special. I could not imagine going through this special day with anyone else.
 Mark and Libby Wilson were married on August 18, 2013
The ceremony took place at The Dewey Short Visitor Center, which overlooks Table Rock Lake.
Libby's dress and Mark's tuxedo were both from Normans Bridal, and Petals created the gorgeous floral décor and bouquets
Evan and Owen Spencer, the bride's cousins, were the ring bearers.
Sponsors
Rehearsal Dinner: Main Street Lake Cruises 
Wedding Day Lunch: Infused Catering 
Reception Venue: The Radisson Branson
Reception Meal: The Radisson Branson
Cake: Pastries by Carla
Ceremony venue: Dewey Short Visitor Center
Music/entertainment: Just One More Song
Flowers: Petals 
Wedding Planner: Whitney with Classy Pearl Events
Dress: Normans Bridal
Tuxedos: Normans Bridal
Photographer: Swift Shots
Videographer: All Occasions Video
Hair and Makeup: Regis Salon Branson Landing
Rentals: All Occasions Rentals
Photo Booth: Smile Photo Booth
Transportation: Just For You Limo
Event organization and show tickets: All Access Branson, SIX
Lodging: The Branson House Bed and Breakfast
Minister: Can-A-Lope Weddings
Decor: Shannon's Custom Florals
Wine: Macadoodles
Helicopter service: Chopper Charter