Weddings
Jessie Prewett & Philip Hopper
June 1, 2013, O'Reilly family farm, Ozark
Jun 2014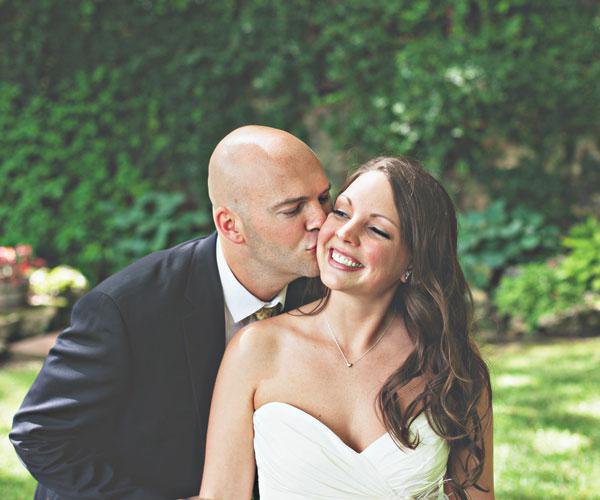 Philip Hopper was a regular customer at Uncle Bentley's when his friend April Lawson introduced him to Jessie Prewett, who was a server at the pub. Jessie was in college at Missouri State University, and Philip was working on his law degree at Washburn University. 
Their first date was dinner at Romano's Macaroni Grill, followed by a graduation celebration at Uncle Bentley's the night before Jessie's graduation. Their third date was in Colorado, when Jessie planned a trip to Steamboat Springs through Missouri State. While on the trip, she ditched her school group to meet up with Philip, who was teaching ski lessons over his winter break. Five years later, Philip and Jessie were on another ski trip in Colorado when Philip popped the question at the top of the slope.
The couple wanted a more informal wedding, so the O'Reilly family farm became the backdrop for Philip and Jessie's wedding and reception. The gorgeous scenery and beautiful setting made it the perfect location for this outdoorsy couple to tie the knot.
Many of Jessie's family members and friends helped her with wedding details. Her future mother-in-law made the one-of-a-kind cake (made from Rice Krispies), Jennifer Bowler took care of Jessie's hair and makeup, and friend April Lawson helped with set up and catering. 
Jessie's maid of honor was her sister, Jennie Custer, and her bridesmaids were Tina Liu, Beth Gall and Jennifer Bowler. Philip's best man was his brother, Jay Hopper, and his groomsmen were Paul Blevins, Scott Conroy and Chris Lawson. 
Today, Jessie and Philip live in Springfield. Jessie manages Mercy Smith Glynn Calloway Pediatrics, and Philip is the Director of Real Estate for O'Reilly Auto Parts.—Jessica Covert
Jessie found her dream dress at Ella Weiss Wedding Design
Jessica made her bouquet and kept it simple by using flowers that resembled wildflowers
After the ceremony, Hy-Vee fried up batches of fish and served up potatoes, onions, coleslaw and green beans. The couple's friend and caterer April Lawson made antipasto salad and beer bread. 
Philip's mom, Joyce Hopper, makes Rice Krispies treats for every occasion, so it was only appropriate that she made Jessie and Philip a Rice Krispies wedding cake
The Details
Reception venue O'Reilly family farm in Ozark 
Caterer Hy-Vee
Cake The groom's mom, Joyce Hopper
Music/entertainment Cory Morrow
Dress Ella Weiss Wedding Design
Rings Maxon's Diamond Merchants (bride) ; Justice Jewelers (groom)
Photographer Twin Town Studios
Rentals All Events Rentals and Downhome Productions
Transportation Fisk Limousine 
Flowers Hy-Vee