Weddings
Lori Campbell & Scott Ealey
September 1, 2013, Tuscan Hill, Springfield
By Jessica Nunly | Christine Bonnivier Photography
Jun 2014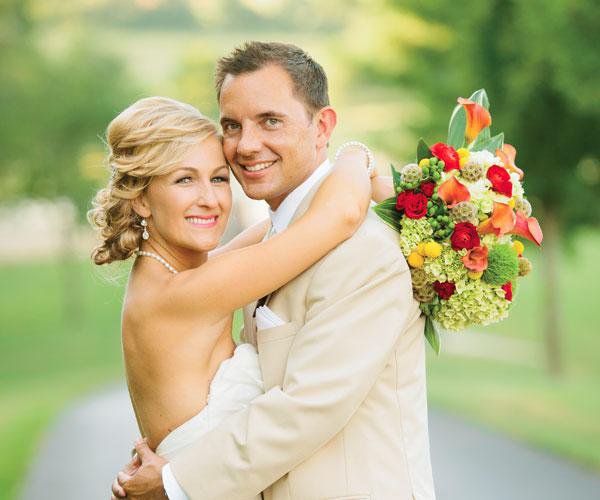 Lori Campbell didn't believe in love at first sight until she met Scott Ealey through a mutual friend in 2012. From that point on, the two were inseparable, even though Lori lived in Denver and Scott lived in Dallas. When a pair of veteran lovebirds asked when the happy couple would get hitched, they both laughed, and Scott hinted at future plans. Exactly six months later, Scott proposed while they were on a weekend getaway in San Diego celebrating Lori's birthday. 
After just a few months of planning, the couple exchanged vows at Tuscan Hill in Springfield on September 1, 2013. Lori's family flew in for the big day, and everyone helped set up the tables, linens and table settings. While Lori was inside getting ready for the ceremony, the skies darkened and a downpour soaked everything. Without telling the bride, Lori's father gathered a group to pray for a miracle as the bridal party frantically threw linens and chair covers into the dryer. The sunshine broke through just in time to set everything back up for the almost entirely outdoor wedding Lori had her heart set on. With the sun shining above, her father married the couple on the Tuscan Hill lawn. After a celebratory cocktail hour, guests enjoyed a mashed potato and sweet potato bar along with barbecue sundaes layered with all the favorites. The sugary sweet candy buffet outfitted in Lori's wedding colors—lime green, yellow and red—was the perfect final touch to the meal.
On their honeymoon in Nassau, Bahamas, the newlyweds snorkeled, scuba dived and emerged the victors of a resort newlywed game. Now, the Ealeys lead an active lifestyle of biking, skiing, camping and more in Denver. —Jessica Nunley
Lori's bridal party included her niece Alexis Duff, her mom Sandy Campbell, her sister Angie Duff, and her other two nieces, Jessica and McKenzie Duff.
On the morning of the wedding, Scott surprised Lori with a string of pearls from Tiffany & Co.
Instead of a large cake, Lori and Scott opted for a small strawberry cream cake and six flavors of accompanying mini cupcakes and oatmeal raisin cookies made by Simply Delicious Catering. 
The banner-bearer and flower girl were Ivan, Scott's nephew, and Brynn, Lori's best friend's daughter. Lori's mom, Sandy, made all of the flower girl dresses by hand. 
The Tuscan Hill outdoor patio made the fountain pool the centerpiece of the reception. Linens from Luxe Linens covered the tables
After having such a good time that they had to be kicked out of the venue at midnight, guests created a tunnel of sparklers for the bride and groom to make their exit 
The Details
Flowers: Artistry in Bloom
Photographer: Christine Bonnivier Photography 
Hair and Makeup: RetroPolitan Hair Salon in Ozark
Rentals: Luxe Linens
Invitations: The Green Envelope
Dress: A boutique in Denver
Tuxedos: Men's Wearhouse
Rings: Shane Company in Denver
Catering: Simply Delicious Catering
Cake: Simply Delicious Catering
Music/entertainment: COMPLETE