Weddings
Julie Kinney and Tyler Willhite
Julie Kinney and Tyler Willhite's love story proves that sometimes, you really do get what you ask for.
By Ettie Berneking | Photos by Katie Day
Jun 2014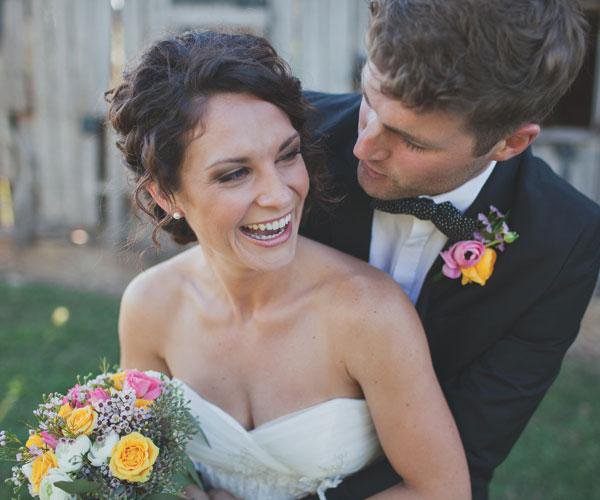 When Tyler Willhite proposed to Julie Kinney on the lawn at Art Hill, at the St. Louis Art Museum, he pulled a crumpled up journal entry out of his pocket and began reading to her. The entry was from the first day Tyler realized he was in love with Julie, and it detailed all the things he loved about her. 
It was one of those tear-jerking proposals, and it was made even sweeter by the fact that five months later at their wedding, Julie read Tyler her very own journal entry. But there was a difference. This one dated back to when Julie was just 10 years old and wrote a letter to her future husband. "I had been praying for a husband my entire life," Julie says. "I asked for a husband who was godly. That was what the letter was all about." The letter read, "To my husband, I don't know who you are, but I know you're out there."  
Long before their wedding on October 12, 2013, and even before that memorable day in St. Louis, Julie's request was being answered. She and Tyler were friends for six long years before a quiet romance eventually blossomed. "I had never thought anything of him," Julie says laughing. But that all changed after the two shared a leisurely bike ride at Nathanael Greene/Close Memorial Park. When Julie, who had stayed silent about her growing crush on Tyler, learned that he felt the same way about her, she could barely hold still. "I felt like I was in a daydream," she says, looking back. Their young love eventually grew into a true romance until they said their I do's in front of family and friends. As they exchanged vows, Julie gave Tyler another letter she had written for her future husband, except this time, the letter was addressed to him.
Writing from the heart: Julie Kinney and Tyler Willhite (above) have a history of sharing love notes. At age 10, Julie wrote a letter to her future husband, and she shared it with Tyler at their wedding. When Tyler proposed, he presented Julie with a journal entry (below) that he wrote when he first fell in love with her.
The Details
Ceremony and reception: The Douglas Residence
Wedding Planner: Mary Douglas with Bringing It Together Events
Caterer and cake: Simply Delicious Catering 
Flowers: Family members
Dress: Ella Weiss Wedding Design
Rentals: All Events Rental