Weddings
Men's Wedding Bands
By Savannah Waszczuk | Photo courtesy Mitchum Jewelers
Jun 2014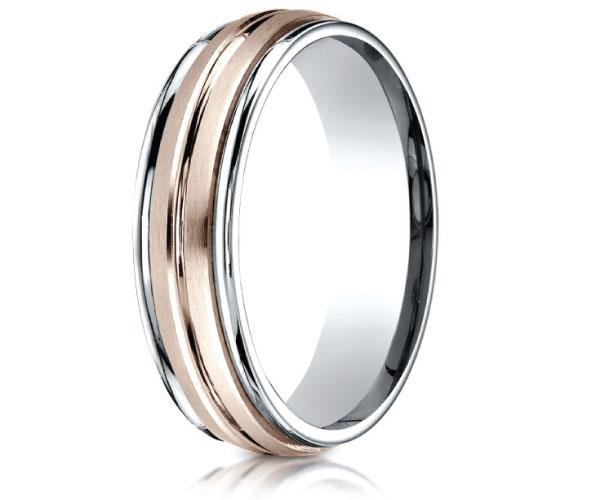 It doesn't always have to be about the ladies, right? Local jewelers share what's hot in men's wedding bands. 
Trend: Red gold (pictured above)
Where to find it: Mitchum Jewelers, 2431 W. Jackson St., Ozark, 417-581-2415, mitchumjewelers.com
Price: $1,195–1,995
Why we love it: Mitchum Jewelers carries a gorgeous line of precious metal bands, and we're absolutely crazy about the men's bands featuring red gold. In this collection of rings, the red gold is often combined with white gold or yellow gold, resulting in a beautiful blend of metals with eye-catching contrast. Each ring features its own one-of-a-kind pattern that's engraved or etched, and the satin-brushed finish and high polish trim let the ring shine. 
Trend: Carved gold 
Where to find it: Justice Jewelers, 3520 E. Battlefield, Springfield, 417-881-0551, justicejewelers.com
Price: Starting at $799
Why we love it: Although carved gold has been around for a while, Malo is taking it to the next level with its Mardini carved gold rings. The rings often include both white and yellow gold, and some are carved by hand while others are carved by lasers. The heavy-weight rings are available in a variety of intricate patterns that look similar to bricks, tribal patterns and puzzle pieces, and some are even available with conflict-free diamonds. 
Trend: Alternative metals
Where to find it: Maxon's Diamond Merchants, 2622 S. Glenstone Ave., Springfield, 417-887-1800, maxonsdiamonds.com
Price: Starts at approximately $300 
Why we love it: When it comes to choices, Lashbrook Designs has the guys covered. A fabulous supplier of alternative metal wedding bands, Lashbrook crafts rings in a variety of traditional golds and platinum, plus titanium, cobalt chrome, black zirconium, Damascus steel and more alternative metals. We love how customizable they are (finishes come in hammer, bark, Florentine and many more). A favorite among St. Louis Cardinals fans is the ring customized with red baseball stitching.