Weddings
Beating the Odds
When Caroline and Rusty Dukes got married one year ago, they were just starting their lives together. They had moved into their first home and were enjoying their newlywed status. But five months into their marriage, a tragic accident changed everything.
By Ettie Berneking | Photo courtesy J. Design Studios
Jun 2013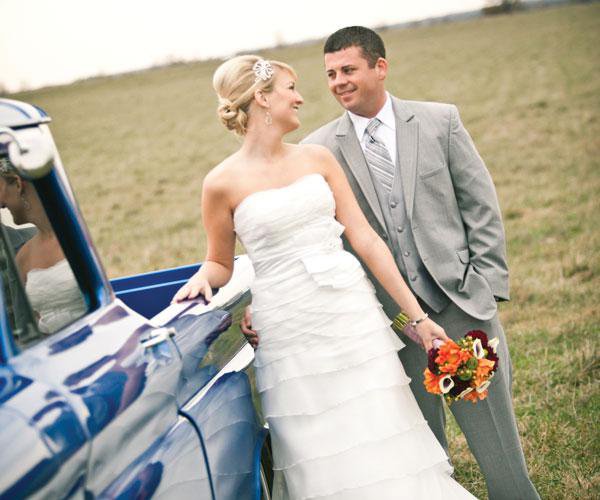 Caroline and Rusty Dukes celebrate their wedding
Caroline Wayt was walking along the road by her home in Fair Grove when Rusty Dukes pulled up on his motorcycle and asked her out. Their first date took the couple on a true Branson adventure packed with shopping at the Branson Landing, dinner at Famous Dave's and a ride in the bumper boats. A year later, Rusty recreated their memorable first date, but this time he got down on one knee and proposed. Six months later, Caroline and Rusty were married. Just as they were settling in as newlyweds, the honeymoon stage came to an abrupt end five months later when Rusty was in a terrifying accident that would forever change both of their lives.
On an ordinary afternoon, Caroline was out shopping with her mom, and Rusty was in the backyard burning some brush. After starting the fire with a splash of gasoline, Rusty went inside to call his dad before returning to check on the fire. But as Rusty neared the burning brush, the jug of fuel exploded, igniting Rusty in a ball of flames. Still on the phone with his dad, the explosion blew the phone from Rusty's hands. After rolling on the ground to put out the flames, Rusty managed to find his phone, which was melted in half. He called his dad back for help, then lost consciousness. A helicopter air lifted Rusty to Mercy Hospital.
More than 67 percent of Rusty's body was burned, and he was given a 3 percent chance of survival. "The doctors told me if he made it through the night, it would a long recovery process," says Caroline. "But that was if he made it through the night." Rusty was sedated for 30 days. He was in the burn unit for 55 days and underwent four major surgeries and numerous skin grafts. Caroline was by his side through it all.
Amazingly, barely a year after his horrifying accident, Rusty has basically returned to normal life. He beat every recovery time doctors threw at him. "They said I'd be in the hospital for six months, but I was there for just 56 days," he says. "Then they said I would be in rehab for four months, but I was there just 20 days."
Rusty's incredible recovery is due to the amazing medical attention he received at Mercy Hospital, and the love and support he got from Caroline, his family and the hundreds of friends and community members who passed along their prayers and who helped cover his medical bills. And part of his success is due to his stubbornness and refusal to give up. "I had to relearn everything—how to walk, how to brush my teeth, how to get dressed. Those were the hardest moments. It's something you never think about losing." he says. Determined to return to normal life, Rusty ignored doctors' words of caution. When doctors said he shouldn't ride his bike, Caroline found Rusty riding full speed down the street. Looking at Rusty today, you would never know what he's been through. Besides wearing full-body compression garments to reduce scarring, Rusty looks and acts like he always has. He's upbeat and is back to working full time with his father, and his relationship with Caroline couldn't be stronger. Lucky to be alive, Rusty celebrated his one-year anniversary with Caroline last November, looking back on that year and all the love, hope and heartache neither he nor Caroline could have imagined.
MOVING ON: Caroline and Rusty Dukes capture their love­—and Rusty's recovery—in their one-year anniversary photos. J. Design Studios took the couple's engagement, wedding and one-year photos