Weddings
Cocktails with a Twist
The latest food trend to hit the wedding scene—cocktail popsicles— will have you and your guests asking for seconds.
By Rachel Bonar | Photo by Jamie Kalil
Jun 2013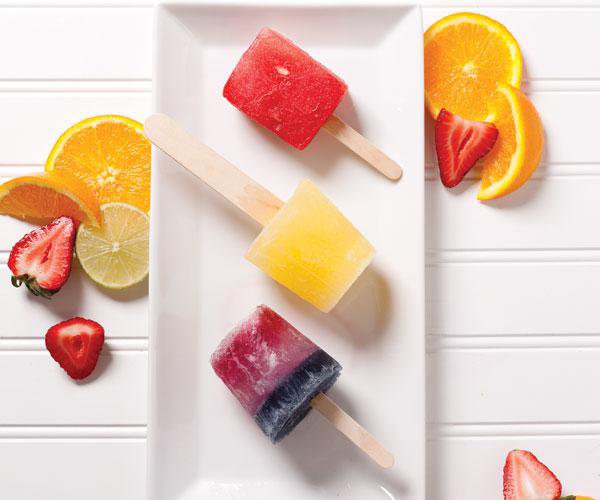 Looking to add a personal touch to your wedding reception? Signature cocktails are a terrific way to help celebrate the night, and the latest food trend—cocktail popsicles—adds extra pizazz to the traditional cocktail hour. To get the lowdown on why this trend is so hot, we charged Scott Shotts, owner of Missouri Spirits House, with the task of whipping up a handful of boozy popsicles complete with recipes, so you can create these tasty treats on your own. 

(Top to bottom) Watermelon: watermelon + whiskey; Orangesicle: 7-Up + vodka ; Bomb Pop: fruit juice + whiskey.
For brides looking to serve the latest food trend at the reception, popsicles are the way to go. The growing trend hitting the world of weddings is to turn your favorite cocktail into a chic and tasty popsicle that your guests are sure to remember. Local bartender and owner of Missouri Spirits House Scott Shotts shares some tips, tricks and recipes to make this popsicle craze do-able for your wedding.
417 Magazine: Why is having a signature cocktail for a wedding important?
Scott Shotts: For most brides, their wedding day is the most important day of their life, and they want it to be memorable. Having a signature cocktail is just as important as the reception dinner or the flower arrangements. Every little detail creates a memory of that day, and it's an easy detail to cover.
417: What advice can you give to the brides out there searching for that perfect drink?
S.S.: There are a few things to consider, but I think most important is what the bride and groom prefer.
417: Cocktails in the form of Popsicle is a growing trend. Why do you think this is?
S.S.: They are different and help people remember the day, unless they eat too many, then people tend to forget!
417: How can brides incorporate this trend into their wedding?
S.S.: I'd say first appoint someone to make them. They take some time to prepare and have to be handled carefully the day of, and brides should be relaxing and enjoying the moment.
417: Though they look good and taste great, Popsicle have a tendency to be messy. How would you suggest the bride and guests stay clean and classy?
S.S.: I've seen on Pinterest using cupcake liners, but I don't think it's that important to stay totally clean. I'd worry more about the cake in the face.
417: Isn't alcohol not supposed to freeze? You gave us a ton of frozen cocktail recipes, and now we need to know, how did you do it?
S.S.: Alcohol will freeze at lower volume percentages.  Anything below 20% ABV (alcohol by volume) is good, and the longer you leave them in the freezer the better they freeze.
417: So, we covered Popsicle being messy to eat, but what about when they are being served? How do you keep them from becoming a sticky puddle and stay frosty until they get into the hands of a guest?
S.S.: Keep them in the cups in the freezer on a baking sheet until ready to serve. Guests can peel the cups, and the reception site usually has plenty of freezer space.
417: I think this question has crossed someone's mind at some point: will these Popsicle cocktails pack the same punch as a normal cocktail
S.S.: There's about a shot of alcohol in each popsicle. You'll feel the effect if you eat a bunch, but I'd think brain freeze might prohibit that. Of course we never recommend over indulging when it comes to alcohol.
The Recipes

Supplies:
12-ounce can cherry juice concentrate
12-ounce can lime juice concentrate
12-ounce can blue raspberry juice concentrate
or Blue Curacao mixer
1 bottle Missouri Spirits House Corn Whiskey
36 5-ounce paper Dixie cups (wax lined)
Popsicle sticks

Mixology:
Follow instructions on the back of each juice concentrate to make 48 ounces of each type of juice. Then, mix in 12 ounces of Missouri Spirits House Un-Aged Corn Whiskey in each juice type. Cool the juices in the refrigerator. Start with the cherry juice mixture, and fill the 5-ounce cups with 1/3 cherry juice mixture. Freeze for 3 hours, then insert the popsicle sticks. Once the cherry juice is frozen, fill another 1/3 of the cup with lime juice, and freeze for another 3 hours. Finally, fill the rest of the cup with the blue raspberry juice mixture. Freeze overnight. Peel the cups off the popsicles, and place on a frozen cookie sheet in the freezer until ready to serve.

(Makes 36 popsicles)


Supplies:
6–8 medium ripe peaches, diced
1 cup sugar
1 cup water
½ lemon, juiced
8 ounces 7-Up
4 ounces Backwoods Moonshine Orchard
Peach
5-ounce Dixie cups
Foil
Popsicle sticks

Mixology:
Add the peaches, sugar and water to a large saucepan. Cook over medium heat, mashing the peaches as they cook. Once the sugar is completely dissolved, strain the juice into a mixing bowl. This should yield approximately 16 to 20 ounces of peach syrup. Add the lemon juice, 7-Up and 4 ounces of Backwoods Moonshine Orchard Peach to the peach juice. Stir well. Pour into the Dixie cups, cover with foil, add popsicle sticks, and freeze overnight.

(Makes 6–8 popsicles)

Supplies:
1 watermelon
Missouri Spirits House Un-aged Corn Whiskey
Popsicle sticks

Mixology:
Slice a watermelon crosswise into 1-inch wide slices. Cut each slice into approximately 2-by-2-inch squares. Place the watermelon cubes onto a deep baking dish, and cover with Missouri Spirits House Un-Aged Corn Whiskey. Place in the fridge overnight. Drain the whiskey, but save it for watermelon-flavored shots later! Poke popsicle sticks long-ways through each watermelon cube, and freeze overnight on a baking sheet lined with wax paper.

(Makes more than 20 popsicles)

Supplies:
1 bottle Missouri Spirits House Bourbon
2 liters cola
3 limes, juiced
14 5-ounce Dixie cups
Foil
Popsicle sticks

Mixology:
Mix 60 ounces of cola with 11.25 ounces of Missouri Spirits House Bourbon. Stir in the lime juice. Pour the mixture into the 5-ounce cups, and cover with foil. Insert the popsicle sticks through the foil, and freeze overnight.

(Makes 12–14 popsicles)

Supplies:
60 ounces Skimpy Orangesicle
12 ounces 7-Up
13 ounces Missouri Spirits House Vodka
14 5-ounce Dixie cups
Foil
Popsicle sticks

Mixology:
Mix the Skimpy Orangesicle, 7-Up and 13 ounces of Missouri Spirits House Vodka. Pour into the cups, cover with foil, and insert the popsicle sticks. Freeze overnight.

(Makes 12–14 popsicles)

Supplies:
4 ounces dark chocolate (70 percent), chopped
2 tablespoons cocoa powder
¼ cup honey
2 cups water
4 ounces Missouri Spirits House Bourbon
8 3-ounce Dixie cups
Foil
Popsicle sticks

Mixology:
Combine dark chocolate, cocoa powder, honey and water in a double boiler. Melt until smooth. Stir in 4 ounces of Missouri Spirits House Bourbon. Cool enough to pour into the cups. Cover with foil, and poke popsicle sticks into foil. Freeze overnight.

(Makes 8 popsicles)