Weddings
Kelli Aggus & Bronson Wehr
May 19, 2012; Family residence, Springfield
By Ettie Berneking | Photo courtesy Andrew Bowser Photography
Jun 2013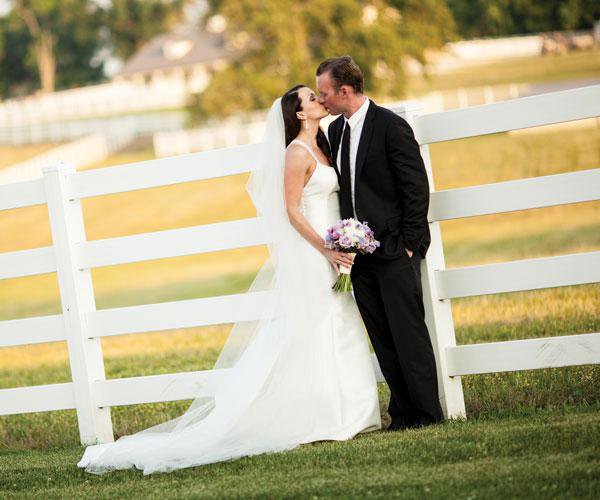 Kelli and Bronson knew of each other during college, but their acquaintance ended there. Happily married today, the couple has a mutual friend to thank for the fateful introduction. After being formally introduced, Kelli and Bronson began a friendship sustained by regular phone conversations. A year later, both admitted they had fallen in love. For their first date, the couple headed to the movie theater to see what was then a cultural phenomenon, Twilight. Ready to mock the film in its entirety, Kelli and Bronson were hooked and have since seen the entire series.
After two years of dating Bronson was eagerly planning his proposal. He had the whole joyous occasion planned out with the serene beauty of Table Rock Lake as the backdrop. But like so many of his surprises, Bronson couldn't contain the secret. So one day, after Kelli came home from a stressful day of work, Bronson knew what would cheer her up and texted Kelli a photo of a sparkling ring. Unsure of what was going on, Kelli assumed the ring belonged to a friend and texted back asking who the lucky gal was. Impatiently waiting for a response, Kelli headed out back to find Bronson. There he was, down on one knee and all smiles. As Kelli remembers, "the rest was a blur of tears and jumping up and down."
Kelli and Bronson were wed nine months later at the residence of Bronson's dad. Bridesmaids included Holly Jaiger, Erin Sutton and Tiana Shaver. Maid of Honor was Abbi Gilmore. Groomsmen were Bobby Goff, Matt Hufft and Robert Sweet, and the best man was Scott Wehr. Today the couple lives in Springfield. Kelli is an Account Manager for Bimbo Bakeries USA, and Bronson is the owner/designer of Bronson Leather.

LOVE IS IN THE AIR: Kelli Aggus and Bronson Wehr (above) were married May 19, 2012, at Bronson's family property. Kelli Aggus walks with her father down the aisle on her wedding day in front of family and friends.

Kelli Aggus's dress is from Nolte's Bridal in Overland Park, Kansas.

Artistry in Bloom arranged the bridal bouquet and the bridesmaid bouquets

Kai Jaeger and Brody Wehr introduce the soon-to-be Mrs. Bronson Wehr

Kelli and Bronson held the wedding at Bronson's family home

The bridal party was made up of Kelli's two sisters and two of her closest friends
The Details:
Wedding and Reception Venue: The Wehr Family Residence
Catering: Bistro Catering
Cake: Celebrations by Sonja
Flowers: Artistry in Bloom
Rings: Justice Jewelers
Photography: Andrew Bowser Photography
Planner: Martha Wright, Gracious Occasions
Music: COMPLETE