Weddings
Weston Bird & Alissa Beaty
August 16, 2013 Redeemer Lutheran Church, Springfield
Kaleigh Jurgensmeyer | Photos by Christine Bonnivier Photography
Jun 2015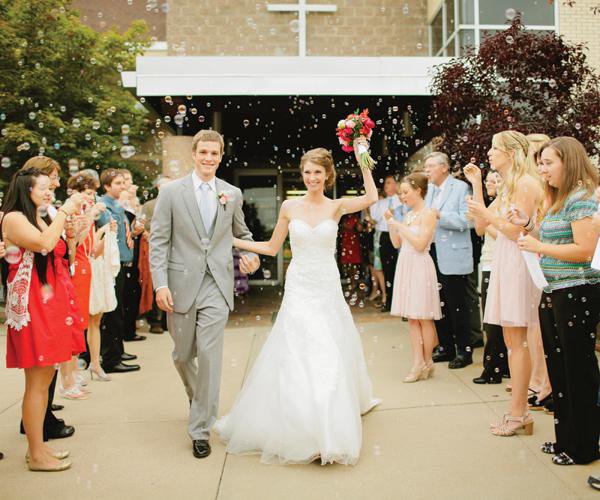 It's a love story out of a movie. Senior prom dates Weston Bird and Alissa Beaty didn't know a high school dance would lead to something much bigger. Both from Springfield, Weston and Alissa stayed close to home and to each other during college at Drury University and Missouri State, respectively. 
Four years after their first date, Alissa found herself in an "Amazing Race" that commemorated her and Weston's time together. The race wrapped up in a proposal that was just as exciting as the race itself.
It started as a normal day for Alissa, until her friend called her last-minute and needed a partner for their university's scavenger hunt. Alissa was soon racing through Springfield without realizing that Weston was the mastermind behind the adventure that would take her full circle through their relationship.
"[My friend and I] had a camera and clues that took us to places [Wes and I] had had dates, places we loved, with a new clue at each place," Alissa says. "I knew it was happening when we got the clue with money in it, saying to go buy flowers. I was then blindfolded and taken to Nathanael Greene, a park we absolutely love, and he was waiting for me."
Weston had planned the adventure so that Alissa would meet him when the sun was setting. He was waiting lakeside under a tree, which had pictures of them attached to the trunk. He even had a photographer there to capture the event.
Ten months later, the two sweethearts celebrated their wedding with all of their friends and family at Redeemer Lutheran Church, and a reception at Wellington Place in downtown Springfield. The couple now resides in Kansas City where Alissa works for BKD, LLP and Weston works for PricewaterhouseCoopers, LLP. After a year of marriage, the couple bought a house, visited the Smokies and the Rockies, and is happily enjoying their new life together.

The happy couple met friends and family for the reception at the Gillioz Theatre
The brightly colored bridal bouquets were created by Artistry in Bloom and matched Alissa and Weston's wedding colors perfectly. 
Alissa's engagement ring came from Gerzen's Jewelry in Springfield. The three wedding cakes were made by Celebrations by Sonja.  Alissa's wedding gown came from Normans Bridal.
Caterer: Dining By Design
Cake: Celebrations by Sonja
Music/Entertainment: COMPLETE Music
Flowers: Artistry in Bloom
Dress: Normans Bridal
Tuxedos: Karl's Bridal
Photographer: Christine Bonnivier Photography
Hair:  A Valeria Boss Salon