Weddings
Work it Out
These local workout classes will have you spending quality time with your gal pals while you do a little good for your body.
By Savannah Waszczuk | Photo by Brandon Alms
Jun 2015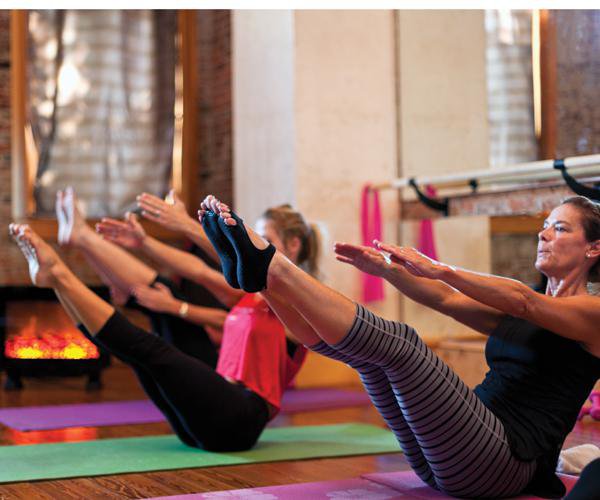 Get in girl time and a great workout with your bridal party at Physique Fitness.
Physique Fitness
326 North Boonville Ave. #101, Springfield; 417-831-0661, physiquedowntown.com
The Class: Barre Physique
The Price: Starts at $400 
Why it Rocks: Barre Physique is a low-impact, high-energy class performed to a phenomenal playlist of songs. The movements at Barre are designed to lift and tone while helping you build long, lean muscles, and they're all customizable to a variety of fitness levels. Private classes include luxurious touches such as flowers, chocolate, champagne and even exclusive access to the nearby Dapper Lounge, which means you can order custom cocktails after you work out. We won't tell!).
Take the Lead
4235 S. Charleston Ave., Springfield; 417-881-4805, ttldancespringfieldmo.com
The Class: Private group dance lessons
The Price: $10 per person
Why it Rocks: Before you and your ladies hit the dance floor on your big day, practice your moves with the pros at Take the Lead. The studio offers private dance lessons, which are the perfect activity for a bachelorette party. Several class formats are available, so you can test your skills. Bring your own adult beverages, and get the party started!
Aerosha
various locations in 417-land; 417-848-0482, aerosha.com
The Class: Private Aerosha classes
The Price: Starts at $120 
Why it Rocks: A private intro to Aerosha session gives you and your ladies an introductory look in to the fluid, feminine motions that have made Aerosha a popular workout. The variety of movements are sure to boost the confidence of all participants. Classes can be held in the in-home Aerosha bungalow or various 417-land studios. You can even host it in your own home! As an added bonus, you'll likely learn a sequence to take with you on your honeymoon.
Spark Online Fitness
classes available at sparkforfitness.com
The Class: Your choice of approximately 70 video workouts
The Price: $9 per month (unlimited classes) 
Why it Rocks: If you need great pre-wedding workouts but on your own time, Spark Online Fitness is for you. Instructed by 417-lander Darla Neal Morello, classes range from 10- to 40-minute workouts that include barre, toning, yoga and high intensity interval training (HIIT). You can focus on a particular area, like your arms, or choose a full-body workout. The best part? You can perform these workouts at home and invite your bridal party over to join you.