Weddings
Amy Osborn & Julian Hutchins
Long distance was no barrier for this Army couple now braving the Alaska chill.
By Ettie Berneking | Photos by Mike Wingo Photography
Jun 2017
As if planning a wedding isn't stressful enough, Amy Osborn and Julian Hutchins had to plan theirs while thousands of miles away in Alaska. But for this determined couple, distance wasn't going to be a problem. Amy and Julian were already familiar with the hurdles of distance. After dating throughout college, Julian graduated a year earlier than Amy and was commissioned as an officer in the United States Army. During his training and year away, the couple endured 120 days with no phone calls and no visits. "We could only write letters to each other," Amy says, so she spent each day eagerly waiting by the mailbox. She still has all those letters, but even as excited as she was to see Julian at the end of his training, she says it doesn't compare to seeing each other for their first look on the day of their wedding.

At their new home in Alaska, Amy was thousands of miles away from Springfield, where the couple was planning to celebrate their wedding. In order to coordinate with vendors and venues, Amy had to rely on email and phone calls, but in the end it was her mom who helped the most. "She knew our vision," Amy says. It was her mom who visited Enchanted Hills Weddings & Events, hoping it would be the perfect venue for Amy and Julian's outdoor ceremony and reception. "She fell in love with it," Amy says. Having not visited the venue herself, Amy had to rely on her mom, but it all worked out in the end. The relaxed, bohemian, outdoor wedding Julian and Amy had dreamed of fell into place.

Today, the couple lives in Fairbanks, Alaska. Julian is a captain in the Army, and Amy is an assistant branch manager at Enterprise. Both miss their families, but Amy says being able to see the northern lights almost every day during the winters makes up for the distance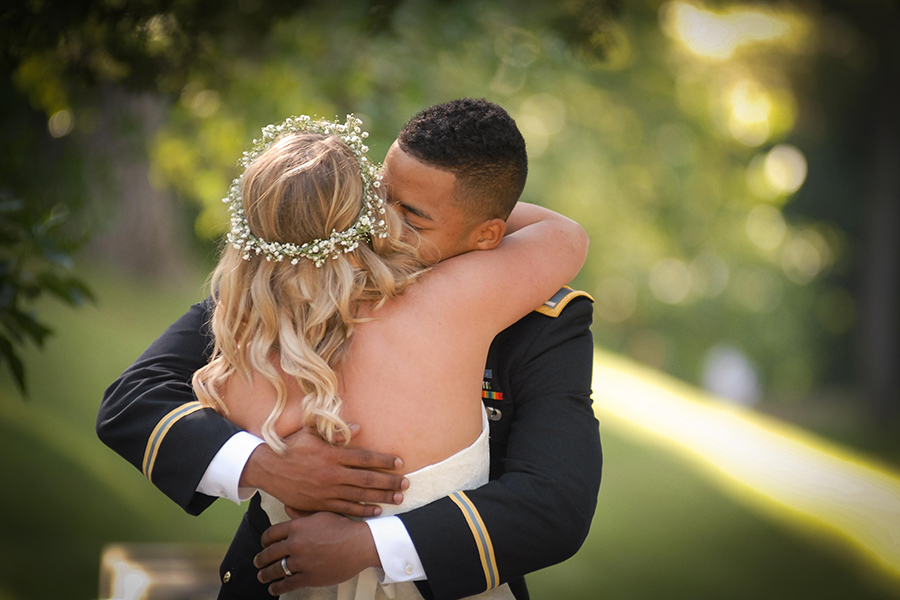 Amy and Julian enjoy a private first look just before the ceremony. That brief moment together alleviated some of the day's pressure and gave the couple a quick moment to step back and enjoy everything they had been planning for.

Amy wanted the wedding to be casual and laid back, so with some guidance on color and length, she let her bridesmaids select their own dresses. The night before the big day, the whole group got together to make their baby's breath floral crowns.

For the ceremony, Julian wore his Army dress blues. "The Army is such a big part of our lives," Amy says. "It was important for us to incorporate that into the wedding." 


When the cocktail hour got a late start, the wedding party didn't panic, and neither did the guests. Instead, everyone found a drink and continued the celebration.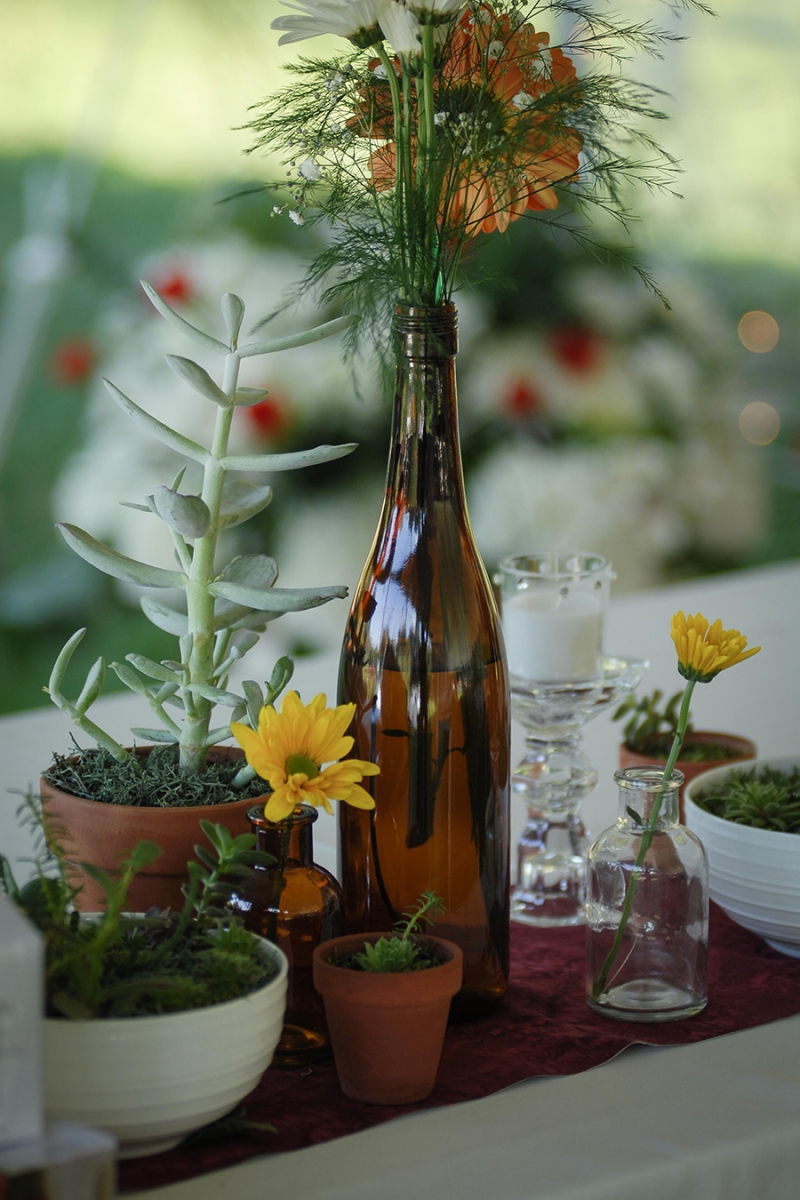 For the centerpieces, Amy's grandmother spent a year carefully growing dozens of potted succulents. The plants doubled as a take-home gift for guests.

After moving to Alaska, Amy met bridesmaid Jae Gosney, who happens to be from Joplin and who was also busy planning her wedding at the same time as Amy. Together, they planned and bounced ideas off one another.


When looking for the perfect venue, Amy and Julian knew they wanted a scenic outdoor escape. When Amy's mom visited Enchanted Hills Weddings & Events, she knew it was just what the couple was looking for.


Style by the Slice made the naked cake at Julian and Amy's wedding. The vanilla cake was partially frosted with buttercream. They also served a chocolate and raspberry sheet cake.
---
Resources:
Reception Venue: Enchanted Hills Weddings & Events
Caterer: Happy Chef Catering Co.
Cake: Style by the Slice
Music: Spark Events 
Flowers: Sams Club
Wedding Planner: Coalesce Total Events 
Photographer: Mike Wingo Photography
Rentals: Enchanted Hills Weddings & Events
Invitations: Date Line Digital Printing