Weddings
Sweets for the Sweet
Wedding cakes aren't limited to butter cream and fondant anymore. We worked with local experts to pair creative wedding cakes with other delectable desserts, all sure to taste as sweet as they look.
Photos by Kevin O'Riley Styled by Jamie Kalil and Jessica Kennon
Dec 2012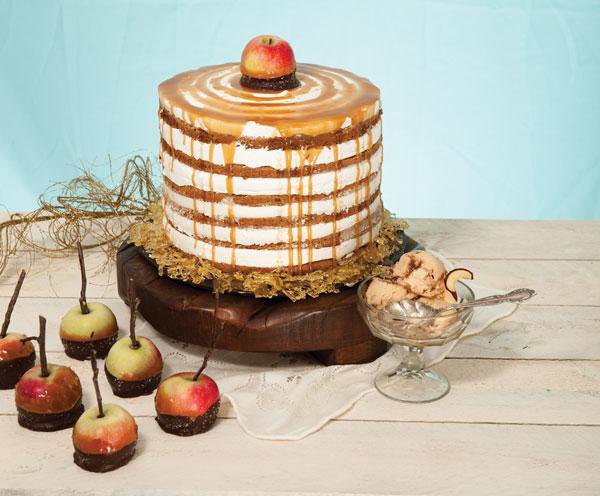 Sugar & Spice

Caramel apples inspired this seven-layer spice cake, paired with salted caramel ice cream and salted chocolate-caramel apples. Add a fun twist to your special day with a caramel apple bar. 
Seven-layer spice cake by Style by the Slice; salted caramel and chocolate apples and salted caramel ice cream by Elle's Patisserie; wooden cake stand, $89 at Provence.
Berry Kiss
A cake layered with fresh preserves and accented with berries pairs well with berry pie pops and pies, which are currently very trendy in the wedding world.
Three-tier Ivy cake by Hy-Vee. Pie pops by the Cake Pop Company. Sweetie Pies by The Pie Box. 
Cherry on Top
This black forest chocolate-shell cake is paired with a root beer float as a signature dessert cocktail. Adults may enjoy the floats with vodka-infused whipped cream.
Black forest chocolate-shell cake by Celebrations by Sonja.
Candy Crush

Crushed hard candy adds a whimsical touch to this cake, accented by champagne and rock candy swizzle sticks. The sticks can be displayed on the cake table or passed out before the toast.
Three-tier square cake with crushed lemon candy accents by Beth's Bake Shoppe; rock candy swizzle sticks from The Candy House.