Weddings
Erin McGownd and Tamarr Maclin
April 14, 2012, 425 Downtown, Springfield
By Ettie Berneking
Dec 2012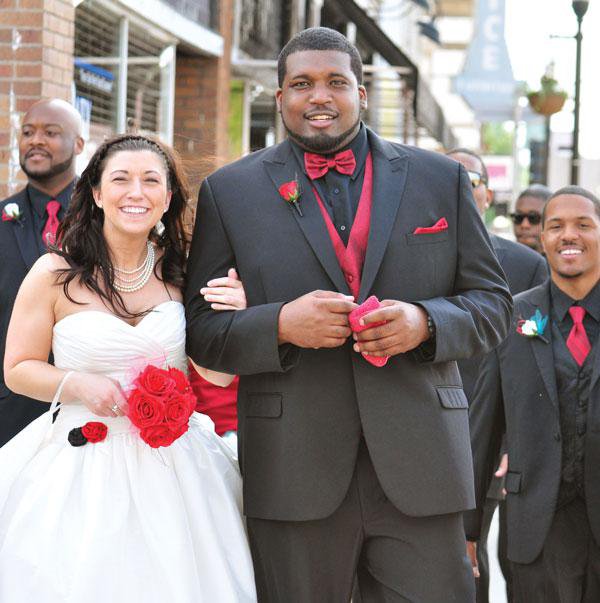 Erin and Tamarr officially met in 2003 while taking a class at Missouri State University, but the two had crossed paths several times before. With both her mom and dad as Missouri State alums, Erin and her family regularly attended Bears' basketball games where they cheered on their team. It just so happened that Tamarr was one of the players the McGownd family was rooting for.
From the very start, it seems the two were destined to meet. Erin's parents met at Missouri State, so it seems fitting that their daughter would also find love on the Bears' campus. After six years of dating, Tamarr finally popped the question on Valentine's Day with all of their family and friends present. 
Planning the wedding with the help of her parents, Erin wanted her big day to be personalized to show off both her and Tamarr's styles. From action figure cake toppers to hand-carved wooden love birds, almost every detail of the wedding was crafted by Erin, friends and family. Erin's maids of honor were her sisters Kim and Cara McGownd and her college friend Chell Certain. Her bridesmaids were Samrith Hong, Bonnie Gomez and Lauren Maclin. Tamarr's best man was fellow Bears teammate Deke Thompson, and his groomsmen were Brandon Taylor, Courtney Strayhorn, Eric Winfrey, E.J. Warren and Rickey Maclin. Today, Erin and Tamarr live in Springfield. Tamarr is a behavioral support supervisor at Arc of the Ozarks, and Erin is a clinical psychologist at Midwest Assessment and Psychotherapy Solutions.
Reception 425 Downtown
Catering St. George's BBQ & Catering INC.
Bride's Dress Robin's Bridal Mart
Groom's Attire Men's Warehouse
Rings Gordon's Jewelers
Photography Catie Neuber Photography
Coffee Catering The Coffee Ethic
Wedding Cake Mehmen's Bakery & Gifts
Flowers Martin's Floral & Home Décor
Music DJ Geeg