Weddings
Wedding Etiquette
Time-honored traditions have changed over the years, making way for new rules and an "anything goes" approach to weddings.
By Kaycie Surrell
Dec 2012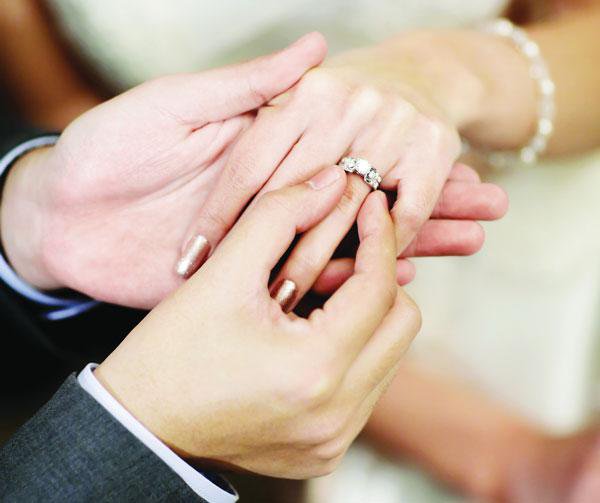 The custom requiring brides to carry something old, new, borrowed and blue on their wedding day might no longer be quite so literal, thanks to tradition and etiquette giving way to personal preference and toned-down ceremonies. Local wedding planners have seen it all when it comes to organizing the big day, and they offer tips for keeping up with the ever-changing rules of etiquette.
Dressing up the Dress
Feel pressured to wear white? You shouldn't. "We've had a lot more color in bridal gowns lately," says Stephanie Weiss of Ella Weiss Wedding Design.
Joyce Criswell of The Bride's Maid says she's seen brides stray from the traditional white gown to various pale shades that were prominent in the '50s. "There are many rules being broken," says Criswell. "Etiquette changes as the times change."
The In-Laws
When it comes to tricky stuff like whether your hubby-to-be's sister has to be a bridesmaid, stick to your gut. "Look at the situation," Criswell says. "Is she going to make you unhappy, and will you be in a tough situation with your fiancé's family, or do you just prefer a smaller wedding party with a couple of your closest girlfriends?"
The do's and don'ts of gift registry
One thing that hasn't changed is how to go about asking for and registering for your wedding gifts. 
Wedding Coordinator Lenette Kujawa of Aflair Events says you should never ask for gifts in your wedding invitations. In fact, you really shouldn't ask for gifts at all. That's what gift registries are for. It's rude to come right out and say you'd really like a new grill for your patio, but it's totally fine if you list where you're registered in the shower invites. "I encourage couples to put where they've registered in the shower invitations," says Kujawa. "Shower invitations are less formal than wedding invitations."  
Martha Wright of Gracious Occasions, Inc. says to be sure and register at a variety of places, both online and brick-and-mortar stores. "Some guests want to go out and buy the gift, so it's nice to make sure everything isn't only online," Wright says. Also, she says to be sure and include a variety of price points in your registry list.

Bridal Shower power
Traditionally, showers used to be hosted by the bride's friends or her mother's friends, not family members. Now anyone can host the shower. "The tradition has changed," Wright says. "Today, it's perfectly acceptable for a sister to host a shower." 
Kujawa recommends only inviting people to your bridal shower if they are also being invited to your wedding. If someone isn't going to be invited to the main event, you shouldn't ask them for a gift at a shower, Kujawa says.
Open Bar Policy
To help guests loosen up during the reception, couples often include a bar. Planners are torn on whether there are specific rules about this, but in the Midwest, guests often have access to cash bars where they can purchase their own drinks as they see fit. 
Andrea Alcorn of Gracie's Bridal says it's totally acceptable, in this area, to have a cash bar. But in larger cities like St. Louis, she's seen predominantly open bars. 
The Engagement And proposal
Engaged couples are busy these days going to school or work, and they are trying to fit a wedding, reception and honeymoon into their lives as quickly as possible. This isn't necessary, as there are no rules or maximum lengths of time a couple is allowed to be engaged. "Typical engagement length is six months to a year," says Alcorn. "But people are different—it depends on venue, and on a budget. It's totally up to the bride and the groom." 
But before you even worry about choosing a date, your man has to pop the question. Planners across the board agree that the groom should still ask permission before proposing. Weiss says it is a nice tradition that will impress your future father-in-law, and it could later turn into a fun surprise for the bride when she tells her parents.
The Bottom Line
The most important thing to remember is that the wedding is all about the couple. These days, it's less about making your mother-in-law, grandmother or sister happy and is more about making the most of what is supposed to be the best day ever, and the first day of a new life together.