Weddings
Our Wedding Story: Brett & Aubrey
This year's 417 Bride Our Wedding Story Winners, Brett Rippee and Aubrey Maples, celebrated their big day with a fairy tale wedding at Integrity Hills
By Savannah Waszczuk
Dec 2012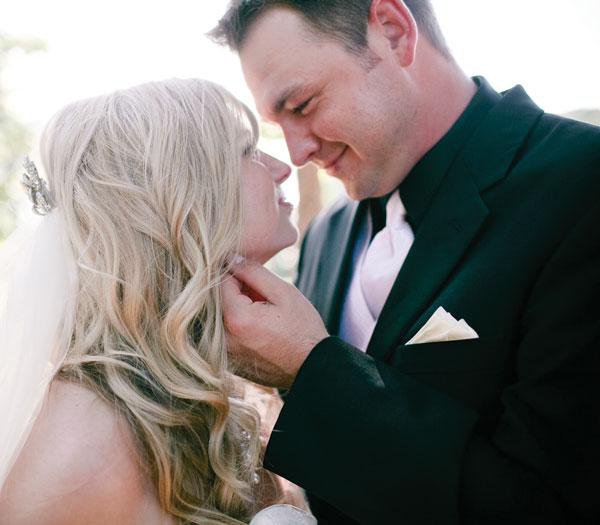 Our fourth-annual Our Wedding Story contest included entries from more than 30 brides- and grooms-to-be. Although each and every one of their love stories made us smile, we chose the six sweetest stories and the couples who submitted them as our finalists. These six stories were posted online for voting, and it was Brett and Aubrey's sugary-sweet story, which included a proposal that happened on a hiking trip in November 2010, that won the contest. 
Brett and Aubrey met on a blind date through Aubrey's brother-in-law. "Truth be told, we didn't hit it off immediately," Aubrey says. But the couple became friends and eventually started dating. It was a path that Aubrey looks back on fondly. "A friendship developed before love, and I would not change that," she says.
Brett proposed on November 7, 2010, and the couple was married 19 months later on June 2, 2012. Their fairy tale wedding took place at Branson's Integrity Hills, a private, 118-acre European-inspired estate atop the Ozark Mountains that overlooks Table Rock Lake. The venue includes a wedding chapel, indoor and outdoor reception venues, a large villa and a small guest cottage—all offering exquisite views of the mountains and the lake. "It was a completely relaxing weekend," says Aubrey. "We rented the villa with 21 of our family members. It was great having such a picturesque background." 
The weekend kicked off with a Friday-night rehearsal dinner complete with some of Brett's favorite food: barbecue from Skinner's Ribs & Bar-B-Que in Rogersville. After the rehearsal, the couple and their families spent the evening enjoying Integrity Hills' pool and hot tub. "Then we all got up together the next day," Aubrey says. "The girls all got our hair done together." 
Nearly 150 guests gathered for the 5 p.m. wedding ceremony. Aubrey's sister, Jennifer Crawford, was her maid of honor, and Emily Paver was her bridesmaid. Brett's best man was his brother, Jody Rippee, and Ray Cass was his groomsman. Flower girls were Chesney Rippee, Riley Rippee, Alivia Crawford and Greenly Paver, and Parker Rippee was the ring bearer. The bride carried a custom brooch bouquet created by her mother, Loretta Maples. "She provided many details in the wedding that allowed my personality to shine," Aubrey says.
Fresh flowers, décor and an ice sculpture transformed Integrity Hills into what Aubrey describes as a Cinderella Ballroom, which was perfect for playing host to her dream fairy tale wedding. In addition to a beautiful venue, guests enjoyed an Ozarks southern dinner catered by Integrity Hills that included fried catfish, flank steak, mashed potatoes, corn and green beans, and they danced the night away with entertainment from B#Sharp Entertainment. 
Thanks to the couple's friends and families, the big day included several special touches. Aubrey's grandpa officiated the wedding, and her dad, Donald Maples, made a video that included many of her childhood photos. Her mom, dad and sister hand-made all of the wedding invitations, and her mom also hand-made the programs. "This fairy tale would have not been complete without the help of family and friends creating, setting up and taking part in all aspects of the wedding," Aubrey says. "They made sure that Brett and I were happy and had no worries for the day. It made Brett and I realize how blessed we really are and how many people truly care about our happiness."
Integrity Hills owns many antique cars, which provided beautiful photo opportunities for Brett and Aubrey. The two were married at the venue's chapel.
On the big day, Aubrey was walked down the aisle by her father, Donald Maples Jr.
The couple's wedding cake, created by Celebrations by Sonja, was accented with a beautiful array of fresh flowers.
 Jones Soda, which is Brett's favorite, was served with fun pink-and-white-striped straws.
The Our Wedding Story winners, Aubrey Maples and Brett Rippee, enjoyed all the outdoor areas at Integrity Hills.
Aubrey and Brett incorporated several personal touches to their ceremony and reception. Photos of friends and family members who have passed away helped them include everyone special in their wedding. 
Aubrey's mom, dad and sister hand-made all of the wedding invitations.
Aubrey's mother made her bouquet out of several sparkling brooches.
Aubrey's sister, Jennifer Crawford, was her maid of honor, and Emily Paver was her bridesmaid. All of the girls carried brooch bouquets made by Aubrey's mother.
Thanks to the help of many family members, friends and wedding planner Sharon Taylor, Aubrey and Brett were able to relax some on their big day, even having time to pose for sweet photos.
Aubrey wore Marilyn Monroe replica jewelry on her wedding day.
The couple exchanged rings from Zales Jewelers.
Aubrey and Brett enjoyed a romantic moment outside.
Sharon Taylor of Sharon Taylor Designs helped bring Aubrey's dream fairy tale wedding to life with many special details, including a Happily Ever After sign. 
Integrity Hills was accented with fresh florals and twinkle lights to provide the perfect setting for Brett and Aubrey's wedding. 
Photography Katie Day Photography
Wedding planner Sharon Taylor Designs
Dress Ella Weiss Wedding Design
Tuxedos Men's Warehouse
Catering Integrity Hills
Cake Celebrations by Sonja
Flowers Artistry in Bloom
Entertainment B#Sharp Entertainment
Videography Brandon Goodwin Films
Photobooth Making Memories Photobooth 
Fireworks Encore Pyrotechnics