Weddings
Wedding Day Luxe
Getting pampered isn't just for the ladies. A handful of new barbershops offer star treatment for the guys, too.
By Savannah Waszczuk | Photo by Kevin O'Riley, Christian Gideon
Dec 2013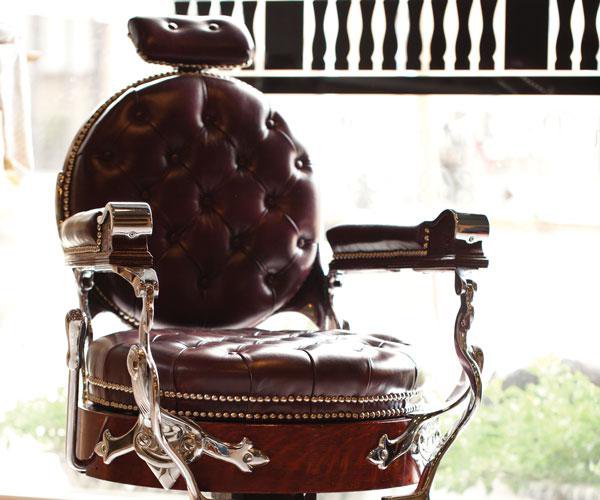 Over the last year, Springfield has seen a resurgence of old-school barbershops that know how to make your man look great and ensure he has a great time while he's lathered up. We decided it was time to peek into these hubs of manliness to see what they have to offer for the groom on his big day.
Last August, Dapper A Fine Gentleman's Barber Club (109 Park Central Square, Springfield, 417-720-1196, downtowndapper.com) opened in downtown Springfield. "The store is set up like back in the day when gentlemen weren't afraid of taking care of themselves," says owner Sean Brownfield. Services include everything from stone crop mud masks to shoe shines, and the pros here even wax nose hair. 
Dapper's services are particularly great for guys preparing to walk down the aisle. "We've had three wedding parties come in," Brownfield says. On these days, Dapper offers beer and bloody marys and often caters in food. Guys can get a haircut, a straight-razor shave and their choice of several other services. If the groom needs to recover from his bachelor party, he can spring for the royal shave that includes mud masks, cold lilac eye pads and 13 essential oil-infused towels. "It's a great thing to treat him to on the day of the wedding," Brownfield says. 
Just up the street is The ROGUE Barber (317 South Ave., Springfield, 417-864-0200). Open since January 2013, the shop is tucked inside Moda Salon & Spa and offers the groom and groomsmen top-notch services on the big day. "I'm always on the lookout for what's in style," says Ryan Mulcahy, who co-owns the shop with Larry Hillhouse. "I've never had someone leave and not be happy." A great cut isn't the only reason guys are leaving happy. The experience at ROGUE is first class. Guys enjoy complimentary Scotch or whiskey while getting their new do and snag one of the many cigars that are for sale. "It's a place where a man can be a man," Mulcahy says. The ultimate indulgence is The Don Draper—a hot towel shave and haircut accompanied by an esthetician who massages hands and forearms and trims and buffs nails. 
Another player in the luxe barbershop game is Hudson Hawk Barber & Shop (438 W. McDaniel St., Springfield, 417-831-2888,
hudsonhawkbarbers.com), which was opened by Paul Catlett and Thad Forrester in April 2013. Offering guys a salon-quality haircut in a barbershop environment, services include straight-razor shaves, hot towels on the face and a variety of other old-school services, all altered for a new generation. Grooms and their parties can enjoy the space to themselves, or they can schedule individual appointments. "We try to make it as full-service as they'd like," Forrester says. The shop offers everything from a simple shave to a shoe shine, catered food and more. 
So step aside, ladies. No longer are you the only ones getting pampered on the big day. Thanks to these snazzy new coiffeurs, your man will look as good as you. Well, almost.