Weddings
Christine Temple & Ryon Ward
May 18, 2013 Ms. Gilmore's Carriage House
By Kathryn Bennett
Dec 2013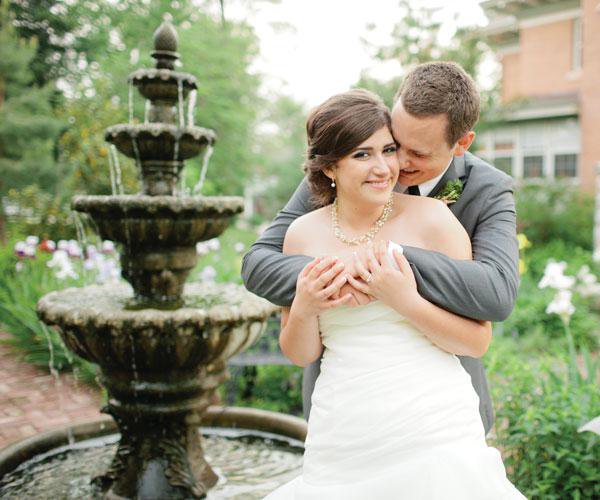 Ryon Ward and Christine Temple first met at a small group meeting at church. After the meeting, a photo of the gathering was posted on Facebook. This photo led Christine to send Ryon a friend request, but because of an auto-text mistake, Ryon accidently sent her a strange message that mentioned an "affair" instead of reciprocating the request. Curious about the message, Christine began talking to Ryon, and a relationship developed. Turns out, the auto-text prediction was right, because the typo led to the beginning of a sweet love affair. The couple spent their first date playing Candy Land and Scattegories at a local coffee shop.
After dating three and a half years, Ryon set to work planning a romantic proposal Christine would never forget, but Christine's schedule was jam-packed. Every time Ryon was ready to propose, Christine had to cancel their outing. Finally, Ryon convinced Christine to take a break, so they could take "couple pictures" at Nathanael Greene Park. Once at the park, Ryon grabbed a picnic blanket and the ring and headed with Christine to meet the photographer, who was already in on Ryon's plan. The couple walked to a spot near the lake, but another couple had stolen the location. After settling down in a not-so-far-off spot, Ryon waited for the moment to be just right, then he finally got to ask Christine the one question he'd been waiting so long to ask.
After an engagement that lasted a little longer than a year, the couple married at Ms. Gilmore's Carriage House. Today they live in Springfield, where Ryon works as a patient care associate at Mercy Hospital and attends college at Ozarks Technical Community College and Missouri State and Christine is a features reporter at the Springfield News-Leader.
WEDDING BLISS Christine Temple and Ryon Ward enjoyed a spring 2013 wedding at Ms. Gilmore's Carriage House

Flowers were created by He Loves Me Flowers by Charity. 

The menus at the reception were designed by the maid of honor and garnished with a sprig of rosemary, the groom's favorite herb

The men's boutonnieres were delicate yet masculine with sprigs of rosemary. 

Simply Delicious Catering created the cake with layers of coconut, vanilla and amaretto all wrapped up in buttercream frosting 

 Wedding decorations were minimal to allow the eclectic, vintage feel of Ms. Gilmore's to shine

The weather was gorgeous at Christine and Ryon's outdoor wedding last spring

The bride drew inspiration from her personal style as well as the venue for the blush-colored bridesmaid dresses, which were made out of the same fabric but in different styles

To celebrate their big day, the bride and groom toasted with sparkling cider.
Venue: Ms. Gilmore's Carriage House
Cake & Catering: Simply Delicious Catering
Bride's dress: David's Bridal
Tuxedo: Men's Wearhouse
Flowers: He Loves Me Flowers
Photography: Christine Bonnivier Photography
Music: Travel Tunes DJs 
Riings: Justice Jewelers