Weddings
The News on Venues
Engaged 417-land couples have even more to be happy about with plenty of new choices for their wedding location. An intimate chapel, a luxury yacht and a rustic barn are just a few venues now open for those saying their all-important vows.
By Julie Sedenko Davis | Photo courtesy of Big Cedar
Dec 2013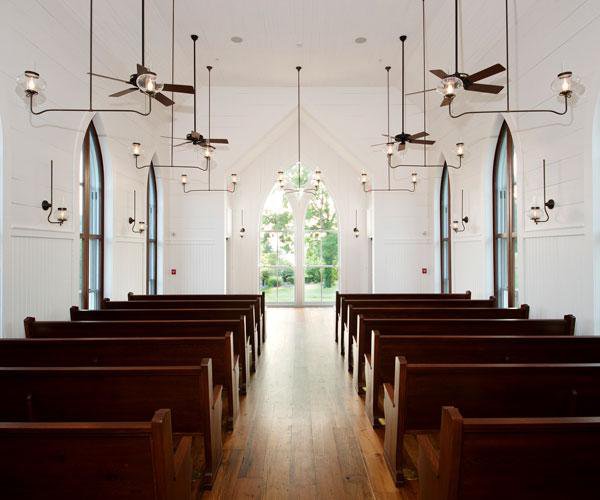 Garden Chapel
612 Devils Pool Rd., Ridgedale; 417-339-5159, bigcedar.com
This quaint country church sits on a hill in the center of Big Cedar Lodge. Completed in the summer of 2013, it accommodates about 70 guests. Large, gothic style windows, wood floors and ceiling fans continue the traditional feel.
Why we love it: The classic tall steeple is a striking backdrop for outdoor wedding photos.
Lady Liberty Cruise Yacht
612 Devils Pool Rd., Ridgedale; 417-339-5159, bigcedar.com
This stunning ship offers a fun twist to the traditional wedding ceremony and seats as many as 45 guests. Modeled after leisure yachts of the 1920s, its wooden detailing and nautical décor offer a classic vintage elegance. 
Why we love it: This 65-foot leisure yacht offers the perfect destination wedding location where you don't actually have to leave town. 
Pickwick House
611 S. Pickwick Ave., Springfield; 417-459-8988
Hosting weddings since February, Pickwick House seats 55 people for an intimate, elegant and affordable event. The restored drug store's awning lends an antique storefront appearance. Inside are crystal chandeliers and an eclectic mix of tables perfect for a small reception.
Why we love it: Black and white styling is a blank canvas for any bride.
The Vesta Room 
201 S. Ingram Mill Rd., Springfield; 417-447-5600, thevestaroom.com
A new addition to this contemporary favorite accommodates as many as 200 people. Tall ceilings, tile floors and tasteful art create a sophisticated yet homey environment for large or small gatherings. 
Why we love it: Modern yet elegant décor plus a secluded setting makes the perfect venue for an intimate wedding.
Enchanted Hills 
6649 N. Farm Rd., Springfield;  417-425-7948, 
enchantedhillsweddings.com 
Enchanted Hills' new pavilion is tucked near a natural spring waterfall, offering beauty and privacy. Dark woods, copper accents and a stone-like floor give it a 1930s atmosphere. Removable siding, fans and heaters are on hand for any weather situation.
Why we love it: No more outdoor weather wedding fears!
The Weathered Wisdom Barn 
Route 1 Box 101, Preston; 417-343-8029, weatheredwisdombarn.com
Seating as many as 300 people, this Amish-built barn features dressing rooms, decks and acres of beautiful landscaping. Mason jar light fixtures and a wagon rim chandelier are just some of the rustic details.
Why we love it: Dark wood beams and a floor-to-ceiling window create a stunning backdrop.