Weddings
Andrea Frey & Mark Metzger
May 17, 2013; Savoy Ballroom
By Ettie Berneking | Photography by Twin Town Studios
Dec 2013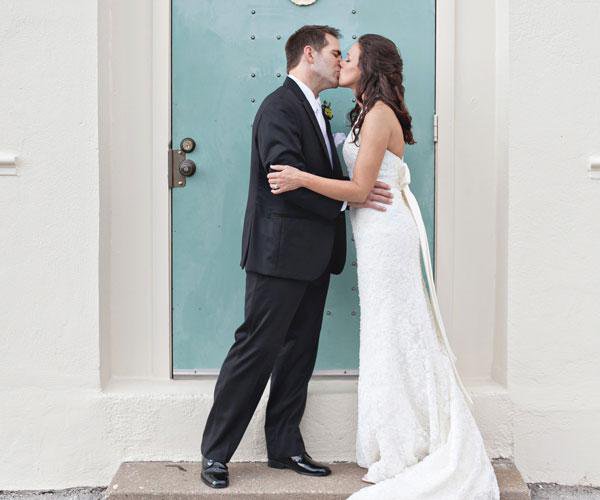 Growing up in Mexico City, Andrea Frey ventured to Springfield for college, where she studied Spanish, International Studies and Mexican Studies at Evangel University. A few years later, Andrea was hired on at Convoy of Hope, where she met her husband-to-be Mark Metzger. It took two years of working together before Mark and Andrea finally got to know each other. For their first date, the two enjoyed a leisurely stroll through Sequiota Park. "We talked for a couple of hours and really hit it off," Andrea says.
Five months later, Andrea was celebrating Easter with Mark and his two kids, who were racing around hunting for plastic Easter eggs. Andrea was also on the hunt for one very special egg, where she expected to find an engagement ring. As the day wore down, nothing but candy turned up. It wasn't until the next day, when Mark pulled out one last Easter egg for Andrea, that she got her ring. "We were walking through Sequiota Park, and he pulled out this plastic egg with 'Will you marry me?' written on it in both English and Spanish," Andrea says.
A year later, Mark and Andrea were married at Savoy Ballroom in front of family, friends and Mark's two kids, who joined in the ceremony. With Andrea busy finishing her master's degree, Andrea's mom stepped up to help plan the big day. In the end, everything was perfect. "We kept things simple," Andrea says. "But when I showed up the day of the wedding, I was shocked at how beautiful it all was."
Today the couple lives in Springfield, where Andrea and Mark both work at Convoy of Hope. Andrea is the Latin America Regional Manager, and Mark is the CFO. 
The Details
Wedding and Reception Venue: Savoy Ballroom
Flowers: Artistry in Bloom
Food: Tortillería Perches 
Cake: Celebrations by Sonja
Entertainment: Manelich Luna; Traveling Tunes
Wedding Coordinator: Ali Lamb
Dress: David's Bridal
Tuxedos: Men's Warehouse
Rings: Bride, Justice Jewelers; groom, Zales
Photographer: Twin Town Studios