Weddings
Antartica I Do's
Emily Church, owner of Everything Kitchens, was planning a trip to Antarctica when she met Chad Carleton. She was checking the last continent off her bucket list. After getting engaged, it was Chad's idea to have their wedding ceremony on ice.
By Emily Church As Told To Julie Sedenko Davis | Photos courtesy Emily Church, by Jessica Yates Photography
Dec 2016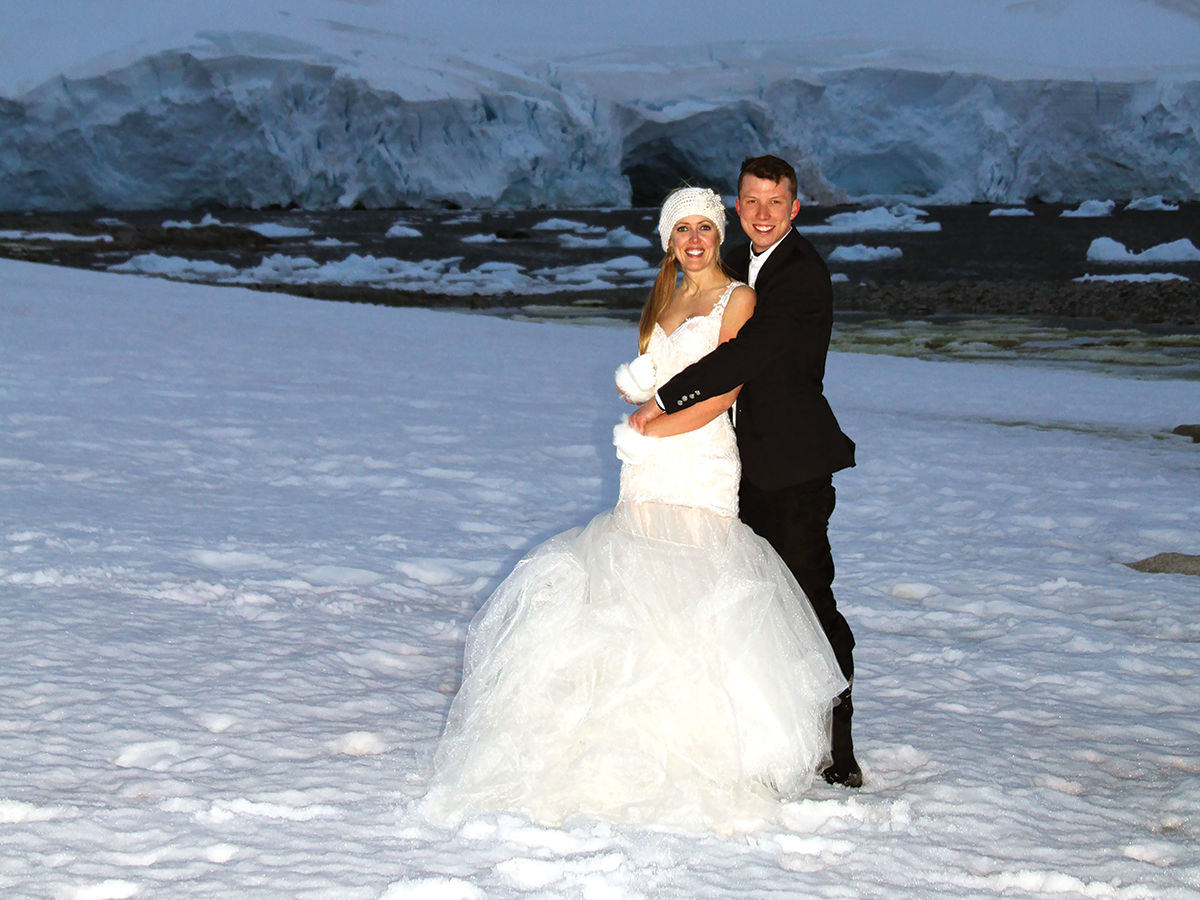 We were on a small cruise ship—there were 90 to 100 people on the boat. We took a smaller boat through the ice onto Ronge Island. On one side was water, the other three sides were giant ice cliffs. They looked really blue. You can't really fathom the size of the ice cliffs. It was very ominous to see them, hundreds of feet up, straight from the ocean. It was untouched and pristine. 

They set up a tent so I could change into my wedding dress. Originally I was going to wear white snow gear but I changed my mind. (Later, I had to get it dry cleaned because it stunk like penguins.) About 25 people we met along the way came. It was kind of funny because wedding guests normally aren't dressed in ice gear. 
We bought a satellite phone and called our pastor. The signal wasn't good so we had somebody else marry us. When you're getting married in Antarctica, you have to go with whatever is thrown at you. In our wedding video there's a penguin that walks by and a whole bunch of seals on the ground behind us. 
For the honeymoon night, we had waterproof sleeping bags. My husband dug into the snow and ice so the wind would blow over [the top of] us. We were looking up at the stars in Antarctica. It was romantic. 
Later, in Springfield, we had a reception at the Savoy Ballroom. We walked the aisles with bridesmaids and everything and, when we got up there, we played our wedding video from Antarctica. Then we had dinner and there was dancing.
It was most unique way ever to get married. I wouldn't change it for anything. It was an absolutely amazing, once-in-a-lifetime experience. I was just completely awed at how beautiful God's creation is.
Because many friends and family couldn't make the trek, they held a reception here in Springfield (top), which included a video of the couple's destination wedding (bottom).