Trends
Make a Statement with a Geometric Tile Backsplash in Your Kitchen
With natural textures, black accents and clean lines, this kitchen serves as the heart of a modern, open-concept home.
By Ren Bishop
Mar 2020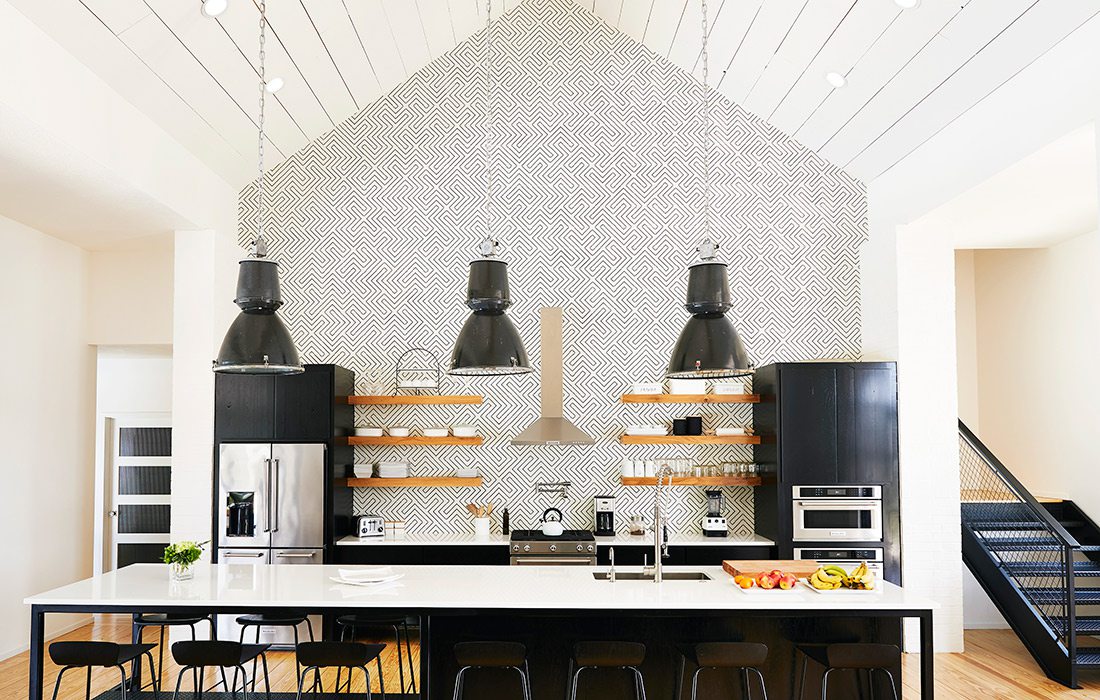 When Adrian Rhoads sat down to talk to his new construction client about her dream kitchen, she brought a show-stopping tile. She wanted to allow the tile, made of white ceramic and bold, black lines, to make a big statement. "We designed the entire space around that tile," says Adrian Rhoads, owner of Rhoads Design & Construction. "But it worked because we were so intentional with all the other choices around it."
It took five days to install the showpiece, but the space is defined by it. The 8-by-8-inch tile ascends 22 feet in the open concept space, which adjoins the neighboring living room. Open shelves made of white oak break up the custom design pattern. Stainless steel appliances, accessories and dishes at an arm's reach give a casual feel, and natural textures help the space feel approachable.
Oak cabinets painted black on either end of the space flank the kitchen like bookends. Overhead, 3-foot-tall fixtures hang. The lights were salvaged from a factory and sourced by the homeowner, who served as the home's interior designer. The unstained pine floors warm the space and contrast against the crisp white of the quartz countertops, supported by black legs.
But most days, all the black hues and details are washed in natural light from generous windows framed in black aluminum, not allowing the black tones to feel one bit dark. "Sometimes when things are very simple, it gives us the opportunity to be very dramatic," Rhoads says. "In the simplicity, we can have all of the lines on the tile, we can have the contrasting materials, we can have these reclaimed lights. It all works but only because the materials complement each other."
Cabinets
Buchholz Custom Woodwork
21647 Lawrence 2230, Aurora, 417-847-5222