Spaces
Peek Inside This Hollister MO Lake House Overlooking Table Rock Lake
John and Linda Allen found inspiration for their Hollister lake home during their many travels.
By Adrienne Donica
Dec 2018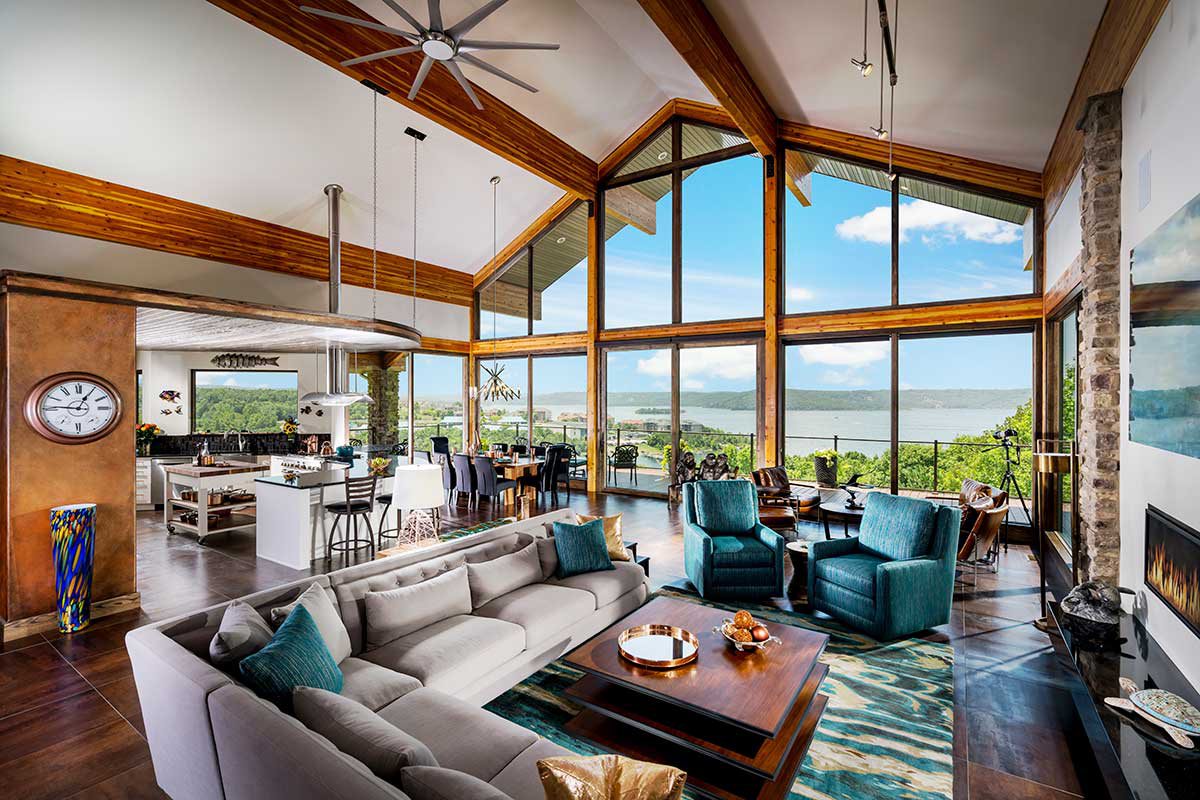 "We knew we wanted a home overlooking water—water, you know, it acts like a magnet." John Allen is talking about the inherent appeal of retreating to a lake house with family and friends, but the same could be said of the 2-acre Hollister lot he and his wife, Linda, purchased in 2014. When their real estate agent showed them the undeveloped property, there was something familiar about it. Then, it clicked. John and Linda had visited this same lot 14 years ago. Back then, the Iowa couple felt it was overpriced and decided to build on Padre Island, instead. Now, they were looking for something closer to home, a vacation house that would be easier for their two children and their families to visit. Whether returning to this property was a matter of fate, coincidence or divine intervention, the Allens knew it was meant to be. So, they signed on the dotted line.
This May, the Allens' custom-built home was at long last ready to host guests. John admits they could have finished the project sooner but not without sacrificing the craftsmanship that went into the nearly 8,000-square-foot open-concept home, planned by Allen Johnson with Branson architect firm General Design Inc. and designed by Jacque Pitts of Brashears Furniture. Pitts connected the Allens with framers, painters, carpenters and many others who worked tirelessly to make the homeowners' vision come to life.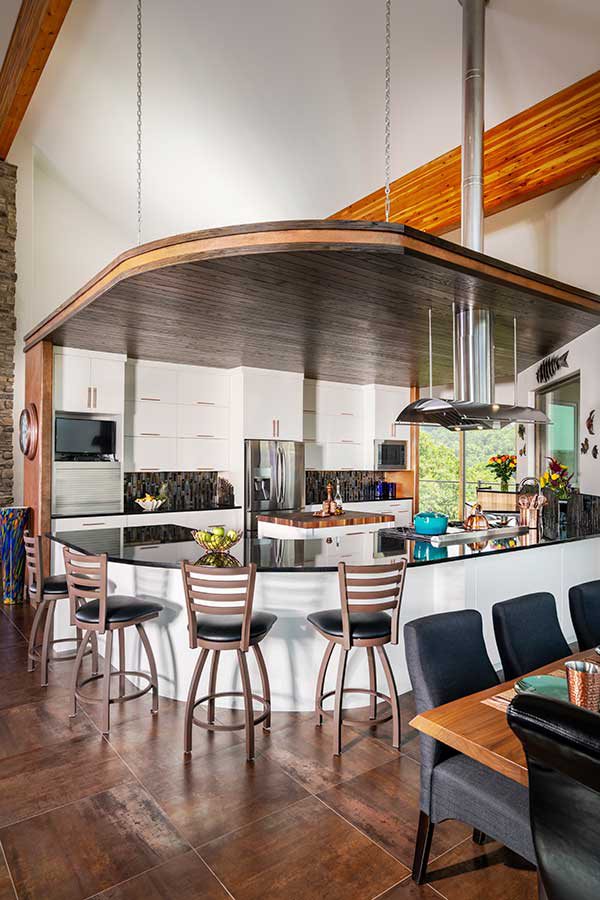 Photos by Jeremy McGraw; Global Image Creation
"It seems to me it doesn't matter if you're in a 500-square-foot house or the home we built, everyone ends up in the kitchen," John says. Because they love entertaining, a large, open kitchen was a must. The room opens to the dining and great rooms beyond. Initially, it was designed with a vaulted ceiling, but the Allens decided instead to hang a ceiling for a cozier feel.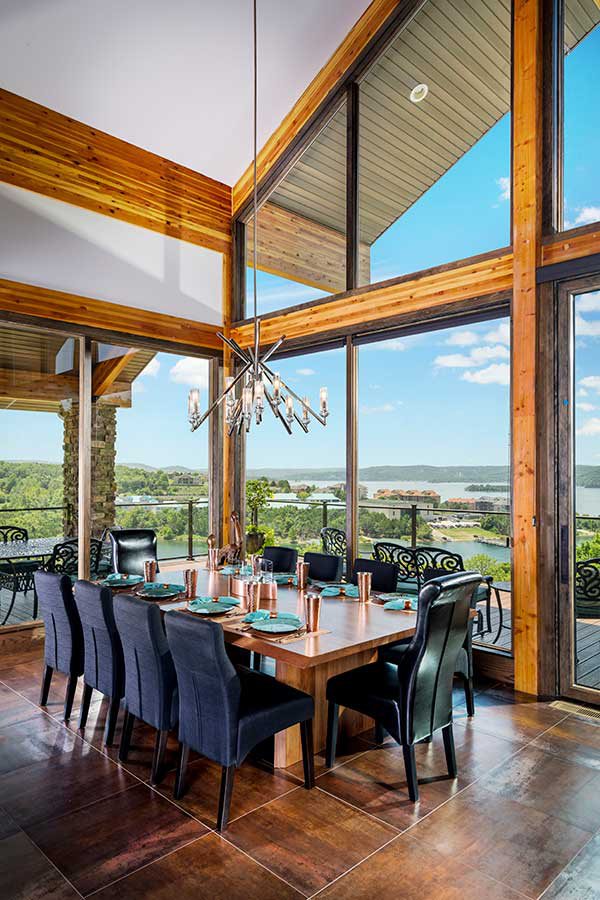 Photos by Jeremy McGraw; Global Image Creation
The Allens commissioned this live-edge walnut dining table from Brashears Furniture to seat 10 people. Initially, John wanted a high-gloss stain, but, ultimately, the makers used a stain finish, which displays the beauty of the wood better.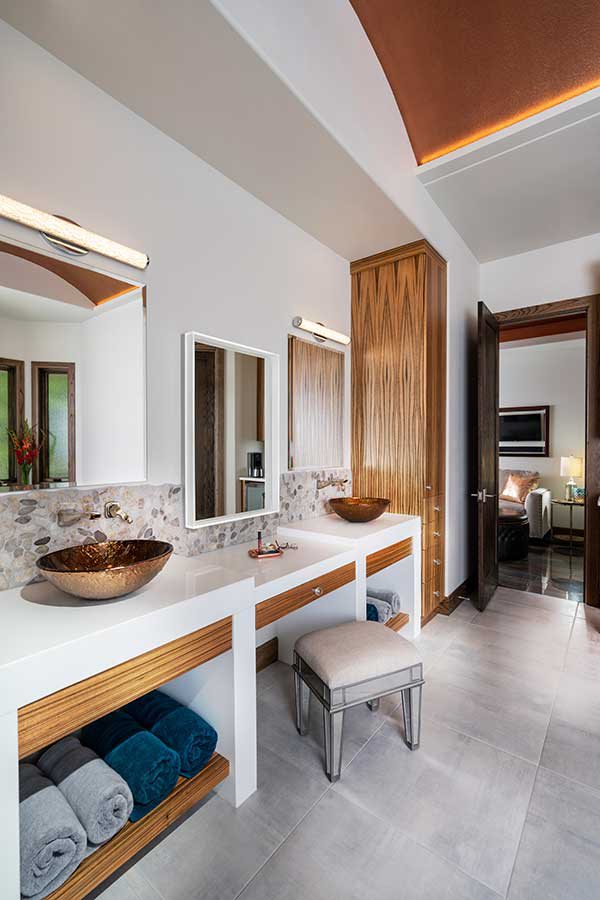 Photos by Jeremy McGraw; Global Image Creation
Paldao wood from the Philippines is featured throughout the home, including in the Allens' bathroom. This space also has heated tile floors, a soaking bathtub with a heated backrest, a walk-in shower and a dry bar with a built-in coffee maker and a mini-fridge for early morning caffeine fixes.
That vision was largely informed by John and Linda's travels across the country and the world. Their 10-foot linear fireplace was partially inspired by a similar one at an Omaha hotel. Their master suite has a floating wall separating a lounge area from the bed, like in their hotel room in Memphis. And the glass railings on their decks? "We got that idea over in France," John says. 

But first, the space needed to feel inviting. "We wanted a home that would be able to entertain friends and family—a gathering place," John says. That meant a kitchen with plenty of space, several bedrooms all with their own bathrooms and, of course, views of the woods and Table Rock Lake beyond. The great room and guest bedrooms have floor-to-ceiling windows and glass doors for just this reason. "It's the sixth home we've built since we've been married, and I think we finally got it right," John says. "I really do."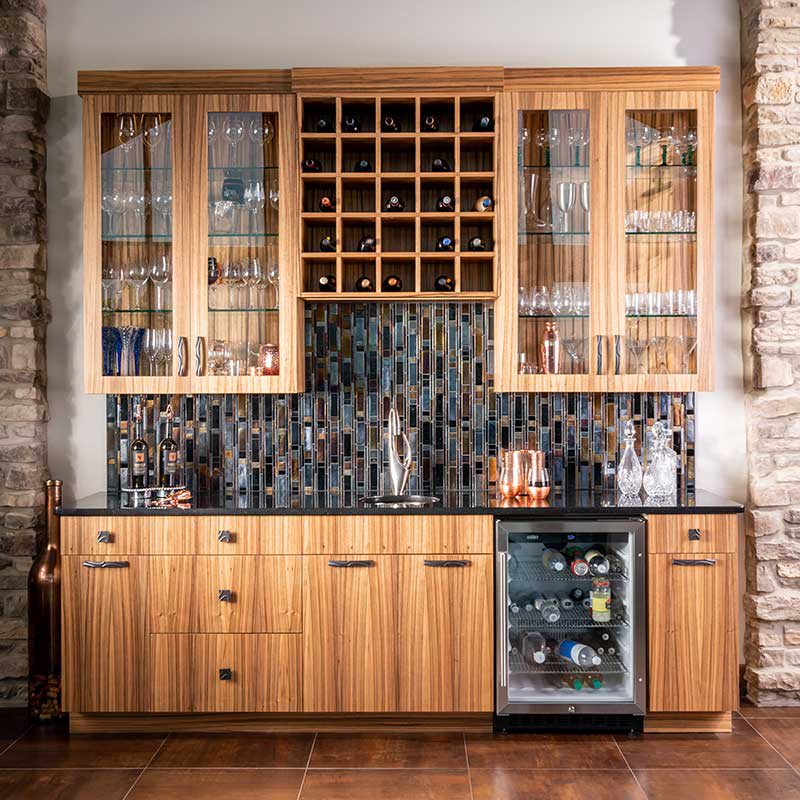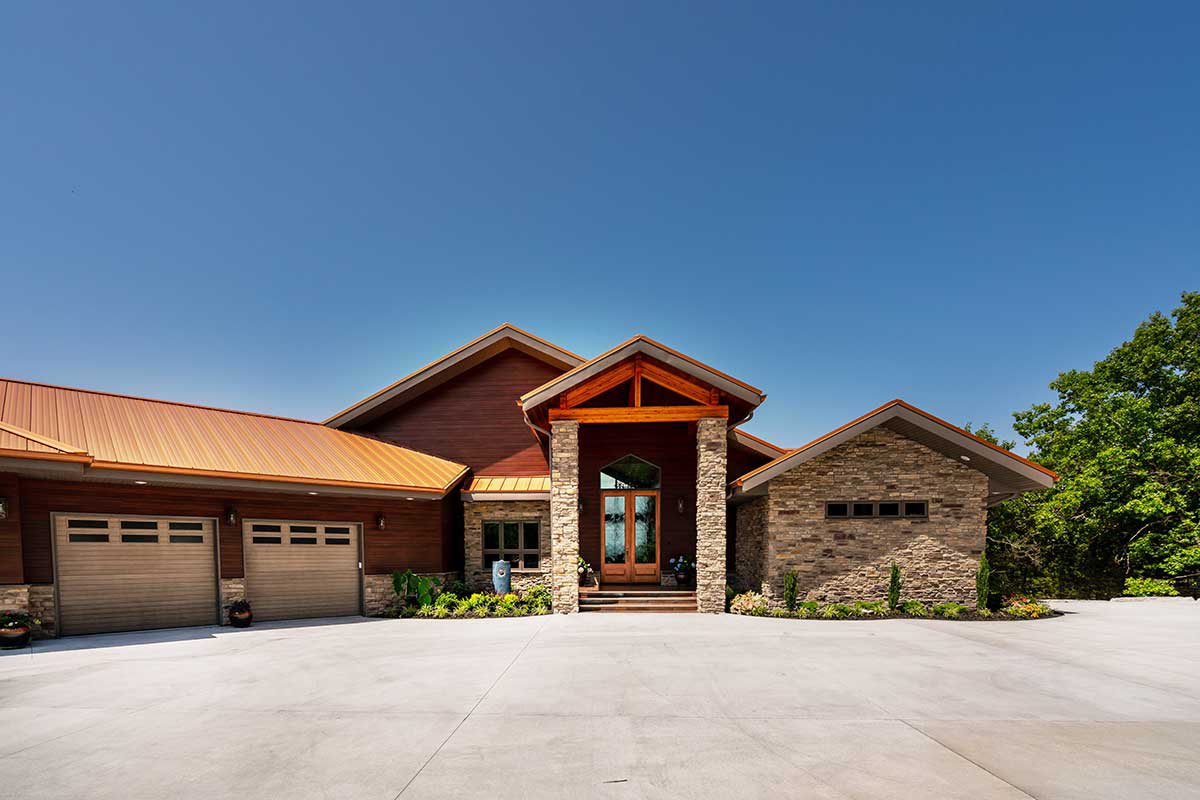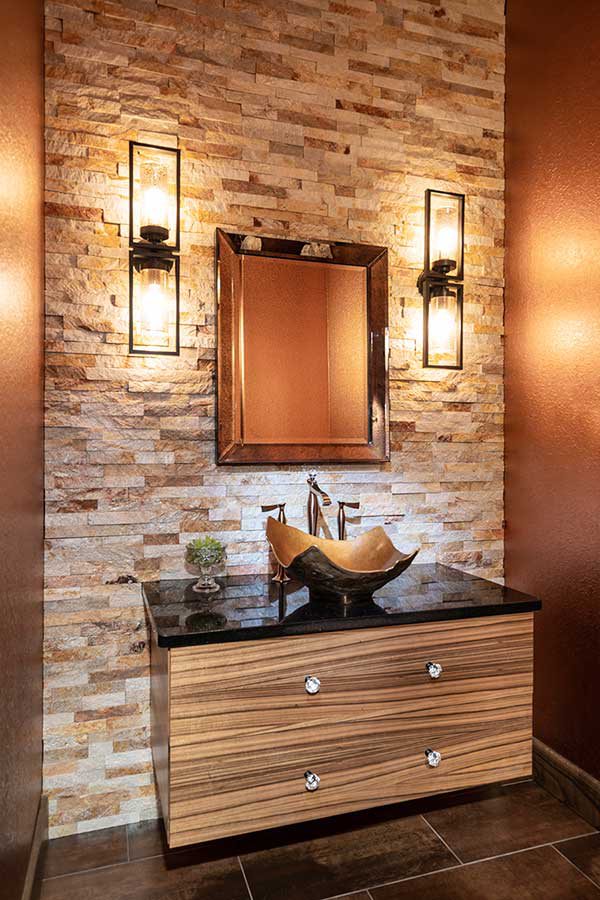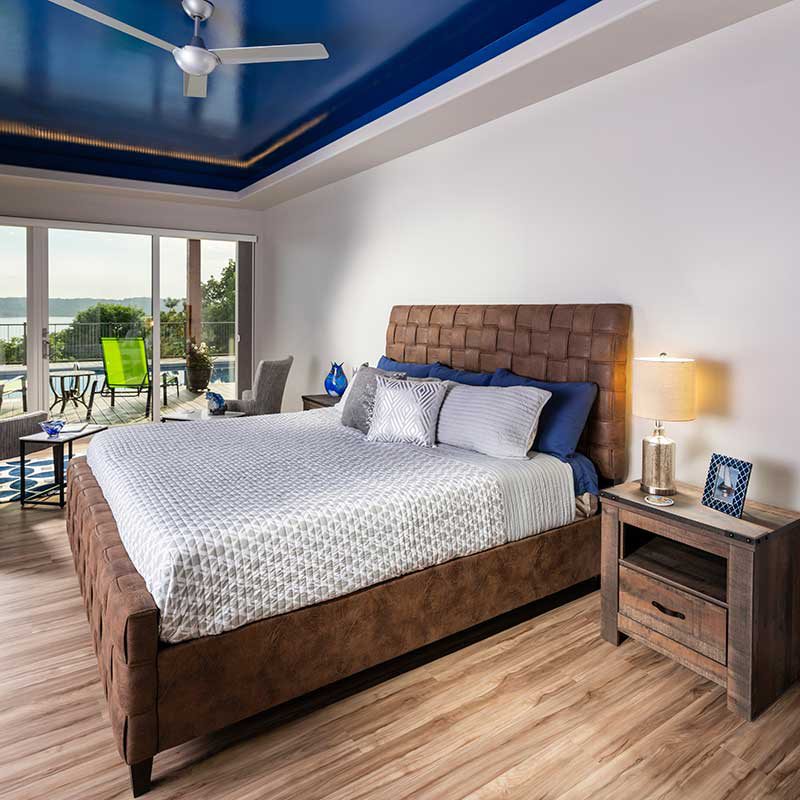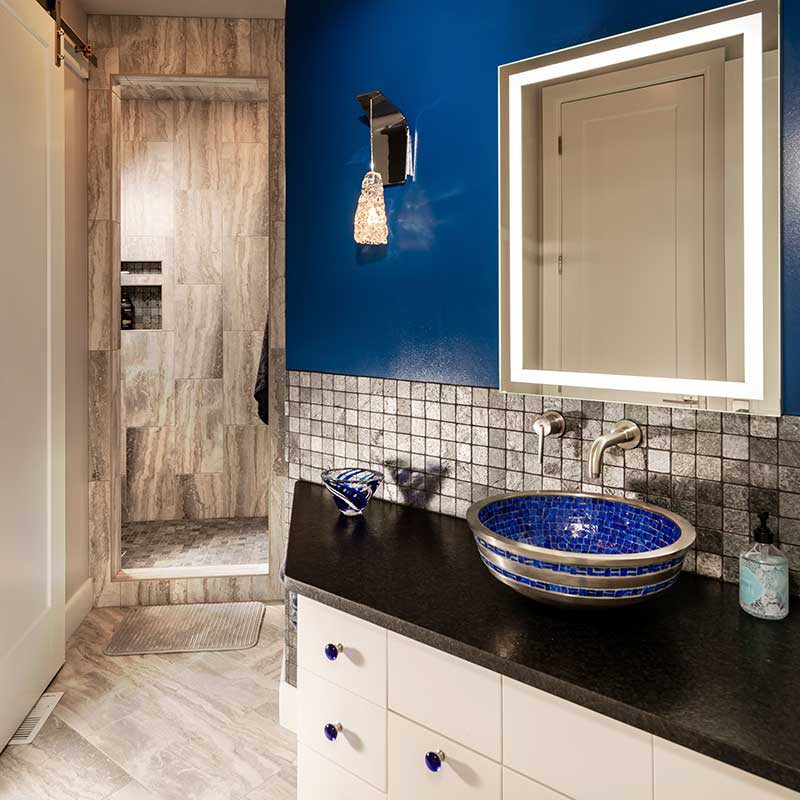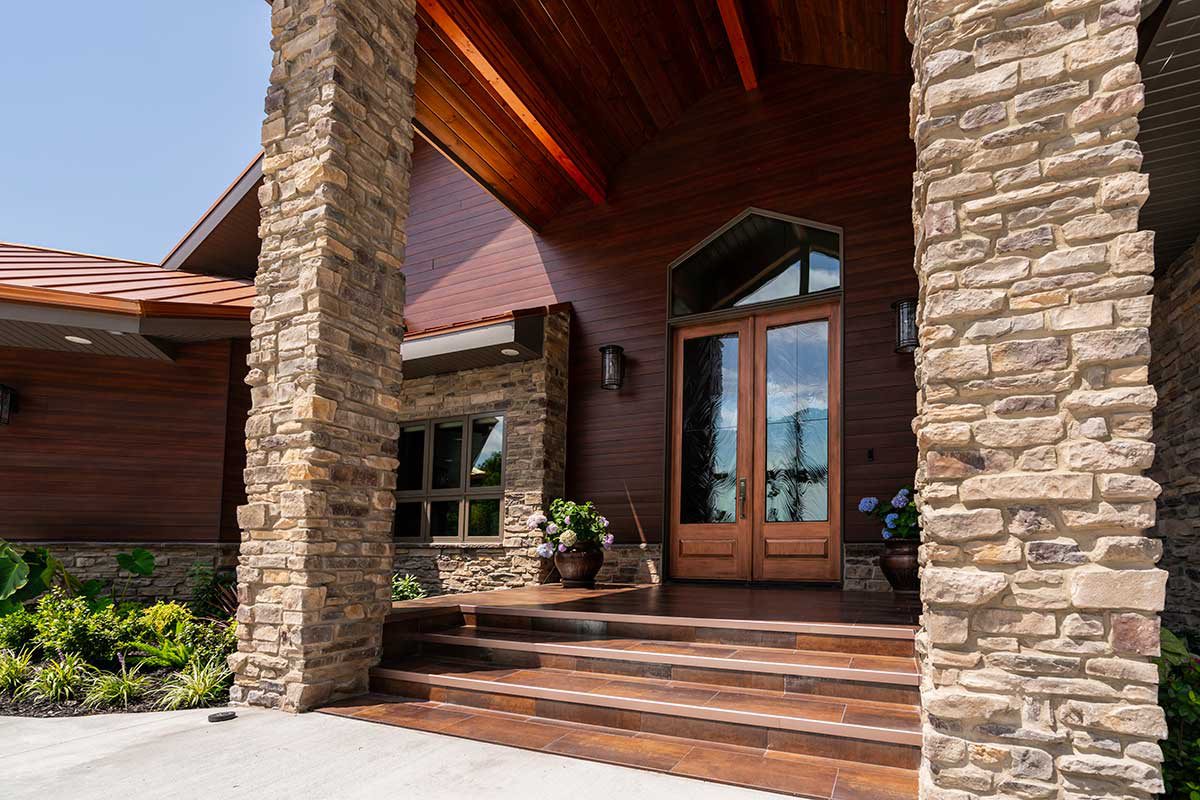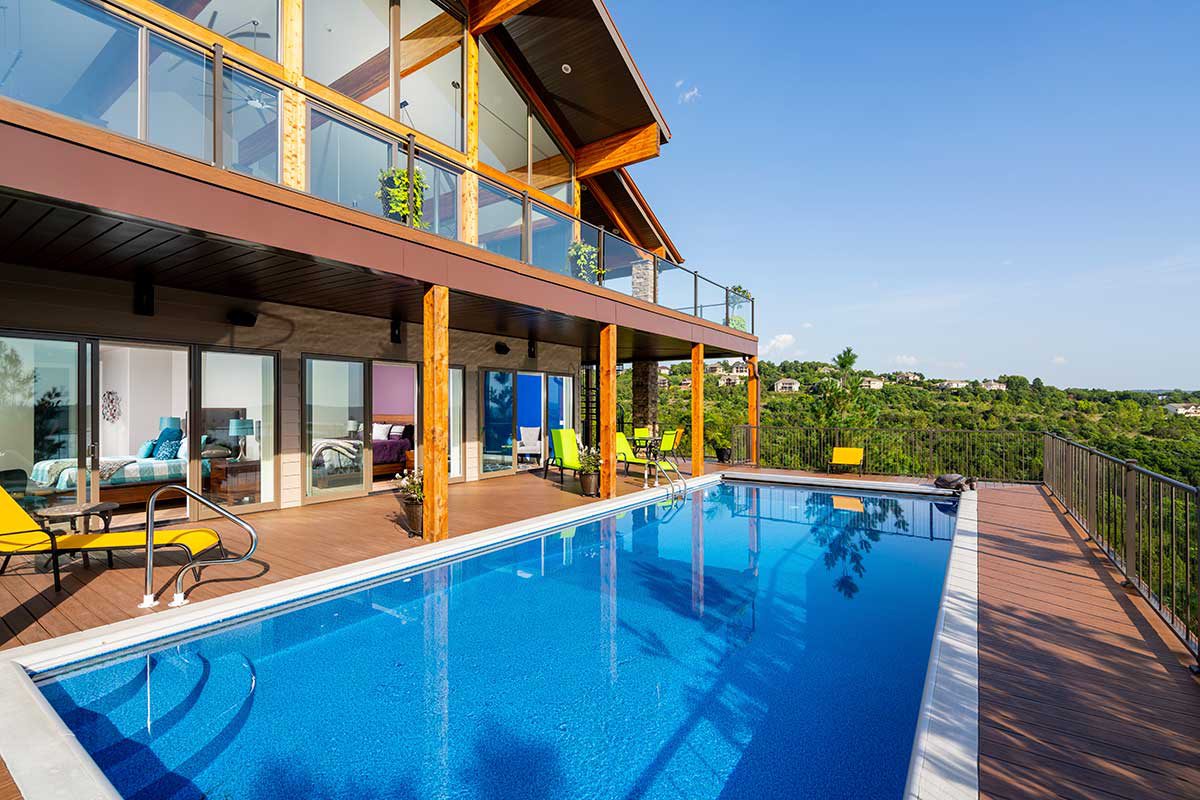 Plans: Allen Johnson, General Design Inc., Branson
Builder: Ray Strong, Ray Strong Construction, Hollister
Interior design: Jacque Pitts, Brashears Furniture, Berryville, Arkansas, and Branson
Electrical work: S&S Electric, Willard, and The Light House Gallery
Plumbing: Greg Poindexter, 417-326-3218, and Harry Cooper Supply Co., Springfield
HVAC: Signature Home Comfort, Springfield
Siding: Seamless Siding and Windows of the Ozarks, Branson
Cabinets: Cabinet Concepts by Design, Springfield
Countertops: Unique Tile, Nixa
Hardware: Cabinet Concepts by Design, Springfield, and Meek's, Springfield
Doors/Windows: Meek's, Springfield, and Binswinger Glass, Branson
Carpet: The Carpet Shoppe, Springfield
Tile: Unique Tile, Nixa
Tile installer: Al Dietrich
Wood floors: The Carpet Shoppe, Springfield
Custom woodwork: Terry Bradshaw, Done Right Construction, Springfield
Beams/Restored wood products: Meek's, Springfield
Painters/Decorative paint contractors: Dave Hanks Painting & Design LLC, 417-230-7046, and Sara Huffman, Work of Art, 417-425-6958
Faux Finishers: Sara Huffman, Work of Art, 417-425-6958, and Dave Hanks Painting & Design LLC, 417-230-704
Appliances: Metro Appliances & More, Springfield
Furniture: Brashears Furniture, Berryville, Arkansas, and Branson
Light fixtures: The Light House Gallery, Springfield
Plumbing fixtures: Harry Cooper Supply Co., Springfield
Window coverings: Brashears Furniture, Berryville, Arkansas
Audio/Visual elements: SCS Home Entertainment, Springfield
Garage doors: Overhead Door Co., Springfield
Landscaping: Cody Bordelon, 417-559-6625
Pool: Indian Summer Pool & Spa, Springfield