Reviews
There's More Than Breakfast at First Watch in Springfield MO
We visited First Watch—an eternally popular breakfast joint—at lunchtime to try some of the restaurant's less egg-centric fare.
By Katie Pollock Estes
Dec 2018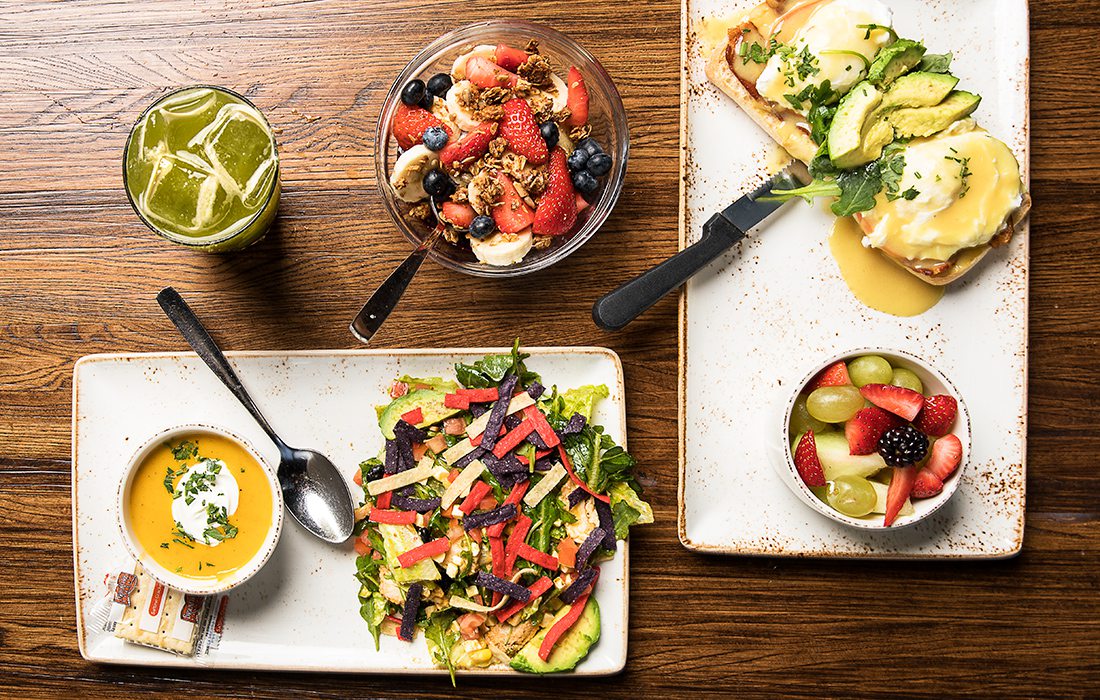 Ever since it opened in Springfield, First Watch has been one of my go-to breakfast spots. In addition to it offering enough a.m. variety to satisfy everyone in my family, the restaurant is also a pleasant spot to hunker down for a work meeting—in fact I've had about three of them recently. The food is consistent, the coffee is bottomless, and the central-ish location is handy.
Usually, I meet in the morning, opting for one of the restaurant's tasty breakfast dishes to satisfying my craving for eggs—like one of the clever takes on eggs Benedict. The BLT Benedict is a favorite, with crunchy ciabatta bread that comes topped with thick, crispy bacon; fresh tomatoes; and perfectly poached eggs. My favorite part, though, is the lemony arugula salad and fresh avocado slices piled on top. Between those fresh, green bits and the rich hollandaise sauce, it's the perfect blend of flavors for a savory start to the day. 
Recently, though, I ventured back to First Watch for lunch with my friend Cassie Darst, and I got a chance to consider the less breakfasty menu options over a cup of coffee and a good chat. 
Cassie had the A.M. Superfoods Bowl, which sounds healthy (it's on "The Healthier Side" part of the menu, after all) but tastes ridiculously indulgent. The bowl starts with chia pudding that's made with rich coconut milk, causing it to taste like a dessert. On top is a bit of blackberry preserves and crunchy house-made granola, plus fresh fruit such as bananas and berries. On the side, two slices of whole grain toast are slathered with almond butter and sprinkled with sea salt. I only tried one luscious bite, but the dish looked super-filling.
The seasonal butternut squash bisque caught my eye, and I opted for a very lunchy soup-and-salad combo. There are a handful of salads to choose from, but the Chicken Avocado Chop salad was a standout for me. I love a chopped salad and anything with a Southwest-inspired dressing. This salad was exactly what I was hoping it would be. Mixed among Romaine lettuce were spicy bits of arugula, my favorite leafy green, and the toppings provided plenty of flavor and texture variety. There was tender chicken breast, crunchy tortilla strips, creamy avocado, teensy little nibbles of corn, black beans and feta cheese. 
I loved it, but the soup was my favorite. It was 170 calories of creamy indulgence—much smoother and richer than what I would expect from something that clocks in at fewer than 200 calories. The blend of butternut squash and carrot was sweet, but not too sweet. And it all came topped with a zippy dollop of sour cream and some fresh herbs. It was the warm hug-in-a-bowl I was looking for on a fall day.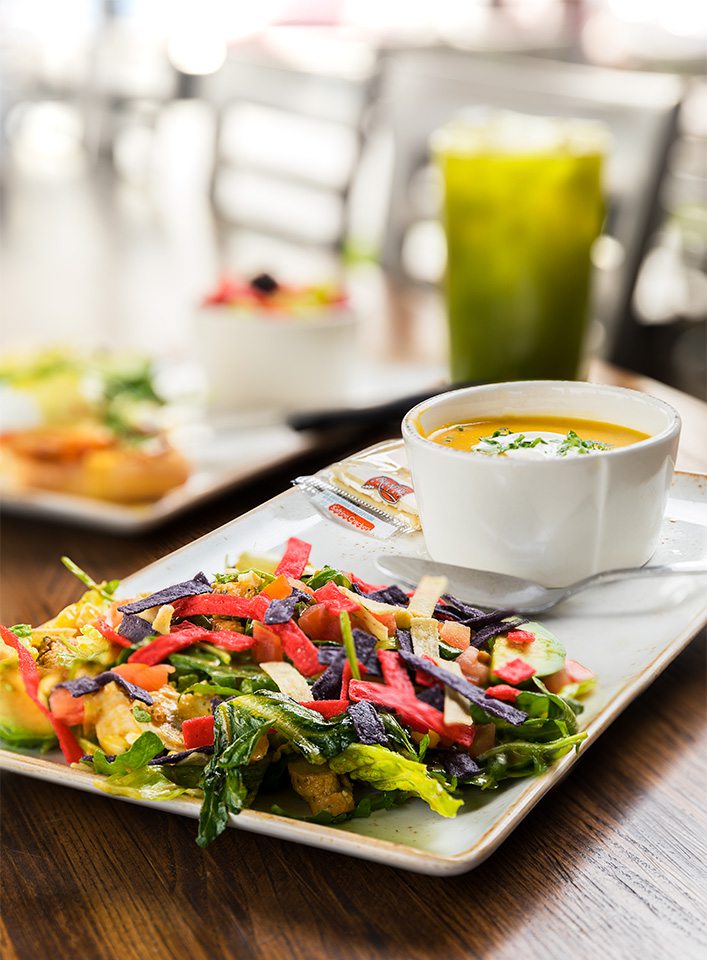 Photo by Brandon Alms
First Watch is known for breakfast, but the restaurant also serves lunch, which includes dishes such as a Chicken Avocado Chop salad and seasonal soups.
Purchase Photo
Start with Juice
Instead of just the typical orange juice and grapefruit juice options you find at other breakfast spots, First Watch also offers some freshly squeezed blends that really hit the spot. Try the Kale Tonic, a refreshingly bright blend of cucumber, lemon, kale and apple.
More than Breakfast
Because it's open until 2:30 p.m., First Watch is as great a lunch spot as it is a breakfast spot. And although most of the menu feels very brunchy, there are some lunchtime favorites too, like the thick roast beef sandwich topped with horseradish Havarti.
Don't Skip the Muffin
First Watch offers a muffin special that changes daily. You won't know what it is until you get there, but all the ones we've tried have been delish—freshly baked and just delightful. Add one to your meal to split with whomever you're dining with. It's worth the calories.
Best Seat in the House
Get one of the booths along the kitchen wall. It feels private enough for a quiet chat with your dining buddies, but you can also see all of the hullabaloo as guests come and go. It's great for people-watching!
Order Something Special
Our favorite dishes that we've had at First Watch have been seasonal specials. When you visit, grab that specials menu and order something that won't be around for long. It's always interesting.