Life
A Chat with Tim Hill
Tim Hill describes Brown Derby as his happy place. It's where he's been working for 19 years, and it's where he now spends five days a week serving customers at Derby Deli.
by Katie Pollock Estes
Feb 01 2023 at 8 a.m.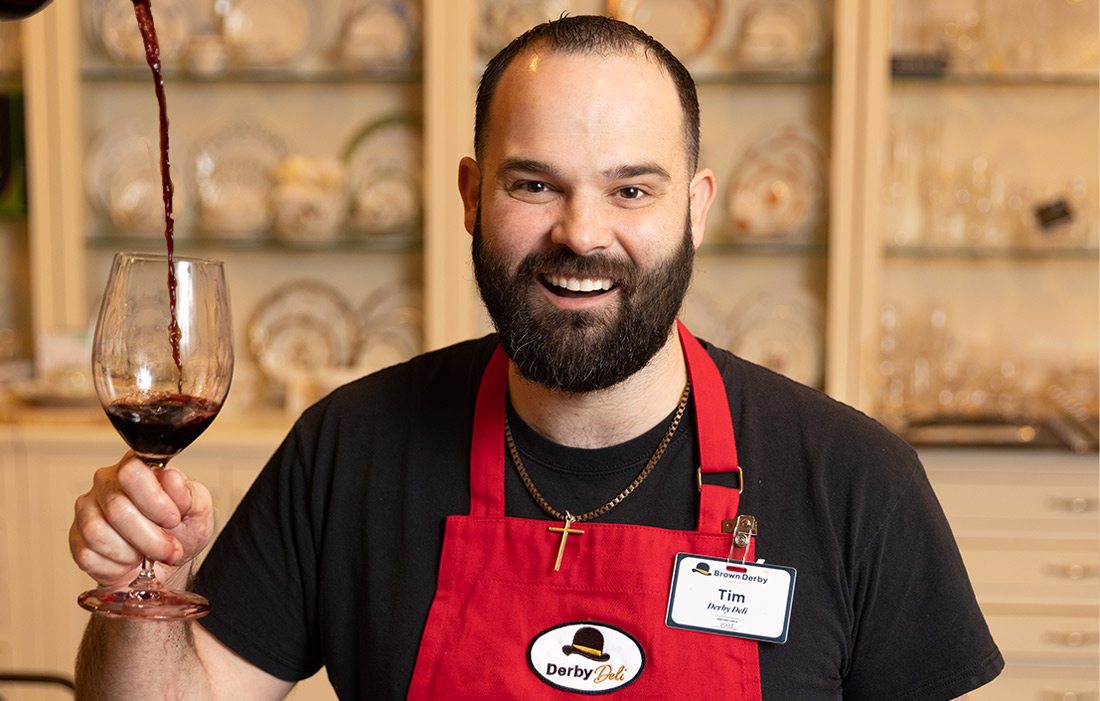 Derby Deli, located inside the Brown Derby International Wine Center on Glenstone Avenue, is a hopping spot at lunchtime as groups of friends pour in to spend their lunch hours nibbling on the restaurant's incredible sandwiches and salads and chatting the day away.
But before they even get their meal, the scene for that happy social moment is set—because the minute they walk up to place their order, they're greeted by Tim Hill.
Hill is composed of 100% positive energy. He's all smiles and a hug when you need it, and he's always ready with a good dish recommendation or a welcoming word. Hill describes Brown Derby as his happy place. It's where he's been working for 19 years, and it's where he now spends five days a week serving customers at Derby Deli. He takes your order at the popular lunch spot, but that wasn't always his role.
Hill is originally from Columbus, Kansas, on the "southeast corner of absolutely nothing." He moved to Springfield in 2000 after graduating high school. For three-and-a-half years Hill worked at Sonic before applying for a job at Brown Derby's West Chestnut location. He started as a night clerk there, before changing to store manager at the West Sunshine and then the Battlefield and Lone Pine locations.
But one day it all changed. He was filling in at Brown Derby International Wine Center at Christmas, and he had a whole line of people who wanted him to wait on them. "I don't know how!" he says. "Then Jen Feuerbacher came to me and said, 'We're going to open a deli, and we want you to be part of that."
Hill had never worked as a server in a deli before, but he decided to give it a go. "Now it's my heart," he says. "It's my soul. It brings me a joy that I cannot explain. There's nothing like bringing happiness to people with food and wine and a kind word."
In the years since he started at Derby Deli, he has helped turn his happy place into a happy place for a lot of other people too. Read on to learn more about the smiling face of Derby Deli and the Energizer Bunny energy that he shares with his guests.
417 Magazine: Your job title at Derby Deli is server. Can you walk me through what you do for your role?
Tim Hill: I feel like it's so much more than just serving. You know, like with our guests. I've seen the good times, I've seen the bad times, and I've seen everything in between. I hug them and I love them, and I try to be kind to people. I feel like I know the people who come in here, and I know their stories.
417: It sounds like you have a lot of regulars.
T.H.: Tons of regulars! Just so many people. I can't go anywhere without running into people.
417: Do they ever ask you for food recommendations when they're ordering?
T.H.: All the time! I tell them to order the Ultimate Grilled Cheese and add rosemary ham. It makes it the Super-Ultimate Grilled Cheese.
417: That ham really is delicious. I didn't think I was a ham person until I tried that rosemary ham. Is that your only hot tip, or are there any little secret menu items that people can order?
T.H.: Well, when I eat the cobb salad, I sub the lettuce out for mixed greens. And I get it with goat cheese instead of feta, with the Derby Deli vinaigrette. I don't like romaine lettuce. Romaine is like little water bombs. So I always put mixed greens on everything. I do that with the veggie sandwich too, sub mixed greens instead of romaine.
417: What does a day at work look like?
T.H.: I don't know how to describe that. I get here. I start ringing up customers. I chat with people. We dance. We sing. I'm happy as a button. If I was any better, I'd be a triplet. I have enough energy for three people! And the busier we are, the more hyper I get. I feed off people, energy, love, kindness and joy.
417: Do you ever get stressed at work?
T.H.: I'm only human after all! I have my days. But I try not to. You just have to climb that mountain, put that flag on the mountain, then slide down and enjoy the ride. Have your moment, then let it go.
417: Why do you think the customers at Derby Deli feel so welcomed and special?
T.H.: Every person probably has a different perspective. But I have a rule: Treat everybody with kindness, the way you want to be treated, and you get it back. Seriously, I believe that with all my heart.