Life
Hungry for History and Art? Or Just Hungry? Visit Bentonville, Arkansas
Bentonville is a marvelous weekend getaway anytime, but there's a once in a lifetime exhibit on display now through January 2, 2023.
by Julianna Goodwin
Oct 01 2022 at 8 a.m.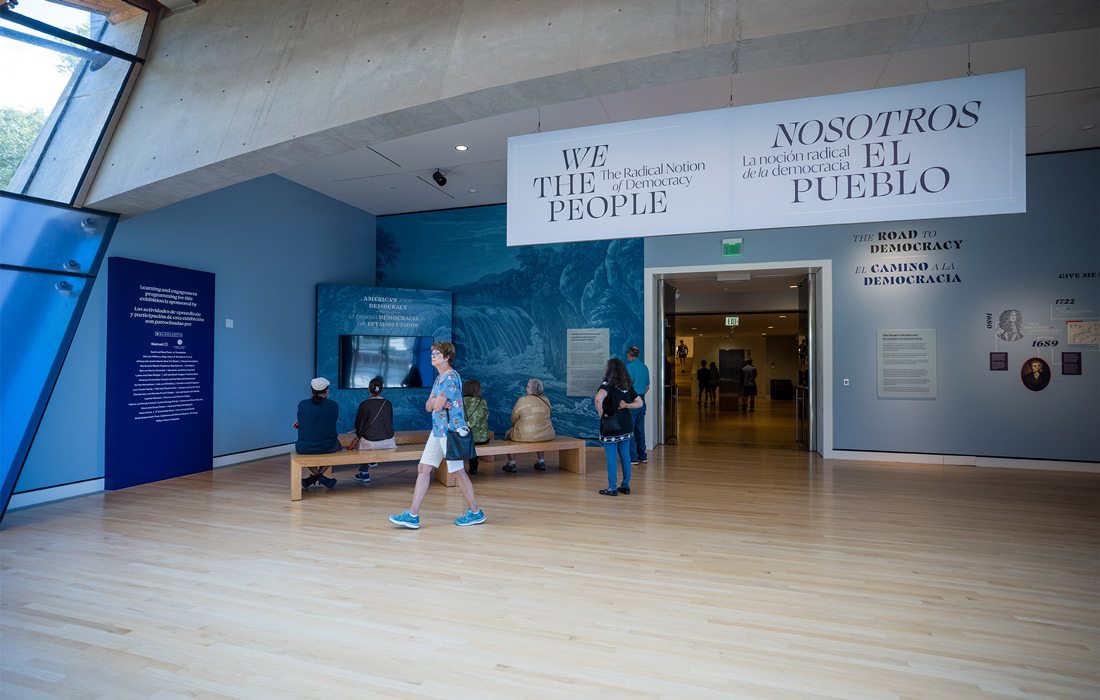 A copy of the US Constitution — one of only 11 in existence — is at Crystal Bridges Museum of American Art. We the People: The Radical Notion of Democracy, includes prints of the Declaration of Independence, the proposed Bill of Rights, the Articles of Confederation and portraits of leaders such as Alexander Hamilton and other thought-provoking art that deals with the concept of democracy. It's a rare glimpse into our nation's history right here in the Ozarks. Admission is free.
In addition, renowned speakers such as former U.S. Secretaries of State Hillary Clinton and Condoleezza Rice, David Rubenstein and more will give presentations at the museum in honor of this exhibit. Those appearances begin Oct.2 and continue into December. Tickets are required for those speakers. Here is a list of events.
Once you've quenched your thirst for history and art, then feed your hunger because Bentonville is a culinary mecca in northwest Arkansas. From fabulous restaurants to plenty of breweries, this city will satisfy. Here are a few options:
Italian lovers should head to Tavola Trattoria, a wonderful Italian/Mediterranean restaurant. Spongy focaccia, tender pasta, delicate ravioli, robust marinara, pizzas, excellent salads, and an extensive menu keep people coming back. A standout dish is the chicken marsala, bathed in a sweet marsala sauce and a must try for anyone who loves this classic. The house ravioli with blue crab, parsnip cream and white port is another delight. They also offer family style dishes, such as lasagna. This is a popular spot, so get there early or you could have a long wait, especially on weekends.
Table Mesa Bistro has long been a downtown favorite (and is a sister restaurant to Tavola Trattoria). This fusion restaurant blends Mexican/South American and Asian flavors, such as chicken curry burritos, Korean barbecue beef tacos, ramen with brisket and many vegetarian options. The menu is extensive, so you're bound to find something that will please you. The strawberry basil margarita is amazing because it's a perfect balance of sweet and tart with a kiss of basil.

Bar Cleeta is an elevated, small plate dining experience featuring oysters, caviar, foie gras, charcuterie, duck rillette and bone marrow, to name a few (the menu changes). The space is modern and is owned by a husband-and-wife team with more than a decade of experience in New York, New Orleans and LA restaurants. This is the perfect spot to sip a glass of wine (they have a fabulous wine list), or cocktail, enjoy food and conversation with someone you love. Reservations recommended.
The Preacher's Son is another fabulous spot. Housed in a restored church, the ambiance is calming with hardwood floors, large windows, stained glass and modern touches. It's a beautiful space to enjoy dinner, drinks or head to the rooftop for craft cocktails. They source from area farmers and the chef has an impressive resume, including a stint at the renowned French Laundry in California. Main courses include gnocchi, mussels, fish and steak, and are beautifully executed. You'll need reservations.
Tusk & Trotter American Brasserie is celebrating its 10th anniversary. This is a carnivore's farm to table dining experience. There are some unusual items like pig ear nachos, bison burgers, delicious herbs de Provence frites, and an impressive selection of Bloody Mary's — choose from 11 options. Dinner is great, but so is brunch.
Bentonville has a plethora of great breweries but if you don't have time to brewery hop, then head to Bentonville Taproom to try a variety of local options. Here, you can settle in, sample different brews, and often catch live music or grab a mic for karaoke.
Ramo D'Olivio is a unique spot for a drink. It features a wine bar, wine shop, sells olive oils and flavored balsamic vinegars and whiskey by the glass. At the wine bar, you can also find local beer so it's a great choice if someone in the party prefers wine and another wants to sample local brews.
For quick breakfast or light lunch option, head to Crepes Paulette, which is owned by a French man and his American wife. They serve handheld crepes like you'll find all over Paris. Crepes Paulette started as a food truck, but quickly gained a following and expanded to brick and mortar. The menu features sweet crepes, savory, sweet and savory and incredible soups. Again, there are plenty of options on the menu.
If you're in town on a Saturday and want to sample food from area farmers, then head to the Bentonville Farmers Market on the Square from 7:30-1 p.m. Saturdays and 5-8 p.m. Thursdays. You can score some rustic bread, fresh brewed coffee, an array of fresh mushrooms, lavender products, produce, pie and more. The vibe is fun, there's live music, it's dog friendly and a great way to start the weekend.