Life
Best Places to See Christmas Lights
If you're looking for an extra special bit of holiday fun, head out in the evening to enjoy some of the best Christmas lights displays in southwest Missouri.
By Blake Haynes, Jo Jolliff
Jan 13 2023 at 8 a.m.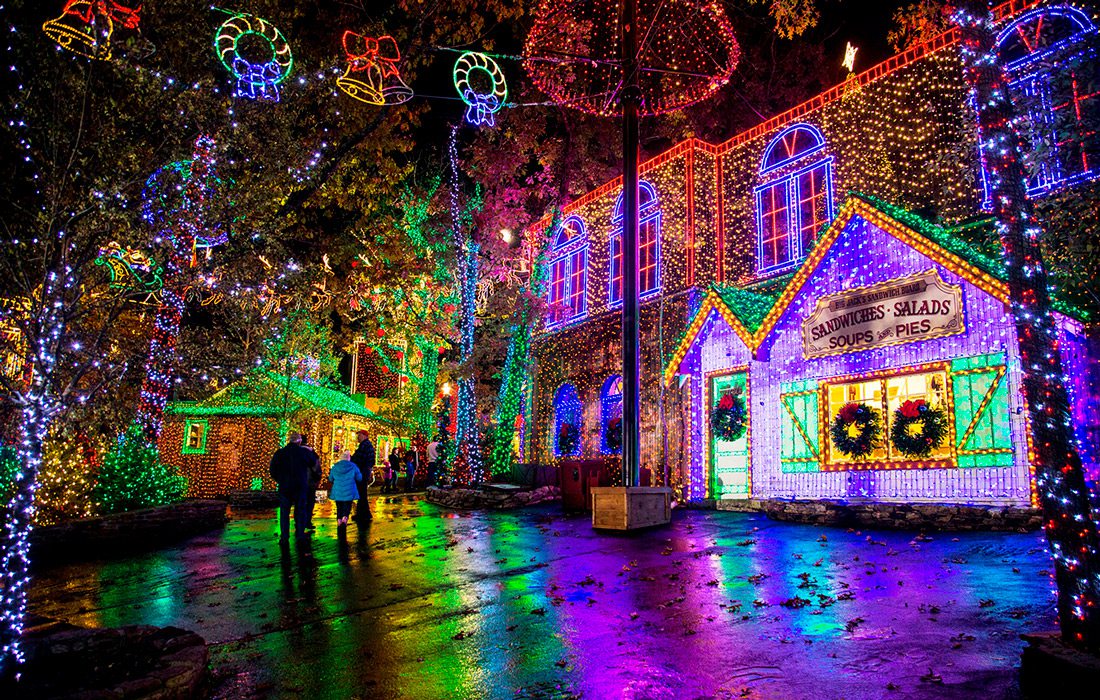 190 Top of the Rock Road, Ridgedale
New this holiday season, you can celebrate the holidays and great outdoors at Lost Canyon Christmas at Top of the Rock. Experience Top of the Rock's first-ever light tour at Lost Canyon Cave and Nature Trail. This 2.5-mile nighttime journey takes you through illuminated displays resembling historic Native American scenes from Chief Seattle's letter of 1854. Enjoy delicious hot chocolate while taking in the twinkling lights in this new Ozarks holiday tradition. Lost Canyon has been extended until January 29, so you can still catch a little bit of extra holiday cheer!
399 Silver Dollar City Parkway, Branson, 800-475-9370

Cost: $60 for all ages after 6 p.m. on Thursdays, $85 ages 12–64, $75 ages 65+, $75 ages 4–11, Free ages 3 and under
Starting November 5, each night the 80-foot illuminated tree is lit at 5:30 in a beautiful show of music and lights. Don't forget to walk through Christmas in Midtown too, so you can be awed by 6.5 million festive lights!
Carthage, MO, 417-359-8181
Cost: Free, donations accepted 
Check out Carthage's varying Christmas lighting options. Start your trip by driving through the mile long Way of Salvation Drive Through Christmas Light Display. Then make your way to the Mt. Moriah Lights shown at Mt. Moriah United Methodist Church where they have over 50,000 lights. Lastly, walk around the Downtown Holiday Light Experience right in the Downtown Carthage Square.
Cut Down Your Own Christmas Tree
Here's a roundup of places in southwest Missouri where you can cut down your own Christmas tree.
140 Sterling Way, Hollister, 417-331-1316
Cost: $185-355, ranging between 2–12 guests
Enjoy a luxurious style tour all around Branson's top Christmas lighting stops. You'll make a stop at the strip, the Branson Landing, and everywhere in between. The tour includes a professional chauffeur, candy canes and Christmas music on this two hour ride.
6021 W. 76 Country Blvd., Branson, 417-334-4191
Cost: $25 per car load Sunday–Thursday, $30 per car load Friday–Saturday, $50 per van with 8-15 riders 
This favorite Branson spot features millions of multi-colored lights as you drive through with family and friends. They also serve free hot chocolate. 
2751 Shepherd of the Hills Expressway, Branson, 417-337-9453
Cost: $30 for basic admission per car load
The Zoo offers a drive through light display, guided at your own pace in addition to a 45 minute VIP Santa Safari and Santa meet and greets. They've got hot cocoa and popcorn and you can stop into the stocking stuffer gift shop and the elves secret gift shop.
2008 E. Cambridge St., Springfield
Cost: Free, donations accepted 
Drive through this outstanding light display by Mike Bagwell and tune into 105.5 FM.This display features 150,000 individual lights and will put a smile on the entire family's face.
2400 S. Scenic Ave., Springfield, 417-891-1515
Cost: $7 for adults at the gate, $3 for children 12 and under at the gate; $5 for adults in advance, $2 for children 12 and under in advance 
This botanical themed light show takes place at Mizumoto Japanese Stroll Garden. They have over 100,00 lights corresponding to the structures and landscaping of the garden. You and the whole family can go and enjoy cozying up by the fire pit as well as purchasing hot beverages and treats from local vendors. 
3309 State Hwy. 76, Branson, 417-593-0149
Cost: $129 per person for Branson Deluxe Light Tour, $59 per person for Silver Dollar City Tour
Experience the aerial views of the light displays at Branson hot spots like Silver Dollar City, the 76 Strip, the Branson Ferris Wheel, Shepherd of the Hills, Let There be Lights and more. Relax to holiday music and use this the perfect date night or enjoy it with one of your best friends. 
2941 W. 76 Country Blvd., Branson, 417-332-1545
Cost: $129 per person
These chopper light tours leave from Branson's Clark Downtown Airport after sunset as you fly over all the best Branson light shows like The Adoration Scene, the Branson Gift of the Lights, and of course Silver Dollar City. 
117 Park Central Sq., Springfield
Cost: Free
Stroll through Downtown Springfield and visit Park Central Square to take pictures in front of the Christmas tree and take in all the lights hung up on the Square. This is a perfect stop on your venture around 417-Land to see the Christmas tree is the perfect addition to date night. 
602 E. Falls Circle, Ozark
Cost: Free
Drive-thru and watch this adorable Christmas cottage light Ozark's night sky. The show runs from 5:30 to 10 p.m., Sunday through Thursday and 5:30 to 11 p.m. Friday and Saturday.

Branson Landing
November 5, 7:30 p.m.
Come for hot cocoa and other sweet treats, live entertainment and, of course, Santa. The event kicks off the season-long Winter Wonder landing event that features a 63-foot Town Square Christmas tree.

Finley River Park
November 10
The Mayor's Tree Lighting kicks off Christmas in the Ozarks with cookie decorating, caroling, crafts and photos with Santa. Here, families can also drive through the Finley River Park light display for the first time of the season. After the kickoff, the charming drive-thru Christmas Lights of Ozark will be opened through December 31st. 
3310 76 Country Boulevard, Branson
Cost: $35 per adult, $28 per child, $280 for a private tour ranging between 1–8 guests
Climb into a heated jeep and drive into a winter wonderland. You will make your way across Baird Mountain and see light installations that stretch into the tree canopies and across cliff faces. 
Cost: Free
See the Branson Landing transform into a winter wonderlanding featuring magical holiday lights, music, 63-foot Town Square Christmas tree and the big man himself.
Big Cedar 
190 Top of the Rock Road, Ridgedale
Make the celebration last with a cozy cabin at Big Cedar Lodge and check out the new Deck the Trails Light Tour. This trail of lights is the perfect way to get in the holiday spirit.