Life
Where to Cut Down Your Own Christmas Tree in Southwest Missouri
There's more to Christmas tree farms that just finding the perfect natural tree to be the centerpiece of your Christmas decor. Here's some more of what our 417-land tree farms have on offer.
By Jamie Thomas
Dec 2019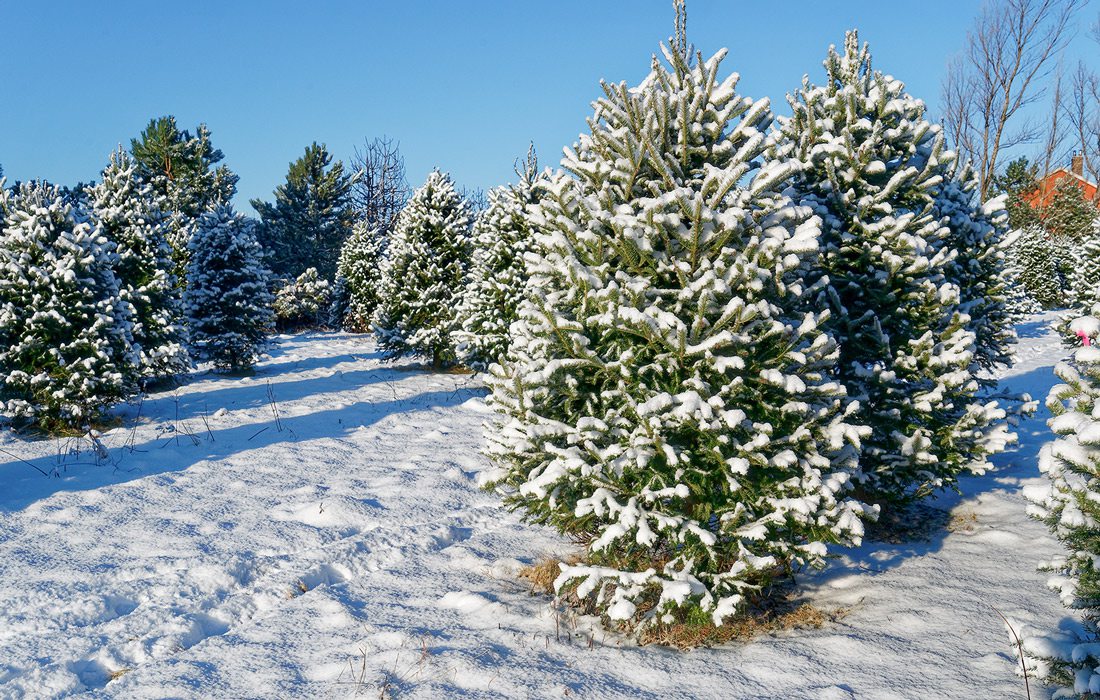 There's a certain charm to getting a real Christmas tree. Sure, it's more convenient to pull out the fake tree every year, the plastic branches getting ever-more bent each time you do, the faux-forest green losing its luster through years of use, but it's never the same. Getting a real tree means the opportunity to visit a Christmas tree farm. Wandering through rows of trees to find the perfect pine is a most wonderful family activity for the most wonderful time of the year. Here are a few tree farms you can visit to not only find your tree, but enjoy some seasonal treats, too.
Bridgestone Christmas Tree Farm
There's something magical about a Christmas tree farm, and out at Bridgestone Christmas Tree Farm (9581 County Lane 251, Webb City, 417-529-8508), they have been selling hand-planted Christmas trees since 2006. The family-owned farm has focused on creating a memorable and festive holiday experience with the addition of hayrides, a Christmas train and hot chocolate or cider included with tree sales. The farm also opens its gates for large groups and hosts field trips for schools and daycares. Included in the day are hayrides and hot chocolate, along with an introduction to Christmas trees, activity sheets and small gifts.
Cole's Tree Farm
Cole's Tree Farm (23100 State Highway OO, Lebanon, 417-588-3008) is a choose-and-cut tree farm located just outside of Lebanon and next to Bennett Spring State Park that's been operating since 1965. This tree farm plants you in some picturesque 417-land surroundings while you pick your tree, so you have plenty of scenic settings to enjoy as you hunt for that dream tree. Plus, the farm is open from 9 a.m. until dark on the weekends, noon until dark on weekdays. The farm also offers a drop-off point for dead Christmas trees where they can be recycled. Make sure you bring cash or your checkbook; Cole's Tree Farm is cash or check only.
Ozark Valley Christmas Tree Farm
Ozark Valley Christmas Tree Farm (1090 Manning Road, Southwest City, 417-762-2276) offers the complete, fun-filled, family outing experience. Along with choosing and cutting down your own tree, the farm has hayrides, fresh Christmas wreaths, a fully stocked gift shop and even craft-making. You can also have professional family photos taken by the on-site photographer and admire the Christmas lights while you sip on some hot chocolate. Honestly, you'd be forgiven if you arrived home and suddenly realized you had totally forgotten to pick up a tree.
Starr Pines Christmas Tree Farm
Okay, it's not technically in 417-land, but it is a tree farm. If you want to make a day of your tree-farm trip, you could do worse than this picturesque destination. Starr Pines Christmas Tree Farm (21298 Pleasant Hill Road, Boonville, 660-882-6858) offers hayride tours, free spiced cider, a craft store filled with gifts and antiques and even free-range eggs and fresh honey from the farm's hives.
Tree Farm Trip Tips
Before you head out to pick your tree, make sure you're prepared. Warm clothes are obvious, but don't forget boots. You should also wear durable gloves if you'll be cutting your own tree. Having cash is always a good idea because a number of tree farms don't take credit cards. Make sure you have a tie-down like rope or, even better, ratchet-straps to tie the tree to the roof of your car. Cover the roof of your car before loading the tree to avoid scratching the paint, and take it slow on the drive home.
What to Do After the Holidays?
When your Christmas tree is losing its needles and the holiday has long passed, it's time to say goodbye. Haul your tree to one of these local spots to give it a little purpose in its afterlife.