Arts & Culture
Big Smith Reunites
The Ozarks family band is back for one last hurrah.
By Brett Johnston
Dec 23 2016 at 12:28 p.m.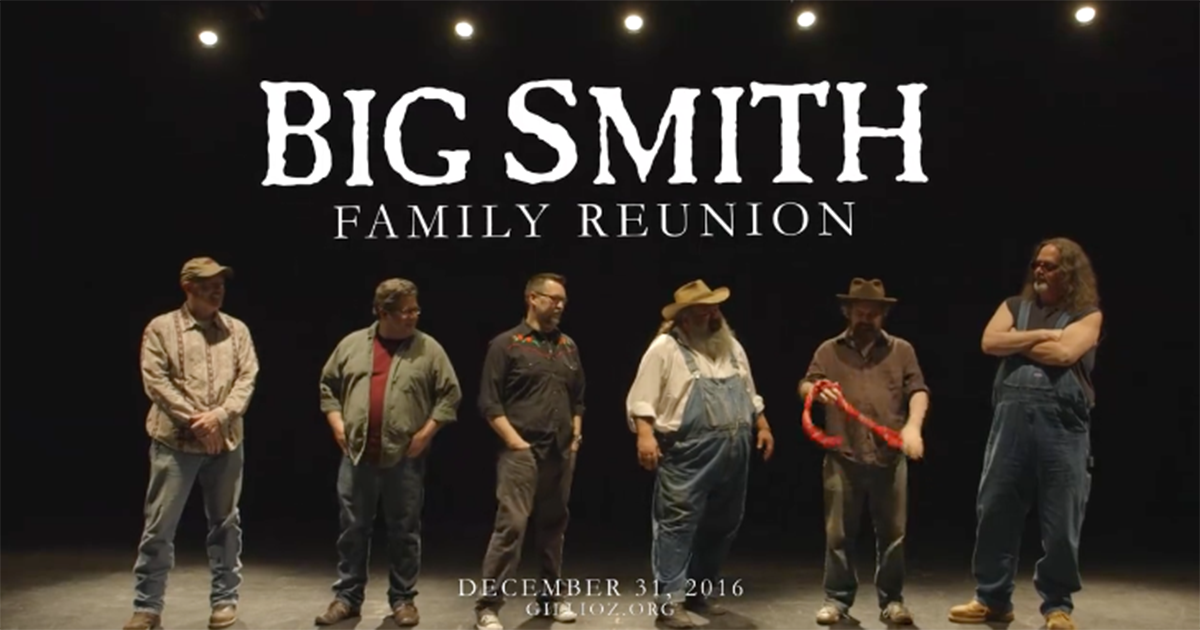 Ozarks family band Big Smith reunites for two sold-out New Year's Eve shows at Gillioz Theatre.
Jody Bilyeu is no stranger to the stage, but admits he's feeling some nerves for Big Smith's New Year's Eve reunion.
The six-piece band of cousins toured heavily for 15 years, opening for huge musical acts from Emmylou Harris to The Avett Brothers. The December 31 event includes two sold-out shows at the same place Big Smith last played in 2012, Gillioz Theatre. "It's not like we could just get back together for fun and there would be low stakes, like 20 people at the bar," Bilyeu laughs. "Sometime I still think that's where we are. It's hard for me to even register two sell-out shows at a pretty sizeable theatre."
Though he hadn't recently played many of the tunes, Bilyeu says the material was second nature. "It's pretty deeply ingrained," Bilyeu says. "The songs still seem to be in the fingers and brain. I made up all the parts that I play, so they came back pretty easy."
The band is made up of three sets of brothers: Jody and Mark Bilyeu, Jay and Mike Williamson and Bill and Rik Thomas. All of whom have been squeezing into Jody Bilyeu's home studio for rehearsals. "We're all six pretty large guys, but we fit in there," Bilyeu says. "The living room feel of what we do has been present. That has put some of my nerves to rest."
The band was officially formed for public consumption in 1996, but they started playing together years before as family members passing time. "That's what holidays consisted of," Bilyeu says. "What we did on stage was an extension of that." Bilyeu's fingers scream across the mandolin for Big Smith, but before the band officially formed, his primary instrument was an electric guitar. He says none of the band's members were playing much folk or bluegrass music. "Everybody was doing something different, playing in different genres." When Big Smith started, Top 40 radio was nearing the end of the grunge era and the Coen brothers were still four years from releasing "O Brother, Where Art Thou?" which Bilyeu says sparked a folk music revival.  "It's probably where the Coen brothers got the idea," Bilyeu laughs. "Mark was the first guy who thought that anybody would be interested in hearing the old-timey music we were doing in the living room out in public. It was both a departure and a homecoming musically when we got together."
The band's approach to writing traditional music was to stay true to themselves, but also share the good and bad of the area. "None of us pushed a mule behind a plow," Bilyeu says. "We were brought up around here, but there are parts of it that don't fit well with us. We embrace our heritage and a lot of our traditions, but there's some things that are not quite great." Throughout its seven albums Big Smith used song to admonish racism ("No Sir") and point attention to environmental neglect ("Dirty Old James," "Barrel Springs"). "The sprawl eating up the countryside has been a theme in [Mark Bilyeu's] work especially," Jody Bilyeu says. "A lot of our more traditional fans even responded to that."
When thinking about NYE, he says the sets came together pretty quickly. There's always a chance for spur of the moment decisions to alter the set list, but they will play the hits. "Who knows what's going to happen on stage," Bilyeu says. "But we wanted to play the no-brainers—the stuff that most of the people who follow us would want to hear."
He says the reunion is a night that show promoter Dwight Glenn has asked for since the band split. Glenn, along with Geoff and Joy Steele from Gillioz Theatre made the show happen. Mark had a health scare in 2015, which Bilyeu says pushed the conversation forward for the theatre's 90th anniversary. "I think that turned his mind," Jody Bilyeu says. "This is the right moment to do it. We had to play as a band at least one last time."
And, in all likelihood, these shows will be the last. He says there are people on the promotional side who would like for the band to be active again, but there are no plans to play. For now, Bilyeu is thankful for what December 31 holds. "So much awe and gratitude to think so many people have decided to spend that night with us," he says. "I'm anticipating it's going to be really fun."